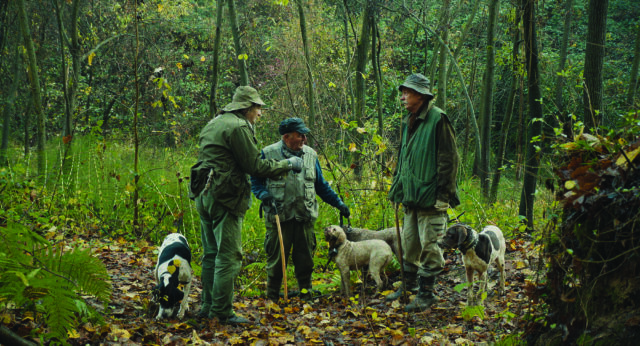 By Ray Rogers
Operatic music swells as Paolo Stacchin, the mighty truffle judge, awaits a dish of tagliolini, egg and freshly shaved tartufo bianco at Michelin-starred Da Francesco in the town of Cherasco in Northern Italy. He is a man of rarefied taste, enjoying the olfactory pleasures of this delicacy. The moments of heightened senses are multiple in The Truffle Hunters, the new documentary from Michael Dweck and Gregory Kershaw, not the least of which are the life-affirming experiences the octogenarian men themselves and their devoted dogs savor while on the chase of the buried culinary treasure: the elusive white Alba truffle, so rare today that they are worth their weight in gold. Purist spoke to Dweck (a long time Montauk habitué whose 2004 photo book The End remains a classic) and Kershaw about the three years they spent filming this story.
RAY ROGERS: What a rich topic to explore on so many levels. It's a feast for the eyes. What inspired you to tell the story about this group of men?
MICHAEL DWECK: We worked together on the last film, The Last Race [about a small-town stock-car racing track in Riverhead, New York]. These are both worlds that were at the risk of vanishing. When we finished editing The Last Race we were in Copenhagen in August 2017. We were looking for a place to just disappear and we wanted to take a break after the long shooting schedule. Greg and I, without knowing, had each ended up in the exact same region of Italy, in Piedmont, a mountainous, tiny little village. What we discovered was that there's nobody there in August, probably except for us. People were saying, "You should come back in November when it's truffle season," and we were like "Truffles? Where do those come from?" They said, "We don't know, there's these men that dig in the mountains. that come out at night. Nobody knows who they are. But they have the truffles." We said, "How do you know?" And they said, "For example I put this wooden box outside of my cafe, and in the morning truffles appear." That told us it was an interesting story to explore. It took us a long time, about a year, until we found the real truffle hunters, and they trusted us to give us access into their world. Then we spent another couple years on this film.
GREGORY KERSHAW: So much of the world is becoming more and more the same. Technology is taking over local cultures and indigenous cultures. One thing Mike and I are both looking for is cultures that have held onto traditions, an identity that is rooted in their past and a connection to nature. When we stumbled upon this place, we saw the kernel of the story and the thought of the possibility of the culture that maintained all that, and that's what got us excited about filming there.
RR: What a great area to spend a few years of one's life.
MD: It was the polar opposite of the Riverhead Raceway, foodwise.
RR: As people are still wary about traveling, this is like travel porn. I love seeing this part of Italy through the eyes of these men and that nature is so much a part of this film—the rhapsody of one gentleman's need to keep truffle hunting in the night, his joy of hearing the songs of the owls in the forest. Purist is a wellness magazine, and so much of this story gets at the heart of wellness.
GK: When we were filming, we didn't know what the story was going to be. We knew there was this mystery, this secret culture. We found that the people who were keeping the culture alive were these older men, most in their 80s, some as old as 90. And when we were with them, it seemed like we were with young men. We followed an 80-year-old through the forest and we would be chasing after him. They were fast. They offered to carry our camera.
MD: It's wild how far these men would travel—15 to 20 miles a night in the dark and the mud after a full day of work on the farm, with no lights. One talks about his concern about his mortality, but we never saw any men grapple with any health issues. Carlo calls his doctor, and the doctor says, "It's not a good idea to keep truffle hunting at night in case you fall." He says that he springs up right after he falls—and "I can run faster than a deer."
GK: He never gets sick. He says it's because he's outside and connected with nature. What he eats, most of the food he grows himself—he has a big farm, and they harvest grapes and grow their own food. Their lives are simple—not by design, but it's the world they came from and they maintain it. The planet around them has been changing, but they've held on to all these things that the people around the world are trying to get back to, because we're at a point where we're realizing now how important what they have is.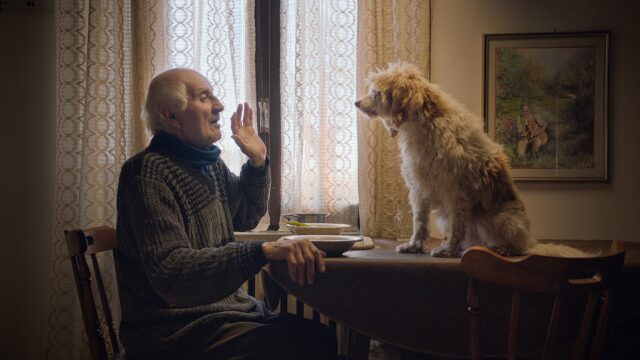 RR: The documentary brings up so many important issues, like the cultural impact of globalization, and climate change. Were those issues paramount when you were making the film, or did it organically tell its own story of climate change?
GK: Those are all things Michael and I really care about. But we didn't go into the film to tell that particular story, or that process, with any agenda. We wanted to capture this world, and when you're filming with people who live close to the land, who are outside every day and their livelihood is dependent on what the Earth gives them, whether they're farmers or truffle hunters, you see the impact of climate change. You see it firsthand because they tell you that 20 or 30 years ago, or in the case of some of these truffle hunters seven years ago, they tell when they were a little kid how many truffles used to come out of the forest. They talk about how they would follow their father around when they were plowing a field and it was like they were finding potatoes. Now it's like finding gold. It's nearly impossible. The truffle requires very, very specific conditions to grow. They can only be found in the wild; they can't be cultivated. And they grow in this very small strip of land that runs mostly through Italy; there's deforestation that's happening in the area. Some of these guys keep a system of maps that they've kept for their entire lives, of where exactly they found a truffle, where the moon was, what the weather had been like, what time of year it was.
MD: Truffles attach themselves to the roots of oak trees. The oak trees are very old. Part of the issue with deforestation is truffles. Truffles don't really produce real revenue for landowners. The rules are you can truffle hunt on anybody's land; it's like public land, where everyone's private land is considered public when you truffle hunt. The trees also have value as firewood. You see a truffle hunter named Sergio in the beginning of the film, he's on the phone crying, saying, "You have to get down here now, they just destroyed my whole forest." We got down there and in a matter of 20 minutes, they had cut down 200-year-old oak trees, in a swath of 200 feet by 200 feet, and all that was left were these flat stumps. He was crying. They destroyed generations and generations of this truffle farm that can never be replaced. We have an impact program we're developing to raise money to save these forests. We have the land picked out to fund this trust, so you can't deforest any more on these lands.
RR: Wonderful. I was also very moved by the devotion of the men and the dogs.
MD: A lot of their children have moved off to find work in other parts of Europe, or their wives have passed, and the dogs are their best friends.
GK: The dogs are such characters in the story. We wanted to actually put a camera on a dog so you can see the world through the dog's perspective. And we experimented with all sorts of technology to find a way to do that. Eventually we worked with a cobbler right next to where we were staying in this tiny town. He worked with us and we worked with other people in the village to create custom dog camera mounts for all the different dogs, so we could mount the camera on their head and give a whole different perspective. When you're watching that footage hopefully you can feel the exhilaration of looking for and finding a truffle, just having this full sensory experience where birds are flying by and you're going through the leaves and being in the mud.
The Truffle Hunters will screen at the Hamptons International Film Festival's East Hampton Drive-In on October 9 at 7PM, and is available for scheduled virtual screenings on October 10 at 3PM and October 11 at 7PM. hamptonsfilmfest.org