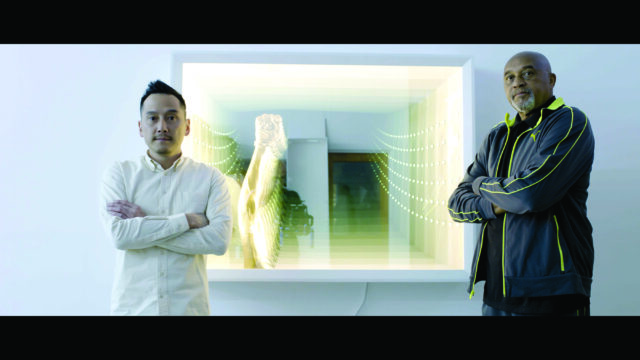 By Cary Darling
It's one of the most indelible images in all of sports, right up there with a triumphant Muhammad Ali towering over a dazed, confused and barely conscious Sonny Liston.
Tommie Smith, the champion African American 200-meter sprinter at the 1968 Mexico City Olympics, standing on the gold-medal podium, head bowed, gloved right fist puncturing the air in a show of solidarity with the battle for civil rights back home. Behind him is another Black American, bronze winner John Carlos, shadowing Smith's actions, except he's raising his left fist. The protest was silent and short, but the rancorous reaction was loud and long-lasting.
What led to that moment and the tumultuous events that flowed from it are chronicled in With Drawn Arms, Glenn Kaino and Afshin Shahidi's absorbing documentary about Smith's often hard-knock life. For Kaino, a conceptual artist making his feature film debut, it was a chance to dig deep beneath the surface of someone he had long admired but knew little about.
"That image was important in my studio, as an inspiration," he tells Purist. Around eight years ago, a friend—who also happened to be in contact with Smith—asked Kaino one day if he'd like to meet the Olympian. "I did not know at the moment whether Tommie was alive," Kaino recalls. "I knew the stories that I had read…. but I did not know many of the more personal details."
Those details—the failed relationships, the mental-health breakdown, the constant sting of racism and living under the specter of that photograph—are explored in With Drawn Arms, painting a fuller picture of a man often dismissed with one broad-stroke descriptor: angry.
But that's certainly not how Smith saw himself. "We were dealing with equality. We were dealing with racism. We were dealing with being a part, but not having a voice," Smith says in the film. "My running became my voice."
It's impossible to watch With Drawn Arms and not make comparisons to what's going on today from the travails of football player Colin Kaepernick to the Black Lives Matter protests—though it's not something Smith delves deeply into in the film.
"Tommie is very specific to not tread into waters of which he is not an expert," Kaino says. "I think that he is very thoughtful about where he applies his voice. He's very thoughtful about knowing and being responsible for his moment in the '60s. He's very responsible for how he knows that he's an inspiration to some of the actions of today, but he also is careful not to judge or assume because there are much more competitive dynamics at play right now."
Also providing the connective tissue to current events are a variety of talking heads, including the late John Lewis, soccer star Megan Rapinoe, and Brent Musburger, the commentator who made some of the most explosive comments about Smith's podium activism at the time.
For Kaino, the finished product is about more than just a flash of a moment in Mexico, 52 years ago.
"The work that we created, this documentary, is also meant to be a timeless project," says Kaino. "It happens to be very relevant at this moment. It'll be relevant in five years, because we're a long way from understanding how much the world needs to evolve and grow."
Cary Darling is the arts and entertainment editor at the Houston Chronicle.