By Constance C.R. White
Zazie Beetz may not be a household name, but she had an impressive turn in Joker, where she played Joaquin Phoenix's neighbor whose fate sparked debate online and off. Before Joker, she was Domino in Deadpool 2 and starred as Van, Donald Glover's girlfriend and his child's mother, in the well-regarded TV series Atlanta, for which she received an Emmy nomination for her nuanced depiction of a young Black woman coping with modern-day challenges of race, motherhood and relationships. The 29-year-old rising star lives in New York, but she's currently in Santa Fe, New Mexico, through December, while she shoots the highly anticipated Western The Harder They Fall with Idris Elba and Academy Award winner Regina King.
But we don't have to wait till Netflix releases The Harder They Fall to delight in Beetz on-screen. Busy Beetz (her name is pronounced zah-see bates) is one of the stars of the intriguing Nine Days, which has its East Coast premiere at the Hamptons International Film Festival. The buzz meter hit high for this sci-fi allegory when it debuted earlier this year at Sundance, where it won the Waldo Salt Screenwriting Award. In Nine Days, a mysterious arbiter must choose one unborn soul to come to life on Earth. Sony Pictures Classics picked up the film, set for wide release in theaters in 2021.
"I really love this movie," says Beetz, who stars opposite Winston Duke (M'Baku in Black Panther) as Emma, a free-spirited soul who is fighting to live and poses a challenge to Will's (Duke) way of being. "This is a film that exists in a spiritual realm and explores the value of life. I have never had to explore a character like mine before."
For Beetz, it prompted a philosophical journey, an exploration of joy and pain, and future thinking. "Emma is a personality whose essence is based in discovery and living in the moment," she explains. "It reminded me that I should really engage with the world in this way. Joy exists in the moment that it exists, and why not throw my whole self into it? "
Also in the film, written and directed by Edson Oda, are Bill Skarsgård and actor-producer David Rysdahl, who is engaged to Beetz. "We coincidentally ended up working on it together," she says.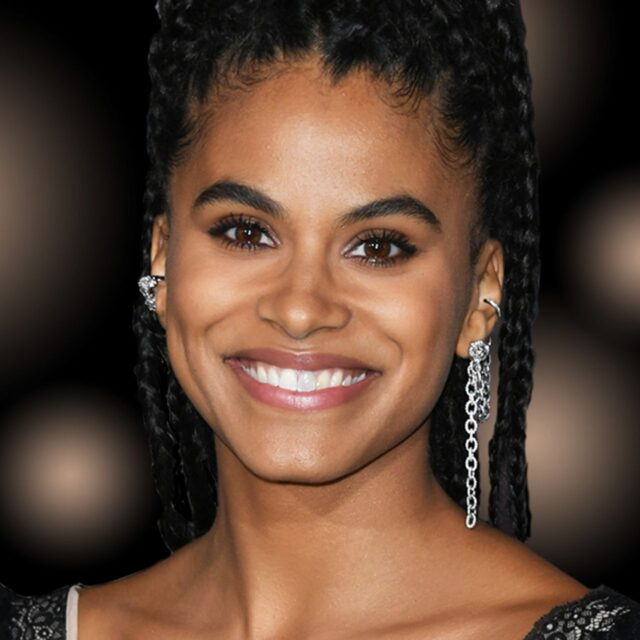 Recently, Beetz joined the hordes of digital communicators who've gone online amid the COVID lockdown to share knowledge and what's on their mind. Beetz and Rysdahl created an IGTV show called Zazie Talks Climate!
"We thought about how to do our part leading up to the elections," says Beetz. "We wanted it to be our own thing." So pardon the lack of production values, she adds, with a soft chuckle and a humility that is frequently evident in her conversation.
On Zazie Talks Climate!, Beetz's demeanor is simultaneously earthy and ethereal. With her wide smile and creatively glamorous hairdos and head wraps, she's a compelling host as she talks with environmental experts about topics like ocean acidity, rent reform and gaslighter oil companies.
The day I spoke with Beetz, she had two interviews lined up for the show, which she produces with Rysdahl, her partner of six years. He's the reason she initially became so enamored with the topic of climate change, she says.
The issue of saving the environment is a lived one for the actress, whether she is producing homemade body butter or exhorting others to buy peanut butter in a reusable glass jar.
"If we don't act, my generation might be the last generation to be living on an Earth that still feels plentiful and safe," says Beetz. "We all have to take another moment to think about the choices we're making. Do we all really need to buy that water in a bottle?"
Now that she's engaged, Beetz would love to get married and be a mother, she says, but she's OK waiting. In another life she might have been a midwife or doula. When she graduated from Skidmore College (with a French major and with much involvement in the theater community), a role in international women's rights advocacy was—and still is—appealing. Yet she knew from a young age that she wanted to explore acting.
"My whole upbringing was really doing theater," she says of her childhood spent in Germany and America. With a German father and an American mother, she speaks German, too.
When it was time to choose post-secondary education, "I knew I didn't want to go to a conservatory," says Beetz. Instead, she found herself attracted to Skidmore's aphorism "Creative thought matters." It's a mindset that applies to all aspects of one's life, she explains.
Come 2021 with the release of Nine Days and The Harder They Fall—which will sport an all-Black cast—it will be clear that creative thought matters more than ever in her brightening career.
Nine Days will screen at the Hamptons International Film Festival's East Hampton Drive-In on October 12 at 7PM, and is available for virtual screenings on October 12 at 3PM and October 14 at 7PM.