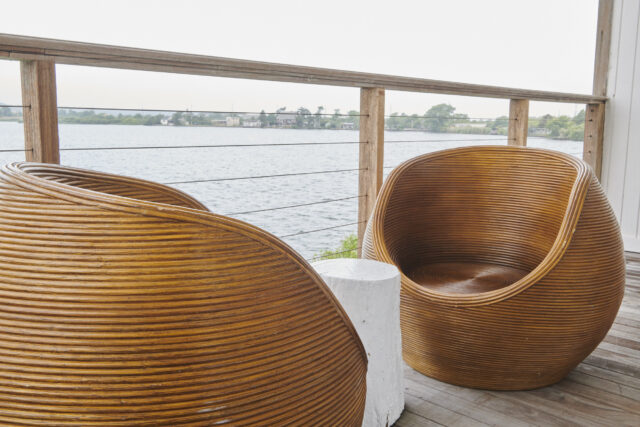 By Ray Rogers
Forget the scene: This year at The Surf Lodge, it's all about the view. With 20 rooms looking out over Fort Pond in Montauk, complete with hanging wicker chairs and private outdoor terraces, the place to be is in-room, watching the blazing orange-and-pink sunsets lighting up the water outside your window.
With the thrum and buzz of the East End's most robust nightlife scene and legendary concert series freshly extinguished by COVID-19 social distancing rules, The Surf Lodge founder Jayma Cardoso made a serious pivot, overhauling the beachy crash-pad rooms into zen dens where guests would want to linger longer.
She brought in Kimberly Bevan, interior design maven behind the high-end resorts of Mike Meldman's Discovery Land Company, whose roster of A-list clients reportedly includes discerning supermodels from Gisele Bündchen to Elle Macpherson, and stars like George Clooney. "I have been really lucky to work with amazing clients with amazing taste," Bevan says. "That set me up well for this project, because we were able to add personality to the rooms without sacrificing quality. Jayma and I both travel a lot and stay in a lot of spaces. Something can look great, but you open the door and there's flimsy wood. We wanted everything not only to look really chic, but also to have integrity and quality."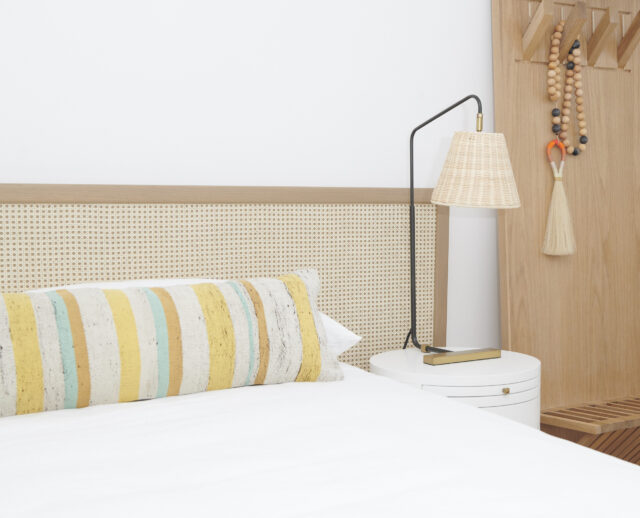 The bar set high, Bevan faced a daunting task: The desired custom work would normally require a minimum of six months to procure, but was needed within a six-week window before the July 4 reopening. On the bright side, with everything shuttered due to the COVID lockdown, Bevan was able to cherry-pick the best local craftsmen, carpenters, upholsterers and providers who were available, and in need of employment.
First order of business: adding proper amenities for longer-term stays, such as a wardrobe and integrated luggage rack. There wasn't even a closet in the rooms before, she notes. The question was how to do this without invading the space? Bevan hired a local Montauk craftsman to build open wardrobe spaces using white oak. "We left it in its natural finish," she says, "so you can see the natural grain—to keep it beachy, like driftwood in a way."
The minibars were revamped and fashioned from wood and caning, in The Surf Lodge signature yellow and seafoam blue, and now are stocked with CBD-infused sparkling waters from Sweet Reason, Whispering Angel rosé, and healthful snacks like grain-free Siete tortilla chips.
Surf and seascapes shot by local photographer (and Purist contributor) Mikey DeTemple hang over the new custom caned headboards, and large flat-screen TVs are installed in each room.
Bevan and the team collaborated with brands like Serena & Lily and Olivela, both of whose styles "were really on point with The Surf Lodge," says Bevan. "The materials Serena & Lily use in its current collection include whitewashed wood, wicker and caning. And Olivela does all sustainably sourced accessories." The latter's global finds, such as blue and white marble coasters and hand-woven bowls, are all available for purchase from in-room, with a percentage of proceeds going to help feed families in need.
Befitting a brand that launched a health and well-being-focused offshoot, The Surf Lodge Sanctuary, just a year prior, everything was done with wellness in mind. Casper mattresses, Frette linens, and blackout curtains were employed to ensure restful sleep, and sustainability was key throughout. "Jayma does a great job of keeping The Surf Lodge plastic-free," notes Bevan. "The furniture is wood, natural wicker, natural caning…everything in its natural form. And it's quite sustainable, because it's sourced within a 100-mile radius, and locally designed."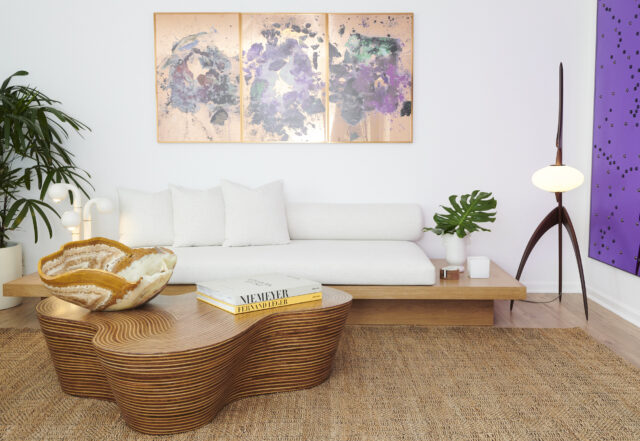 Color therapy was also paramount. "I studied the psychology behind colors and I'm fascinated with colors," Bevan says. "It was fun to play with colors in the space to keep a buoyant feel in the room. The shades we chose of yellow and blue have a slightly muted undertone, which is calming and relaxing—good in a space you're sleeping in. Studies have shown yellows promote happiness. Seafoam blue is reminiscent of the ocean, and the pond outside The Surf Lodge—it picks up on that beautiful view. We wanted to pull nature in through the colors and materials."
A few elements remain from the rooms' prior incarnation, including the signature hanging chairs and hammocks, which were replaced with new ones. Even the decision to use the yellow and turquoise colors of the Yellow Leaf hammocks, which hang in the rooms' terraces, was intentional. "We chose bold colors because they look so pretty when you're paddleboarding out back, or as kayakers go past on the pond there," Bevan says. "You can really see them pop from the decks of The Surf Lodge. We've been shown really beautiful photos that kayakers take out on the pond, looking out at the glow of The Surf Lodge. It's really inviting."
The pièce de résistance is Suite 21, created in a special nod to Cardoso's Brazilian heritage by using items such as stunning Roberta Schilling lounge chairs made of Brazilian hardwood. The room is a tasteful mix of vintage and new pieces. Occupying a place of prominence is a rare 1960s-era Lotus chair by Miller Yee Fong. "We wanted to unearth old designs and give them a fresh life by putting them with modern art from Marlborough Gallery," such as a whimsical painting by Keith Mayerson, of James Dean as a cowboy. "We liked the juxtaposition of the painted mirrors and bold colors next to these natural wickers. Even some of the pieces that are new were inspired by old pieces." The bed was a 1950s design that they found while flipping through old surf books, and they hired a local builder to make it. Clever details are threaded throughout, such as vintage barstools reupholstered using old surf blankets.
Open through October; thesurflodge.com