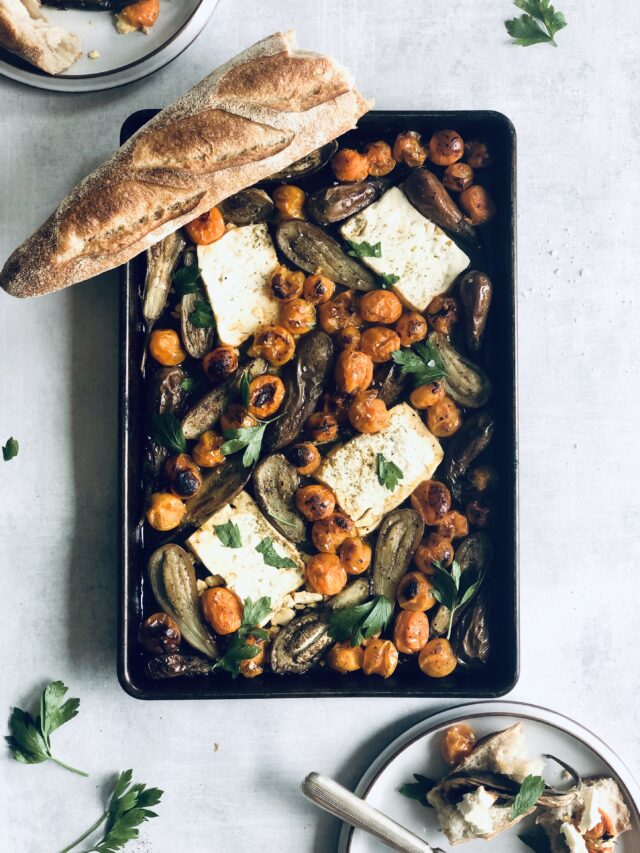 Baked Feta With Fairy Tale Eggplant and Gochujang Sungold Tomatoes
There is nothing more satisfying and simple than throwing a bunch of delicious things on a sheet pan, giving the whole thing a good glug of olive oil and letting the oven do its magic. When hot out of the oven, feta becomes mellow and creamy, the perfect foil for tender eggplant. And there's the subtle spicy-sweet kick of gochujang-laced cherry tomatoes that create their own sauce when they burst. This tray bake falls somewhere in the lunch, snack, appetizer realm—really, it's great for any time of day and perfect for Netflix or HIFF movie night. Make sure to eat it soon after you take it out of the oven and definitely with the best crusty baguette you can find.
Fairy Tale eggplant: Amber Waves
Sungold tomatoes: Harry's, Fairview Farm at Mecox
Sea salt: Amagansett Sea Salt Co. Baguette: Carissa's
Serves 4-6
Ingredients:
1 pint Sungold cherry tomatoes
2 tablespoons gochujang
Kosher salt and ground black pepper
2 pounds fairy tale eggplant, cut in half lengthwise
8 ounces feta, cut into ½-inch slabs
2-3 tablespoons olive oil
2 tablespoons za'atar, divided
Flat-leaf parsley, for garnish
Sea salt, for finishing
Instructions:
1. Preheat oven to 400°F.
2. In a medium bowl, toss tomatoes
with gochujang, salt and pepper until
evenly coated.
3. On a quarter-size baking sheet, arrange coated tomatoes around feta and eggplant and drizzle all with olive oil. Sprinkle with additional salt and pepper and 1 tablespoon za'atar. Bake for 20 minutes, then broil for
2 minutes or until tomatoes are blistered and feta is browned.
4. Garnish with flat-leaf parsley, remaining za'atar and sea salt. Serve with crusty baguette.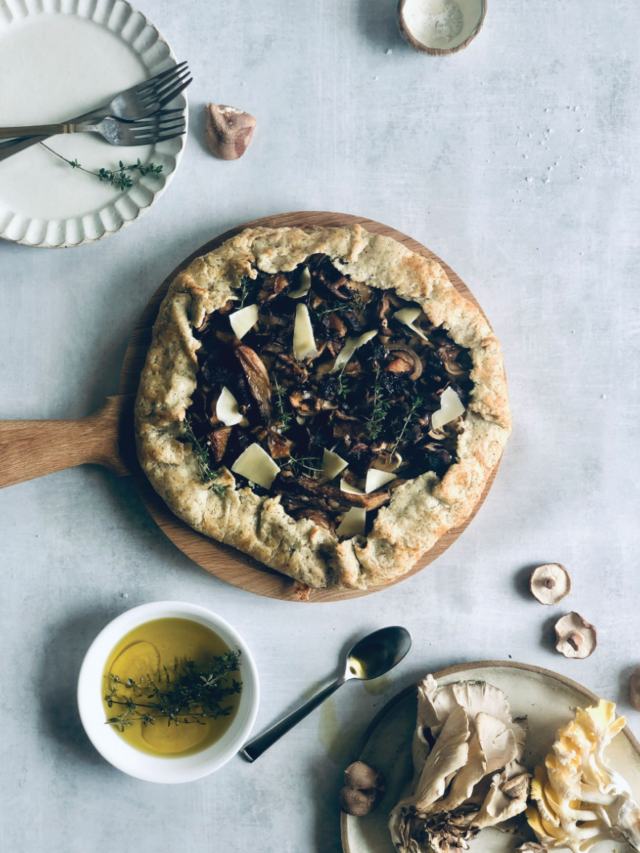 Miso Mushroom Galette With Black Tea Crust, Sigit Reserve, Thyme Oil
Fall means comfort food—and nothing says comfort food more than baking. This savory galette will fill your kitchen with those autumnal aromas that'll make you want to curl up in a blanket on the couch with a cup of tea. Umami-filled sauteed mushrooms get a bigger boost from miso, while the flaky, buttery crust is flecked with black tea for a subtle herbaceous note. Oh, and you can't forget the layer of creamy ricotta and Mecox Bay Dairy Sigit Reserve cheese underneath it all. The best part about a galette is its casual rustic charm, ideal for a lunch or dinner along with a salad. But you know what? For breakfast with an egg on top? I'll fall for that.
Mushrooms: Open Minded Organics
Sigit Reserve: Mecox Bay Dairy
Shallots and garlic: Pike Farms
Honey: Sag Harbor Honey
Sea salt: Amagansett Sea Salt Co.
Ingredients:
Crust
1½ cups all-purpose flour, plus one tablespoon
1½ sticks cold unsalted butter, cut into ½-inch cubes
1 teaspoon black tea leaves
¼ teaspoon salt
1∕3 cup ice water
Filling
1 cup ricotta
½ cup grated Sigit Reserve, plus more for garnish
½ teaspoon salt
¼ teaspoon ground black pepper
1 tablespoon honey
2 tablespoons white miso
1 tablespoon butter
1 tablespoon EVOO
½ cup shallots, sliced
2 garlic cloves, minced
1½ pounds mixed mushrooms, cut into
large pieces
1∕3 cup sake (or white wine)
1 tablespoon thyme leaves
½ teaspoon ground black pepper
1 egg, beaten
1 tablespoon milk
Instructions:
1. To make the dough, put the flour, butter, black tea leaves and salt in a food processor and process for
5 seconds; the butter should still be in pieces. Add the ice water and process for
5 seconds longer, just until the dough comes together; the butter should still be visible.
2. Remove the dough from the processor and invert it onto a large floured sheet of nonstick parchment. With your hands, form into a round disk approximately 1 inch thick. Sprinkle with flour and place a second parchment on top. Roll out the dough into a 16-inch round, approximately
1∕16- to 1∕8-inch thick.
3. Transfer dough, still between the parchment, onto a sheet pan and place in fridge to chill until firm, about 20 minutes. Preheat the oven to 400°.
4. While dough is chilling, make the filling. In a small bowl, combine both cheeses, salt and pepper and honey; set aside.
5. In a large nonstick pan over medium heat, add miso, butter and olive oil and stir until combined. Add shallots and garlic and saute until tender, approximately 1-2 minutes. Turn heat to high and add mushrooms; saute for 2 minutes. Add sake, thyme and pepper, and continue to saute until liquid is gone. Mushrooms should be al dente (they'll continue to cook in the oven). Remove from heat and transfer to a bowl and set aside or in fridge to cool.
6. To assemble, remove dough from fridge and peel off top layer of parchment. Evenly spread cheese mixture on dough, leaving a 1½-inch border. Mound mushrooms on cheese mixture and fold dough edge up over the mushrooms. In a small bowl, whisk together egg and milk and brush on the border of the dough.
7. Place in oven and bake for 40-45 minutes or until crust is golden brown. Remove from oven and let cool for 10-15 minutes. Before serving, sprinkle
top with Sigit Reserve and sea salt.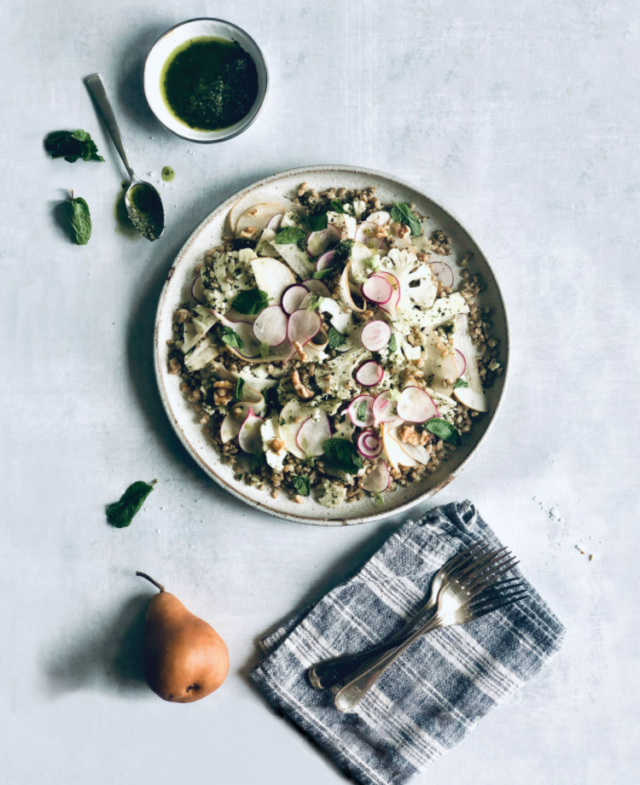 Shaved Cauliflower Salad With Brown Butter Farro, Pear and Walnut Mint Pesto Vinaigrette
Early fall in the Hamptons is one of my favorite times of year. The sun is still brilliant and bright, the flowers are in bloom, but there's a touch of chill in the air that hearkens to cooler, cozier months ahead. This salad has equal amounts of both—the hearty fall comfort of farro, and the fresh summery crunch of thinly sliced vegetables. The brown butter (I mean, who doesn't love some brown butter?) is so satisfyingly simple to make yet the result is so perfectly luxurious, while the vinaigrette is herbaceous, bright and fresh. What's even better, this dish easily feeds a crowd and is super-versatile—add some feta or shards of Parmesan, mix in arugula or kale, and for sure match it with any protein like roast chicken or salmon for a simple two-dish dinner. It's a perfect way to celebrate the season.
Cauliflower: Serene Green Mint, and purple radish: Amber Waves
Serves 4
Ingredients:
1 cup farro
2 cups vegetable broth
1½ teaspoons kosher salt
4 tablespoons butter
3-4 purple radishes, thinly sliced on a mandoline
12 ounces cauliflower florets, thinly sliced on a mandoline
1 Bosc pear, thinly sliced on a mandoline
Sea salt, for finishing
Walnut Mint Pesto Vinaigrette
1 cup mint leaves
1 cup parsley leaves
½ cup toasted walnuts
3 tablespoons white wine vinegar
3 tablespoons lemon juice
½ teaspoon lemon zest
1 teaspoon kosher salt
Ground black pepper
½ cup EVOO
Instructions:
1. In a medium saucepan, combine farro, vegetable broth and salt. Bring to a boil, then reduce to a simmer and let cook, stirring occasionally, until farro is tender—about
30 minutes—and drain.
2. In the meantime, make the vinaigrette: In a food processor, add mint, parsley, walnuts, vinegar, lemon juice and zest and salt and pepper and pulse until combined. With motor running, stream in olive
oil and continue to blend until smooth.
3. For the brown butter, in a skillet over medium heat, add butter and melt, until butter turns golden—about 2-3 minutes. Remove from heat. Transfer drained farro to a large serving bowl and add brown butter. Stir to combine. Add cauliflower, radishes and pear with vinaigrette and stir to combine. Finish with sea salt.
Check out petersom.com for more delicious recipes.