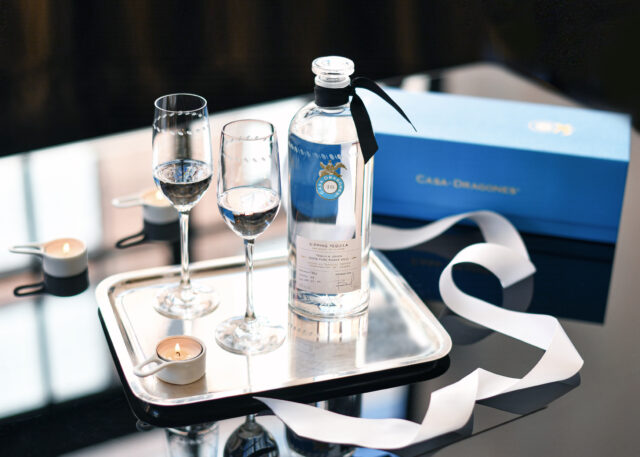 The holidays may look different this year, but the festive energy can be preserved through indulgence in the finer things, including stylish cocktails made with high-quality spirits, like small-batch sipping tequilas from Casa Dragones. The brand's creations, which include the Joven, Blanco and Añejo Barrel Blend varieties, are a unique fusion of Mexican craftsmanship and ultra-modern taste profiles. Each bottle is made from start to finish by a highly detailed process that utilizes the country's natural resources along with progressive and sustainable distillation practices.
Grown in 20,000-year-old volcanic soil rich in silica, potassium and obsidian rock, Casa Dragones' agave plants are cultivated more than 3,900 feet above sea level in the Trans-Mexican Volcanic belt in the town of Tequila, Jalisco. From there, the plants are harvested after seven years of growth, and are chosen by the level of ripeness and sweetness in the heart of the piña, the part of the agave plant used to make tequila. Casa Dragones uses an ultra-modern production process which uses less energy and produces less waste than traditional methods. From the headwaters of the Volcano of Tequila, the water used for Casa Dragones is exceptionally pure, natural spring water, enriched with the perfect balance of minerals to develop a distinct and sophisticated taste. Each crystal bottle of Joven is etched using the pepita technique, performed by highly skilled Mexican artisans.
Dubbed the "Tastemakers' Top Tequila" by Forbes magazine, Casa Dragones Joven is a master blend of 100 percent blue agave silver and extra aged tequila, rested in new American oak barrels. Expert tequila connoisseurs have described Joven as a full-bodied experience of floral and citrus top notes, with hints of vanilla, spice, pear and warm hazelnut. It's crafted to be paired with food, so Casa Dragones has curated a collection of select chef pairings, collaborating with innovative chefs and renowned restaurants to create menus centered around Joven's ethos. Dishes include toasted-corn ice cream and cacao nibs made by chef Martha Ortiz of Mexico City's Dulce Patria restaurant, which balances creamy vanilla with bitter raw chocolate. Pastry chef Jiho Kim, formerly of The Museum of Modern Art's two-Michelin star eatery, The Modern, recommends enjoying Joven with his Earl Grey Ganache and Vanilla Chantilly Tart, a sweet finish to any holiday celebration.
Discover Casa Dragones' offerings through reservebar.com