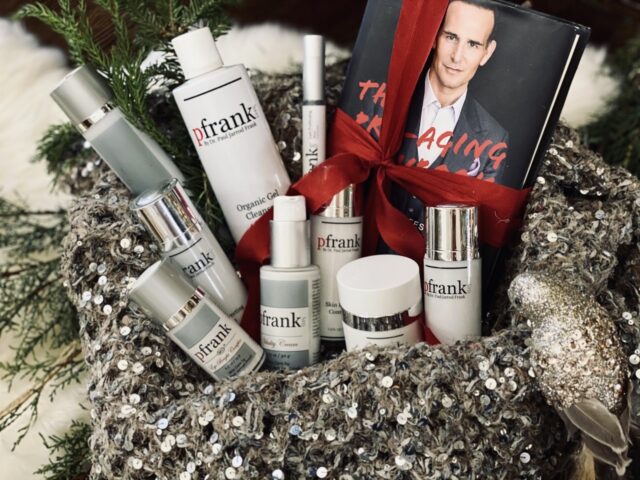 The fear of "aging skin" plagues people from all walks of life. Countless beauty brands peddle an array of "anti-aging" products, claiming to turn back the clock on the body's natural aging process. Those in their 20s are even marketed preventative skin care to ward off wrinkles and crow's-feet 30 years down the road. These tactics perpetuate the harmful narrative that aging skin can't be beautiful, and sets unachievable beauty standards that chip away at the self-esteem of many.
There are ways to flip the script of these messages, and renowned celebrity cosmetic dermatologist Dr. Paul Jarrod Frank is leading the way. His recent publication, The Pro-Aging Playbook, is a how-to guide for embracing a wellness-minded lifestyle at any age. The book follows a holistic approach to maintaining full body health, and supplies no-nonsense advice on the ins and outs of the beauty industry. Rather than urging patients to undergo drastic procedures to ward off aging, Frank recommends sophisticated and subtle enhancements as a form of grooming.
His signature skin care line, PFRANKMD Therapeutic Skincare, follows the rule of KISS ("Keep It Simple, Stupid!"). This philosophy is exemplified in his collection of daily beauty essentials, corrective cosmeceuticals and pharmaceutical-grade products. A thoughtful gift for beauty fanatics of all ages, Dr. Frank's Daily Skincare Value Set, which includes the Organic Gel Cleanser, Vitality Cream and UV SPF 40 Shade Sunscreen, is a foundational ritual that helps the skin stay healthy longer. Containing beneficial ingredients suitable for sensitive skin, including shea butter, and vitamins C and E, the set's products work in tandem to gently remove impurities, lock in hydration and shield the skin from the sun's harmful rays. For those who want to elevate their self-care rituals even further, turn to Dr. Frank's peptide-rich Eye Light Complex, color-correcting serums and concealers, and Lash Proliferating Serum for fuller, longer lashes.