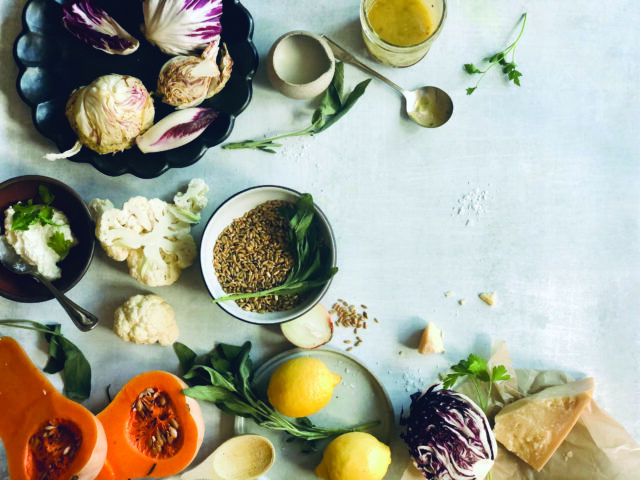 by Peter Som
Freekeh Risotto With Butternut Squash, Sage and Ricotta
So freekeh, yes? Freekeh is an ancient grain similar to farro or quinoa that's been a staple in Middle Eastern diets for centuries. With a nutty, tender texture, it's delicious and high in vitamins and minerals, as well as fiber and protein. In fact, freekeh has more fiber than brown rice or quinoa. It also has a relatively low glycemic index when compared to other grains. This riff on the ultimate Italian comfort food—risotto—gets a healthy kick from this lovely grain, along with those delicious fall flavors of butternut squash and sage. A swirl of ricotta and a dash of Parmesan brings that touch of richness that we all love in a risotto. A perfect vegetarian lunch or dinner for those chilly winter evenings.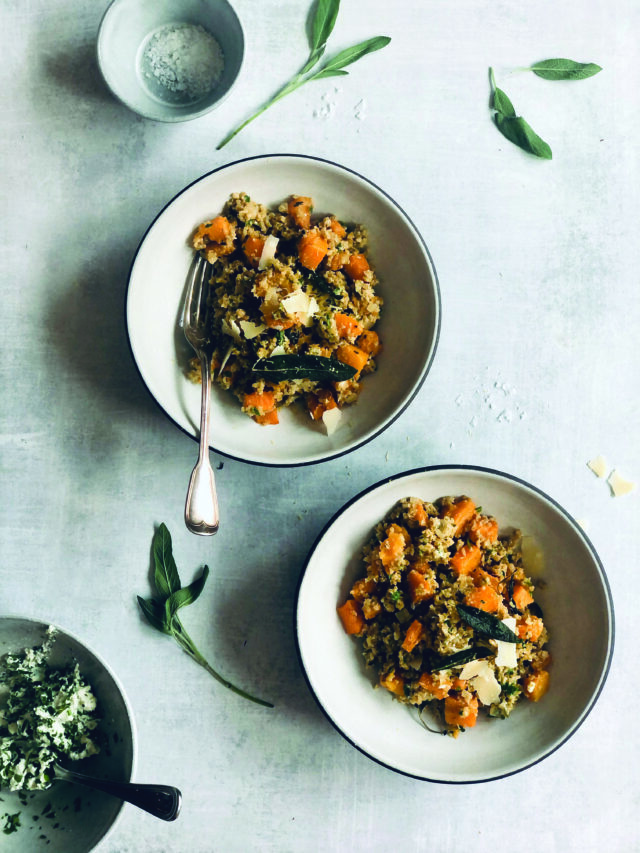 Serves 4
Ingredients:
1 small butternut squash, peeled and cut into ½-inch cubes (approximately 18 oz.)
3 tbsp. olive oil, divided
10 sage leaves
Kosher salt and pepper
1∕3 cup low-fat ricotta
½ cup flat-leaf parsley, finely chopped
2½ cups vegetable stock
1 small onion, finely chopped (approximately 1 cup)
2 cloves garlic, minced
1 cup cracked freekeh
¼ cup freshly grated Parmesan; more for serving
1 tbsp. lemon juice
2 tsp. lemon zest
Instructions:
1. Preheat oven to 425°F.
2. On a parchment-lined sheet pan, toss squash with 1 tbsp. olive oil, sage, salt and pepper. Roast for 20 minutes, tossing once halfway through, until squash is tender and slightly browned on edges.
3. In a small bowl, combine ricotta and parsley. Season with salt and pepper. Set aside.
4. Heat remaining olive oil in a large frying pan over medium heat. On a separate burner in a pot, add stock and heat over medium heat. To the pan, add the onion, garlic and a pinch of salt, and cook for 3 to 4 minutes or until the onion begins to soften. Add freekeh; stir well to coat. Add a ladleful of hot stock. Cook, stirring, until most of the stock has been absorbed before adding more stock. Continue to cook for 12 to 14 minutes or until all the stock has been absorbed and the freekeh is tender.
5. Stir through the ricotta mixture and roasted squash until heated through. Add lemon juice, and salt and pepper to taste. Finish with lemon zest and grated Parmesan and serve immediately.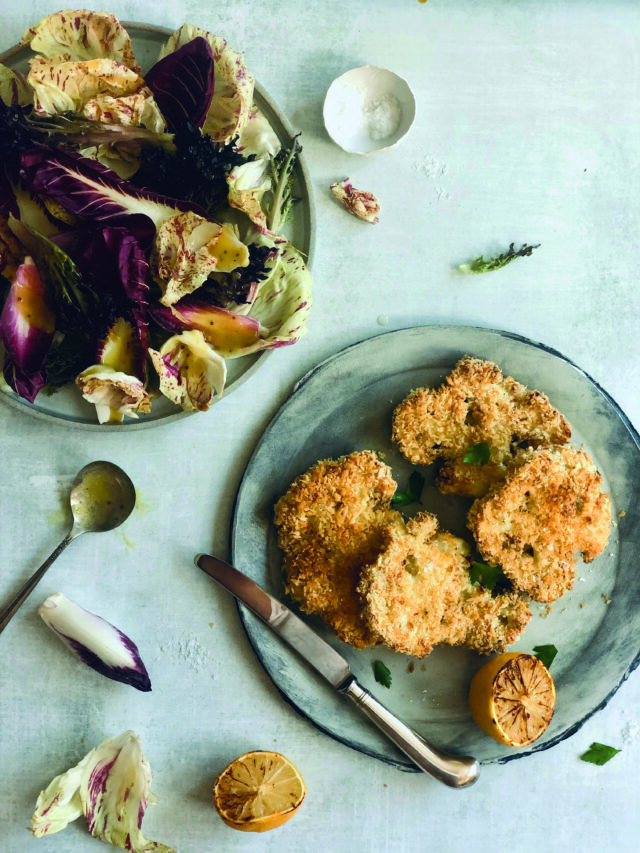 Cauliflower Milanese With Winter Salad
Cauliflower takes center stage with this meat-free variation on the iconic chicken (or veal) Milanese. All the hallmarks of a Milanese—a shatteringly crisp coating and a vibrant salad—are still in play. The roasting of cauliflower steaks renders them so tender and toothsome, and contrasts perfectly with the bitter, bright crunch of chicory. This healthy and lighter take on a classic will win raves from vegetarians and meat-eaters alike.
Serves 4
Ingredients:
Vinaigrette
¼ cup red wine vinegar
½ tsp. crushed chili flakes
1 tsp. Dijon mustard
1 tbsp. whole-grain mustard
1 tsp. honey
3/4 cup extra-virgin olive oil
Kosher salt and freshly ground black pepper
3/4 cup extra-virgin olive oil
Milanese
2 heads cauliflower
¼ cup cornstarch
2 large eggs, beaten
½ tsp. Sriracha
1 cup whole-wheat panko
½ cup grated Parmesan cheese, plus more for serving
Olive oil cooking spray
Kosher salt and freshly ground black pepper
1 lemon, cut in half
Sea salt, for finishing
5 oz. mix of chicory leaves, such as endive or radicchio
Instructions:
1. Preheat oven to 400°F.
2. To make dressing, combine all ingredients except oil in a small bowl. Slowly stream in oil while whisking until oil is emulsified. Store in the fridge in an airtight container until ready to use.
3. Place cauliflower on cutting board, stem side up. Cut head in half, making sure to cut right down the center of each stem. Cut a 1-inch slab from each half of the head, ensuring the stem holds the slab intact. Save remaining cauliflower for another use.
4. In three shallow bowls, fill one with cornstarch, the second with eggs, Sriracha and a pinch of salt and pepper, and the third with panko and Parmesan. Dredge each cauliflower steak thoroughly in cornstarch, then egg mixture, then panko mixture. Spray a sheet pan with oil. Place cauliflower steaks on sheet pan and spray with oil. Roast in center of oven for 40 to 45 minutes, rotating pan halfway through. Roast until golden brown and tender.
5. In a small pan over high heat, place lemons cut side down until charred and fragrant. To serve, arrange cauliflower on a large platter with lemon halves alongside. Add greens and drizzle with dressing; sprinkle with salt and serve immediately.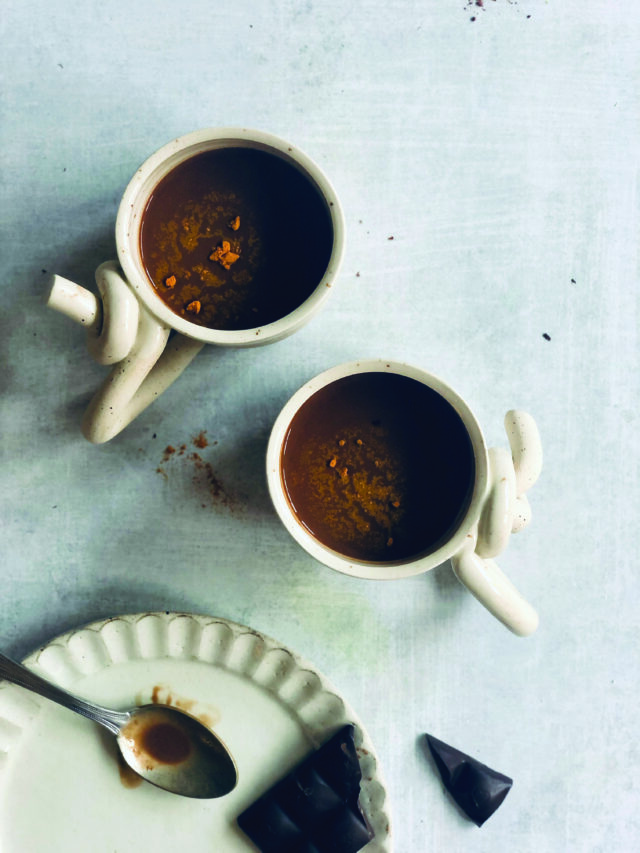 Almond Milk Hot Chocolate
The ultimate winter indulgence is a cup of hot chocolate, and who can object? Creamy, warm and chocolate-y, this dairy-free version swaps out cow's milk for almond milk (any other nut or soy milk can be used as well), and introduces a dash of turmeric for an anti-inflammatory boost. Studies have shown that cold weather can increase inflammation—so that touch of turmeric is not only delicious, but also good for you. And don't worry, I've added real dark chocolate into the mix. Serves 2
Ingredients:
2 cups unsweetened almond milk
1/4 cup raw cacao powder
1 tsp. turmeric powder, plus more for garnish
2 oz. dark chocolate, finely chopped
1 tsp. maple syrup
½ tsp. vanilla extract
¼ tsp. kosher salt
Instructions:
In a medium pot, bring milk to a boil over medium heat and whisk in cacao, turmeric, chocolate, maple syrup, vanilla and salt. Continue to whisk until foamy. Pour into mugs, garnish with turmeric and serve hot.
Check out petersom.com for more delicious recipes.