Sasha Benz: I'm thrilled to have your line at the new Wyld Blue in Aspen. What excites you about bringing KBH to Aspen?
Kimberly Berry Haisch: We've had an amazing, like-minded partnership with you and Wyld Blue in Montauk, so this makes perfect sense. To be able to reach people from all over the country who will be in Aspen for the winter and are interested in sustainable practices, and of course beautiful jewelry, is very appreciated.
SB: How does sustainability factor into KBH Jewels?
KBH: Our jewelry is made as a symbol of love and labor with a commitment to clean material sourcing, circular practices, quality and craftsmanship. Our collection is made from 100 percent reclaimed gold, cultivated diamonds and sustainable South Sea pearls. Since launching, we've been proud supporters of Ethical Metalsmiths, Earthworks–No Dirty Gold campaign, Pure Earth, Mercury Free Mining and MJSA. This season we launch our "Wear Your Values" campaign, with 100 percent of proceeds from the first two necklace designs (Calling All Mothers and We Will Rise) benefiting the Loveland Foundations and Together Rising.
SB: You also spend a lot of time in Vermont. What do you love about mountain life?
KBH: My husband and I joke that between school and both of us working full-time, the chairlift is where we can sit and chat consistently throughout the day. It's nice to get everyone's eyes and heads away from screens and out to enjoy the beauty and wonder of nature and all that it provides. It's incredible that Wyld Blue is expanding to Aspen, especially right now. What brought the business here?
SB: A lot of our clientele travel between Montauk and Aspen. After my good friend Jayma Cardoso, founder of The Surf Lodge, opened a successful The Snow Lodge pop-up, she advised that Aspen would be a perfect place for us to set up our second store. She talked about how welcoming the community was, and how energetic the clientele was. We have been given such a warm welcome so far!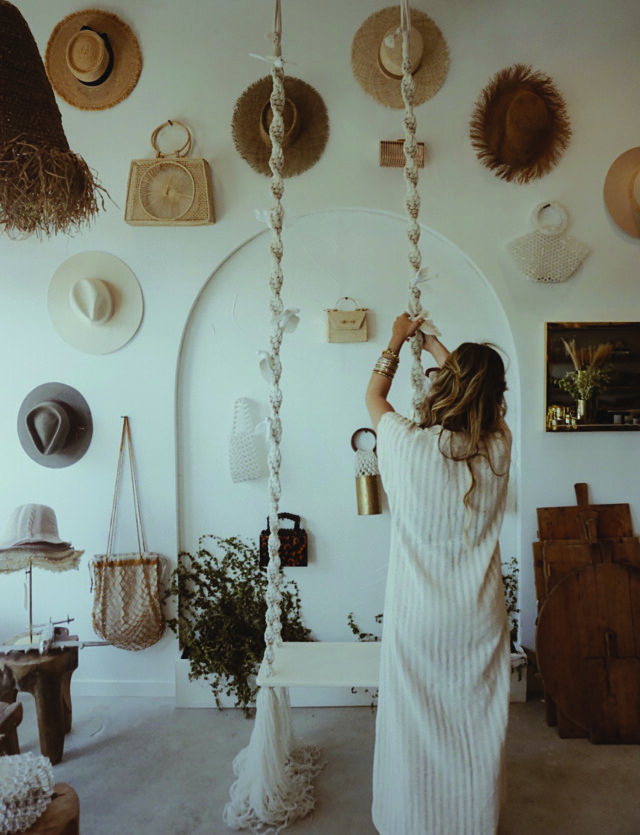 KBH: What was your motivation in creating Wyld Blue—and what do you look for in the brands and products you carry?
SB: Wyld Blue is the culmination of my career, between styling, creative direction and working at multiple fashion publications. For our Aspen location, our assortment is designed with winter in mind. Think thick, warm and cozy textures. Compared to Montauk, our Aspen location will have a wide selection of home goods that cater to the family-oriented, residential town. You'll find high-quality products, interesting textures and staple pieces that can't be found at a typical department store.
KBH: How has this crazy year affected your business? How have you pivoted?
SB: Our business is seasonal, so we are thankful that timing was on our side and we didn't lose much of summer to the pandemic, but we have to be more mindful of health and safety protocols. We also recognize how important it is now for clients to shop online, so we've revamped our website. How about you? How is this year different for you?
KBH: I am fortunate to have a very involved husband and an amazing network of family and friends. While it's been a struggle, I am thankful for all of the quality time we've had together. What will you do first when the pandemic is over?
SB: Travel to Australia to see our family! wyldblue.store ; kbhjewels.com