By Hilary Stunda
We Care Spa is an oasis of healing and well-being in a hardscrabble desert scape with staggering views of the San Jacinto mountains. You can feel the energy of the desert here. After all, Desert Hot Springs, California, is the land of the Cahuilla, Kumeyaay and the Pechanga Band of Luiseño Native American people of Southern California. Spirits abound.
For over 30 years, guests from all over the world, including celebrities Ben Affleck, Gwen Stefani, Cameron Diaz, Matthew McConaughey and Reese Witherspoon, have made the spa journey for the fasting and detox program that reboots and cleanses mind, body and spirit.
The We Care diet, perfected over the years, consists of a combination of organic vegetable juices, alkaline water, nutritional supplements, and specially designed therapeutic teas and powdered plant concentrates made into juices. The liquids nourish the body, but more importantly help dissolve toxins that have accumulated in the tissues and the five organs of elimination (skin, liver, large intestine, lungs and kidneys).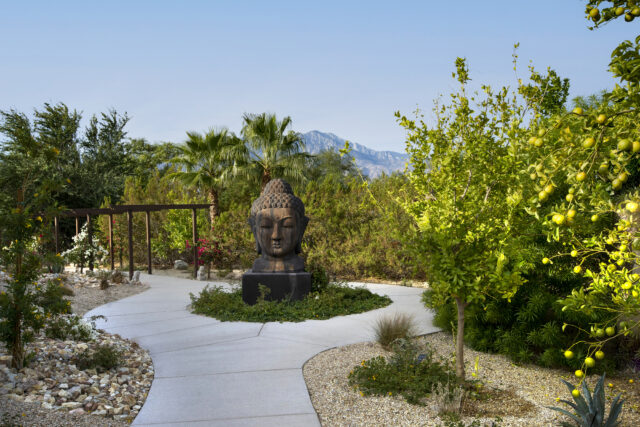 We Care's founder, 83-year-old Susana Belen, is a testament to her nutritional practices. No aches or pains, no injuries, no medications, ever. She has the same weight and blood chemistry as she did at age 20. Her credo: easy choices, profound changes.
Fasting jump-starts healing. The spa's well-being and cellular-renewal treatments complement the fastings. Hydrocolonic therapy is a main component of a successful stay, which can run anywhere from three to eight days or more. As early as day two, the liquids start to work their magic—dissolving weeks, months, even years of accumulated waste.
Fasting goes hand in hand with spiritual cleansing and setting personal intentions. It's amazing how much time one has by simply not eating, when days begin with lemon water and a juicer stands poolside and there's nothing but the sounds of the desert to lull you to sleep.
Guests meander freely throughout the lush property, stopping to rest on large cushions beneath gazebos with mountain views, or soak in tucked-away private tubs, or maybe nap on the floating bed, a one-point pendulum lounger that swings head to foot, aiding blood flow to the brain.
Some of the spiritual offerings include Reiki, sound and crystal healing, soul card readings, and one-on-one sessions with a shamanic healer and teacher. One of the most recent offerings was a fire ceremony led by Mari, a gifted practitioner skilled in shamanic techniques. Stars ablaze, wind and coyotes howling, a parka-clad group of spa-goers arrived at a fire pit with confessions to burn. One by one, each guest watched past grievances and traumas turn to embers that rose and disappeared into the sky.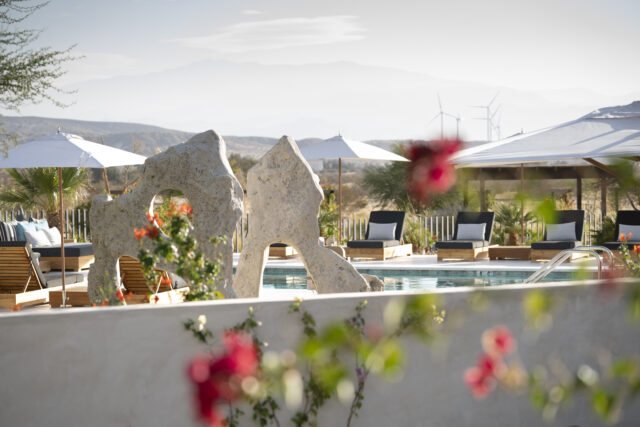 A Sample From We Care's Daily Juice Program
GREEN FOOD DRINK: Alfalfa leaf extract, barley grass juice, apple powder, apple fiber, wheatgrass fiber, spirulina powder, citrus bioflavonoids, spinach powder, ginkgo leaf powder
DETOX DRINK PLUS: Organic psyllium husk, psyllium seed, apple, fig, prune
REGULATOR PLUS(PILL SUPPLEMENT): Aloe powder, senna leaf powder, buckthorn bark powder, fenugreek seed powder, rhubarb root powder, hyssop leaf powder, ginger root, hydroxypropyl methylcellulose