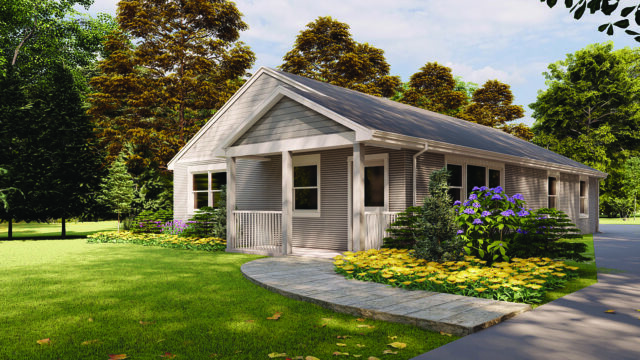 By Alfredo Mineo
Just 80 miles east of Manhattan in the hamlet of Riverhead, on Long Island, a pleasant, if unassuming, ranch-style house is scheduled for construction. To the casual eye, it will be so ordinary as to be scarcely noticeable, although the 1,400-square-foot, three-bedroom house at 34 Millbrook Lane is destined to be anything but. The main structure of this dwelling is to be built, not by a crew of a dozen or more workers and countless machines spewing carbon dioxide into the air over several months, but by a robotic arm hoisted on a single truck in just three days. The installation of the roof and finishings are scheduled for completion a mere three weeks later. Significantly, because of its lower production cost, the home is listed at $299,999—about half of what a comparable property in the area would be.
The brainchild of architect Kevin M. Paul, vice president and discipline director of H2M architects + engineers, and SQ4D, a construction-technology company, the structure will be the first 3D-printed home in the United States to receive a certificate of occupancy. A prototype of this dwelling has been built by a robotic 3D printer arm called an autonomous robotic construction systems (ARCS), applying an eco-friendly concrete in a highly accurate pattern based on computerized instructions. ARCS uses about as much energy as a typical home hair dryer would, according to Paul, and affords impressive benefits versus conventional stick-built construction. It is also less expensive and more eco-friendly than modular construction, the traditional go-to for budget home-building.
"When you talk about sustainability, this type of construction eliminates 21 different trades and tasks that have to occur to build a house, and radically reduces labor costs," an enthusiastic Paul continues. With traditional methods, "even if you do a simple slab-on-grade house, there could be 15 guys on the site, multiple trucks, multiple deliveries, all kinds of lumber and material waste, plus carbon emissions from generators and other power tools over months of time."
He predicts that the lower cost and speed of construction will usher in a new era in production of affordable housing and allow for the rapid production of durable housing or replacement homes in zones prone to floods or weather calamities. "We see applications almost everywhere: mitigating storm or tornado damage and making housing affordable enough for people to achieve the American Dream," Paul says. "It's very exciting."
Though examples of 3D-printed buildings are not exactly blazing trails in avant-garde aesthetics just yet, Paul describes the future of architecture using this system as "limitless." With the planned structure in Riverhead, Paul explains that his firm and partners at SQ4D needed to play it safe by designing a home that would blend into the broader neighborhood and be simple enough to give confidence to different stakeholders—municipal officials, residents and realtors—that their vision was realistic and achievable. "Initially you're looking at three-bedroom ranches, or maybe a two-story colonial, but eventually, the technology is such that we can 3D-print everything in the home," as well as use the technology on more complex or creative applications, Paul adds.
While this construction method is nascent and there are barriers to entry—principally acceptance by building authorities to facilitate permitting—the low cost and efficiency of construction, combined with the reduced carbon footprint, portend a bright future.