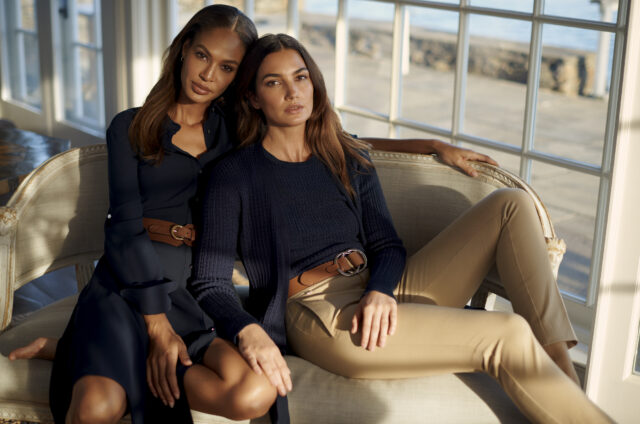 Iconic fashion house Ralph Lauren is bringing mindfulness to the garment industry, with an innovative subscription apparel-rental initiative, The Lauren Look. The clothing production industry accounts for an estimated 10 percent of the world's carbon emissions, due to the amount of energy required for manufacturing transportation of garments. Synthetic fibers often used in clothing, including polyester and nylon, are made from fossil fuel, which further exacerbates pollution. This climate emergency is alarming, but consumers hold the power to reduce the garment industry's impact on the Earth. The Lauren Look, which combines recycling practices with a shared-economy business model, is counteracting the practices that jeopardize the Earth and the well-being of people across the world.
The Lauren Look makes a positive impact on both the planet and those in need. The membership model aids in the reduction of garment waste, expanding the life span of clothing that might otherwise be purchased and worn only a handful of times. Once clothes have reached the conclusion of their rental life span, they will be donated to Delivering Good, an organization that allows brands to provide gently used merchandise to people affected by poverty and tragedy. "The Lauren Look allows us to explore an entirely new model tapping into the growing focus on the sharing economy and revolutionizing how we look at fashion consumption," says David Lauren, vice chairman and chief innovation officer. "Launching with Lauren, our most widely distributed and accessible brand, is a testament to the growth we see in this space and will help us further anticipate the evolving needs and makeup of our consumers' future closets."

From $125 per month, fashion-forward members are given access to a plethora of Lauren dresses, pants, tops and more, paired with expert styling advice to create looks that complement every aesthetic. After enjoying each month's personalized closet, members have the option to exchange clothing for new styles or buy items at member-exclusive discounts. Inclusive of all sizes, each ensemble is mindfully selected according to the customer's preferred fit and desired silhouette. The ultimate gift for a loved one yearning to revamp their look, monthly membership gift cards open doors to Ralph Lauren's coveted collection.
"The Lauren Look gives the consumer the ability and the freedom to experiment with clothes, without having to commit to purchasing and only wearing a few times." says Lauren. The brand is constantly progressing according to emerging technologies and the values of their clients, all while maintaining the distinct ethos that has been ingrained in the design world for over 50 years.