By Ray Rogers
Joe Henry Baker
Age: 31
Hometown: London
Current residence: Brooklyn
Driving force: My curiosity is my driving force! I am always looking to experiment and push the work, on a constant search for invention. The watercolor work in particular requires me to really listen to the piece as it progresses, as the medium can be so volatile. My practice is a true meditation for me; living in a busy and crazy city like New York, as stimulating as it is, is also very stressful. Being in my studio cuts all noise, both external and internal, and helps me relax and be present, resulting in work that is peaceful, thoughtful and personal.
The work: 'As We Slip Softly Into the Night,' 2020. Watercolor on canvas, simple black wooden frame, 72.5" x 40.5".
Working with watercolors is a delicate dance, and this piece encapsulates the movement and subtly of the medium. The scale really envelops you and invites the viewer in to search and discover numerous intricate details. The colors float ethereally, melting into the canvas. I'm very happy that this work found a wonderful home in the Lower East Side, close enough that I can still visit and see it in person.
How do your surroundings affect your creative process? My studio is a place of calm for me, a sanctuary above the chaos of New York. In entering the space it quiets my brain, which is crucial to my practice. But I am also very inspired by nature—whether I am camping, running, cycling or just exploring, I am always referencing colors and shapes, and building visuals for the next studio session.
Art as a form of wellness: I firmly believe that my art is crucial to my mental well-being! And if no one ever saw my work, I would still practice as much as I do. It is a true form of meditation for me. I encourage people to visit the studio and experience the work in person, sometimes even working at the same time, and the conversations are always so incredibly healthy and stimulating, through the accessibility of the art. I hope one day I can have a space large enough to invite groups in to experience the joy of making art.
What's next? I recently exhibited at IRL Gallery in Greenpoint, which was a wonderful experience, and we are in talks to show work again there soon. I have a solo show at Saturdays New York City in their Soho store in September, and I am hoping over the summer to work on films and writing to accompany paintings and clothing for the show. joehenrybaker.com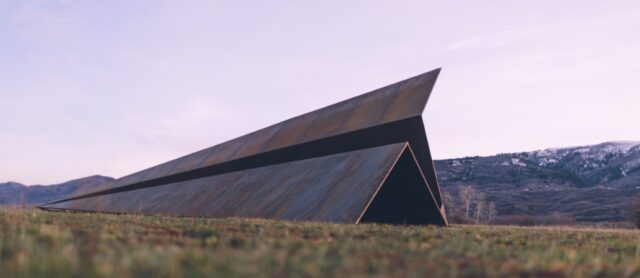 "Launch Intention," sculpture by Griffin LoopGriffin Loop
Age: 37
Current residence: In transition between Malibu, California, and Bentonville, Arkansas—literally, I'm currently at a hotel in Marfa, Texas, with a packed U-Haul parked out front.
Driving force: Life. Perspective. Curiosity. Energy. Intention.
I dream and I do.
The work: "Launch Intention" is a project based around the symbol of a paper airplane, which naturally takes us back to a time of carefree imagination and freedom. I use the symbol, often in the form of large-scale metal sculptures, as a platform to engage individuals and groups in the act of clarifying intention, sharing with the greater collective and supporting launching them into action. I have installed and programmed paper airplane sculptures in schools and communities all over the country. The goal is to create a constant reminder and invitation to explore and realize our truest self and path.
How do your surroundings affect your creative process? It's everything. It determines and allows what I am able to convey and bring to life. It has to evolve as I do. In return, I aim for my work to always complement its surroundings.
I do not make trophies.
Art as a form of wellness: It's pure wellness. It allows us to have our own experiences, realizations and takeaways. I believe it is our best vehicle and tool to transcend.
What's next? I am moving to Bentonville to support my next wave of creativity. Like the above question, it's about tapping into the environment to best serve the process and curiosity. Over the past few years I have done several projects in the area, exploring different ways to utilize art to redefine our everyday experiences. I am excited to further explore techniques like taking art off the beaten path and setting up scenarios of unexpected discovery, encouraging getting outdoors, exploration and seeing the ripple effects that "happenings of wonder and magic" can have on our lives. I will be creating a substantial studio property in the area to fully realize my creative process, produce my work and engage the world in my expressions. I can't say much else at this time but I am so excited to share with you all soon. In leaving I have just one question: What is your intention? griffinloop.com