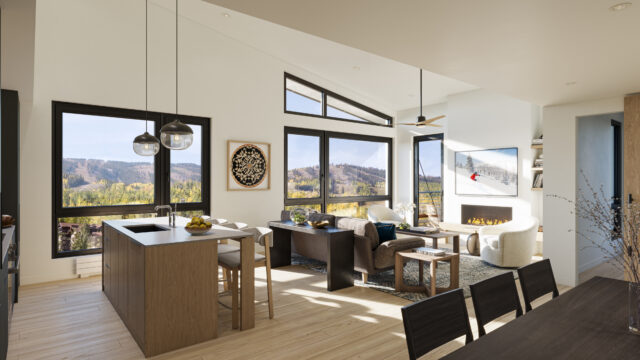 By Julia Szabo
Few experiences can equal a day of skiing the extraordinary natural playground that is Snowmass. A new property in the Village now aims to bring that pure exhilaration inside: Electric Pass Lodge, a collection of 53 new, all-electric ski-in/ski-out residences.
With meticulous attention to detail, the team at East West Partners has artfully developed and designed mountain homes that enhance the thrill of every ski run with door-to-slope convenience. Gliding in and out of home base means instant access to the great outdoors. Back inside—after stashing wet gear in an owner's locker room just off the ski run—the team's commitment to "next-level sustainability" makes it a pleasure to breathe deeply on every level. The Lodge building is powered solely by renewable electricity (sourced from a combination of a rooftop solar array and off-site renewables provided by Holy Cross Energy's network), and all materials used in its construction are low or free of volatile organic compounds (VOCs).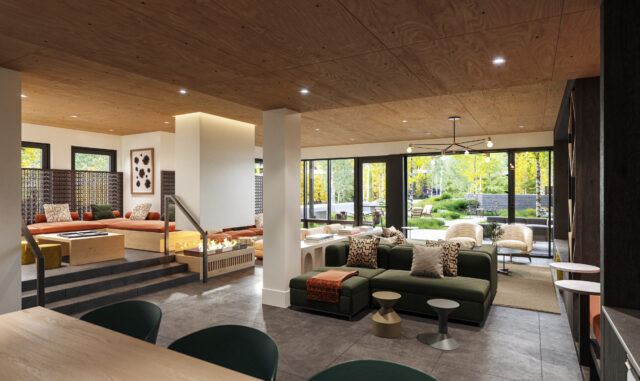 The Lodge's alpine-modern aesthetic makes these interiors as easy on the eyes as they are on the pipes: "In the mountains, people are craving contemporary design, but at the same time they want warmth," says Andy Gunion, Roaring Fork Valley Managing Partner for East West Partners. Units combine comfort with clean lines, thanks to wood tones in the kitchen and bath. A solid grounding comes from floors of driftwood and French white oak. Providing punches of warmth in an overall contemporary aesthetic encourages homeowners to personalize the space with their individual style.
"People are in the mountains because they want to see and feel nature," Gunion adds. "So we try to maximize glass on the primary views. It's a delicate balance with insulation, and with this project we're pushing the sustainability front: Our windows are high-performing, triple-pane and gas-filled, with an excellent insulating factor. They're not as warm as a wall, but it's about as good as you can get with windows." Units designed with an "infinity living room" boast a vista that's almost as breathtaking as the one from atop the mountain: A glass slider opens onto a protective glass railing, "so you're opening your living room right up to the outside."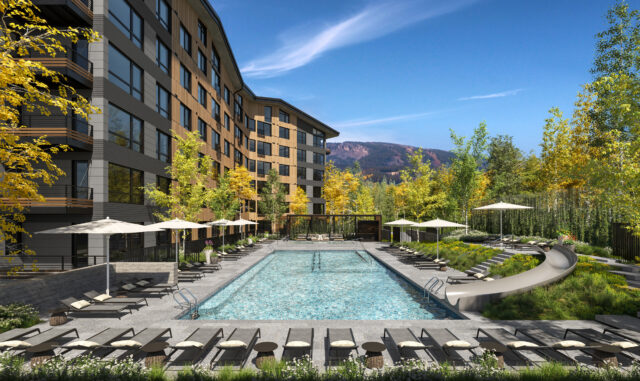 With total square footage of approximately 100,000, the six-level structure is at once distinct and at home in its surroundings. "The building itself has a mixture of dark-charcoal panels with very light gray-brown vertical wood siding," notes Ian Wilson of 4240 Architecture. "All mullions, metal trim and flashings are black." The saltwater pool will beckon with a palette of paver tiles in grays and light browns, while "the pool itself will be a more natural blue," Wilson adds.
Aware that a healthy home promotes optimal mind-body-spirit wellness, Electric Pass Lodge's creators are proud to offer the ultimate luxury: peace of mind. Planning and construction began before the pandemic hit, yet already the East West team was prioritizing respiratory safety, engineering the flow of dedicated fresh air into each home. "There's no mixing among units; each gets a continual fresh-air flow," Gunion says. "This building is highly focused on environmental sustainability and also personal health." electricpasslodge.com