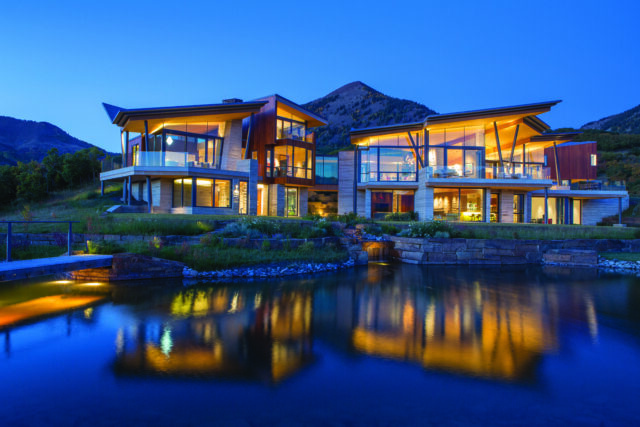 by Linda Hayes
"Site is what leads us on our journey," says Bill Poss, founding partner and CEO of Poss Architecture + Planning and Interior Design, reflecting on the success of his eponymous Aspen firm. "We've always considered how a house would sit on the land and been inspired by the surrounding landscape for our choice of color and materials. It's what led to our reputation for redefining mountain architecture."
Forty-five years ago, when Poss, as it is commonly known, was launched, that philosophy was indeed innovative, especially considering the more rustic, chalet- or lodge-style architecture predominant in the area at the time. Since then, the firm (now largely overseen by managing partner and director of design Andy Wisnoski) continues to strengthen its position at the forefront of contemporary mountain architecture.
Staying ahead of the curve while remaining true to its roots is inherent in Poss' design concepts. "We're always actively looking for elements and systems and approaches to design in this industry that are more current and sustainable," says Wisnoski. "We want our homes to have qualities that can be timeless."
Timelessness in architecture continuously spurs innovation, especially in a world where everything from consumer products to income is often referred to as disposable. "There is a movement of not being wasteful," says Rachel Guest, a principal and director of Poss Interior Design who is also a LEED-accredited professional. "A lot of what we are required to do today, especially in mechanics and lighting, solar and geothermal [energy] speaks to sustainability, of making something last."
Case in point is a 14,000–square-foot residence designed and built nearly 30 years ago on an Aspen mountainside. Singular design elements, including recessed glass curtain walls, help embrace natural light and engage the home with the surrounding landscape.
Outside of town, a family retreat that's part of an 80-acre working ranch employs the aspects of earth, wind, fire and water. The 17,500-square-foot multiple-structure home features a roof system supported by tapered wood columns and brackets that allow the floor plan to flow underneath, similar to that of a forest canopy.
Over in Telluride, the Poss team worked closely with engineers and contractors on a recent project to ensure that a 12,000-square-foot home's interior could withstand extreme wind and snow, while capturing 360-degree views and reinterpreting the geological shapes of surrounding peaks.
Noting that Poss also includes a number of commercial and hospitality projects in its portfolio, Wisnoski points out that the firm often "cross-pollinates" relevant wellness and holistic strategies between projects. Looking forward, he refers to the 2030 Challenge put forth by the American Institute of Architects that will challenge all architecture to be carbon neutral by 2030. "It's an admirable goal," he says, "a responsibility we're well on our way to meeting." 605 E. Main St., Aspen, Colorado. billposs.com