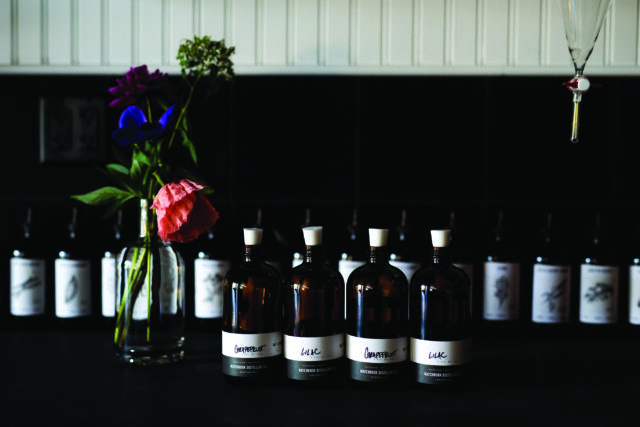 By Marisa Fox
Leslie Merinoff Kwasnieski is on a mission to turn the world of spirits green and luxe, one bespoke bottle at a time. That may sound like a tall order in an industry not known as eco-friendly and ruled by commercial brands. But to walk into her 38,000-square-foot Matchbook Distilling Co. in Greenport, New York, is to step into a wonderland of intoxicating possibilities, where the aroma of smoked pineapple melds with local sunchoke and honey, basil and lemongrass, and a vintage Italian wine press sits side by side with three hybrid pot column stills, and barrels, demijohns and fermenters of various sizes, allowing her to whip up elixirs from brandy to grappa in a myriad of batch types.
"Most distilleries pride themselves on consistency and efficiency, so you develop a recipe and make it the same way, again and again, and don't allow terroir or vintage to impact the flavor," she says. "I wanted to make something in harmony with the local farms."
She also didn't want to make the kind of product that people "crush." The 33-year-old entrepreneur, raised by an artist turned biodynamic farmer mother and a wine-and-liquor distributor father, offers a can of Riley, her new fruit sparkler. It's an organic eau-de-vie with a 4-percent alcohol content, made with watermelon sourced equally from Sep's Farm in East Marion and Rogers Farm on the South Fork, which had an oversupply that she bought, sliced, pressed, fermented and distilled, capturing the fruit's zesty essence without the sugars and added flavors of commercial spiked seltzers.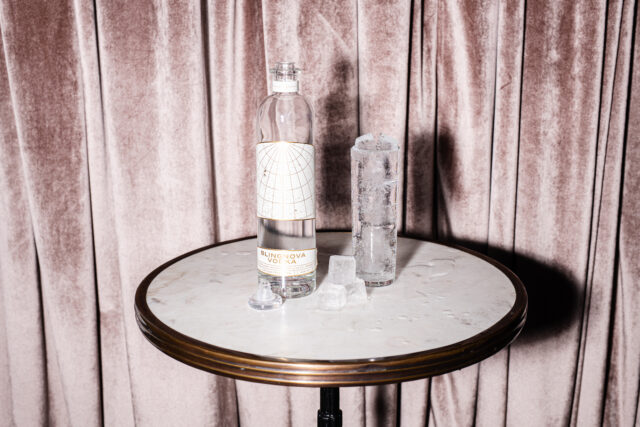 "We only buy from people who are custodians of the land," she says. "They don't use pesticides or fungicides, and they practice regenerative farming." Besides Sep's and Rogers, they also work with Treiber Farms in Peconic. "Sustainability is very important to us," says Merinoff Kwasnieski, whose yen for repurposing has led to some one-of-a-kind brandies, like the smoke-tainted wine she purchased after the fires in Oregon and day-old doughnuts from Sag Harbor's Grindstone Coffee & Donuts, turning them into liquid gold.
"I love nonconforming spirits," she says, referring to her unique potions. But it's also a good way to describe the sixth-generation descendant of whiskey magnate Hiram Walker, who releases two unique spirits a month. They've ranged from Ritual Sister, made from smoked pineapple, to Ambrosia, a lemon-rose-almond flavored vodka, to Elsewhere Blood Orange, an aperitivo.
Her back-to-nature approach is old-school and novel, a throwback to the days when farmers would ferment and distill excess produce, resulting in layers of natural flavor, but utilizing innovative ways to isolate those ingredients.
"To get the most of a fresh jasmine petal you're going to do something very different than what you'd need from a dried palo santo flower," she says, "and yet, that's how gin is made." mdcdropshop.com; matchbookny.com