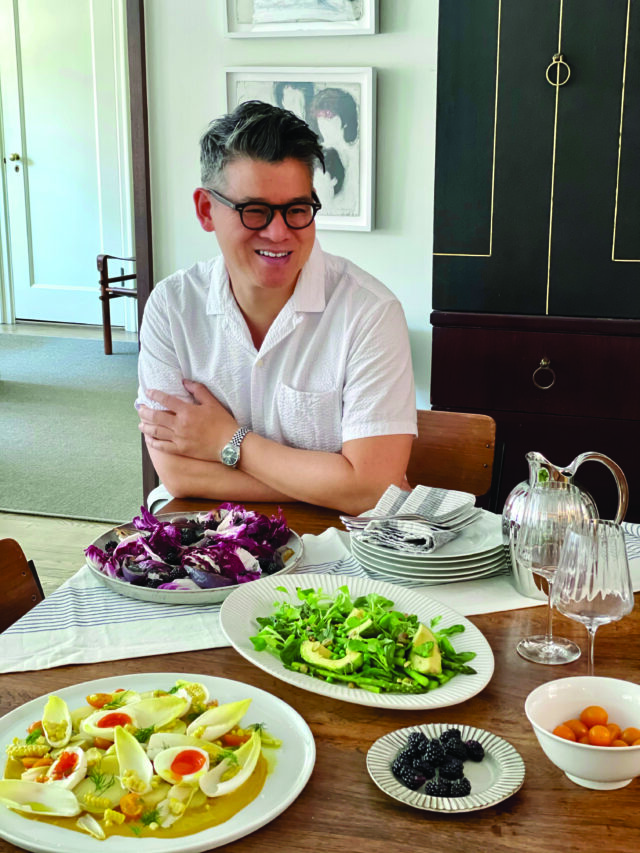 They say you eat with your eyes, right? Well, let's taste the rainbow, shall we? Summer is all about color—from bright, saturated hues of fresh corn and tomatoes to deep jewel tones of blackberries and plums. Throughout the season, the abundance of vibrant, fresh produce demands a simple, fuss-free approach—all the more to celebrate Mother Earth's treasures—and practically speaking, who wants to spend time in the kitchen while there's poolside fun to be had? The following salads draw inspiration from the array of summer hues that sweep over the land during these treasured warm months. So let's celebrate summer and enjoy life—and healthy eating—in true living color.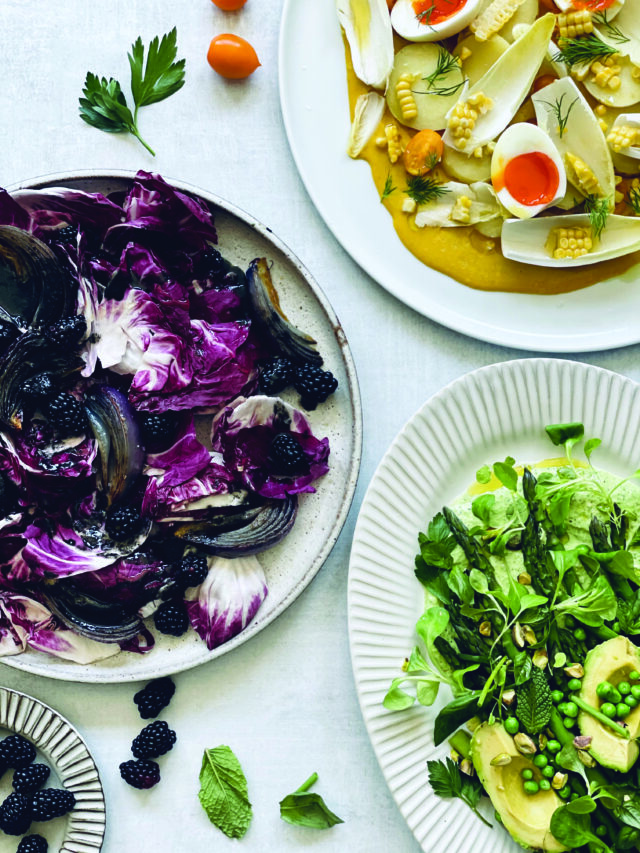 Radicchio and Blackberry Salad With Charred Red Onion and Black Sesame Vinaigrette
Serves 4
Ingredients:
For the blackberries:
1 cup rice vinegar
1 tbsp. sugar
1 tsp. kosher salt
1 tbsp. water
2 shots of Sriracha sauce
½ pint blackberries
For the dressing:
1 tbsp. black sesame paste
2 tbsp. olive oil
1 tsp. lemon juice
1 tbsp. honey
Kosher salt and black pepper
1 medium red onion
2 tbsp. unsalted butter
1 large head of radicchio, cored and leaves separated
Good honey, for finishing
Olive oil, for finishing
Flaky sea salt
Instructions:
1. For the blackberries, in a small bowl, whisk rice vinegar, sugar, kosher salt, water and Sriracha until combined. Add blackberries, ensuring they're fully submerged (if not, add a bit more water and rice wine vinegar). Let blackberries sit for 1 hour, then drain.
2. For the dressing, in a small bowl, whisk all ingredients until combined.
3. Cut onion through the stem into eighths, ensuring each wedge is intact at the root. Peel outer layer off and discard. In a nonstick pan over medium-high heat, melt butter and place wedges in pan. Saute until bottom is brown and a bit charred in spots—approximately 2 to 3 minutes—then carefully flip to the other side and continue to saute.
4. To plate, arrange radicchio on a platter, topped with red onion and then blackberries.
5. Drizzle with dressing and finish with a drizzle of honey, a glug of olive oil and flaky sea salt.
Verdant Asparagus Salad With Yogurt Green Goddess Dressing
Seeing green? It can be a good thing, actually. Green is a healing color that represents abundance, renewal, tranquility, growth and nature. And speaking of abundance, the beauty and bounty of early-summer produce demands that it be treated as simply as possible, and this salad does that. A creamy Greek yogurt-based green goddess dressing packed with herbs is the backdrop for tender asparagus and peas, with everyone's favorite, avocado, in the mix. A shower of tender greens and soft herbs adds lovely grassy notes.
Serves 4
Ingredients:
For the dressing:
1 cup Greek yogurt
1 cup packed fresh basil
¼ cup packed fresh flat-leaf parsley
2 tbsp. fresh lemon juice
1 scallion
¼ cup olive oil
1 tbsp. maple syrup or honey
½ tsp. kosher salt
For the salad:
1 bunch asparagus, ends trimmed
1 cup fresh peas
1 avocado, peeled, pitted and quartered
½ cup pistachios, toasted and roughly chopped
1 handful mâche or other baby greens
Olive oil, for finishing
Fresh basil, mint, parsley and chives, for garnish
Flaky sea salt
Instructions:
1. For the dressing, combine all ingredients in the bowl of a food processor and process until smooth and creamy. Refrigerate until ready to serve.
2. In a pan of boiling well-salted water over high heat, add asparagus for 1 to 2 minutes until bright green, then immediately transfer to a bowl of ice water. In the same pot, add peas and blanch for 30 seconds to 1 minute. Remove with a slotted spoon and add to the bowl of ice water. Drain peas and asparagus and gently dry with a clean towel.
3. To plate, spoon dressing onto a platter. Arrange asparagus, peas, avocado and pistachios on top.
4. Drizzle with a glug of olive oil, then add the mâche and herbs. Finish with flaky sea salt.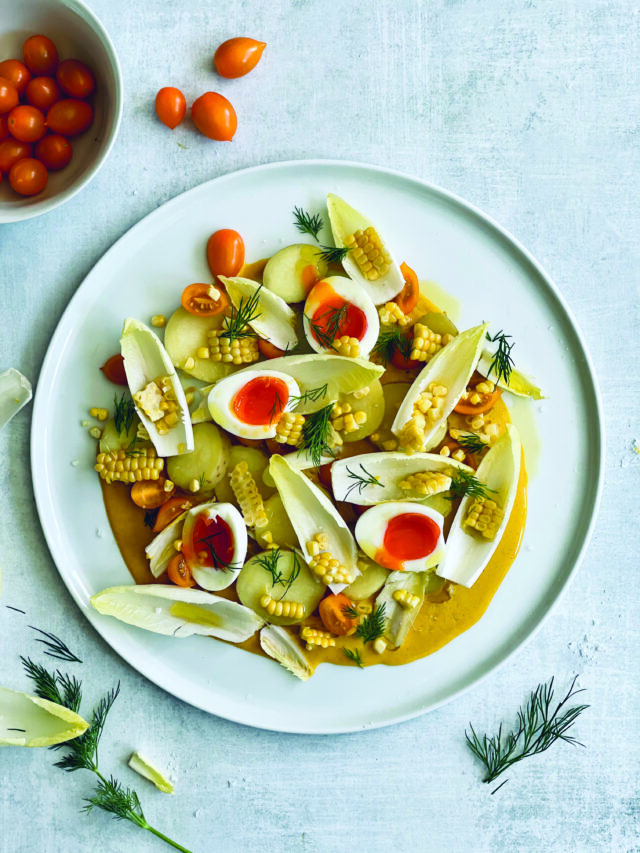 Golden Summer Salad With Creamy Turmeric Tahini Dressing
Hello, yellow. The sunny hue represents happiness, clarity and sunlight—and who's to disagree? The bright golden shimmer of this salad is an instant mood-lifter. The star here is the creamy, vibrant dressing—luxurious and satisfying for both body and soul. The nuttiness of tahini, the acidity of lemon and that unmistakable heady, magical glow of turmeric, with its potent antioxidant and anti-inflammatory properties, all come together to create some salad magic. The jammy eggs, corn, tomatoes and potatoes practically beckon you with the siren call of those South Fork idyllic summer nights, where friends, fireflies and a crisp glass of rosé are all you need.
Serves 4
Ingredients:
For the dressing:
¼ cup tahini
2 tbsp. lemon juice (about half a lemon)
2-3 tbsp. water
1 tbsp. maple syrup
¼ tsp. salt
½ tsp. turmeric
¼ tsp. cumin
¼ tsp. cayenne pepper
For the salad:
3 medium Yukon gold potatoes, peeled and cut in half
2 eggs
2 heads of endive, spears separated
1 cup yellow cherry tomatoes, halved
Kernels scraped from 2 ears of corn
Olive oil, for finishing
Flaky sea salt
Dill fronds, for garnish
Instructions:
1. For the dressing, in a small bowl, whisk all ingredients until smooth.
2. Place potatoes in a pot filled with cold water and bring to a boil. Lower to a rolling boil over medium heat and cook for 20-25 minutes or until easily pierced with the tip of a knife. Remove potatoes from pot and allow to cool. Cut into slices.
3. Bring water back to a boil and in the same pot, boil eggs for exactly 7 minutes, then transfer to cold water to cool. Peel and halve.
4. To assemble, pour dressing onto a large platter and arrange potatoes, endive, tomatoes, eggs and corn kernels on top. Drizzle with a glug of good olive oil and finish with flaky sea salt. Garnish with dill fronds.
For more recipes, visit petersom.com.