By Regina Weinreich
The news from Brazil in pandemic times has been less than uplifting. Not so with a handful of Brazilian-influenced businesses on the East End, several opening during this stressful year, each an expression of hospitality, resilience and joy.
Just opposite Amagansett Square, the Lazypoint boutique features an array of lemon- and raspberry-hued organic cashmeres, festive ceramics, floral-print dresses and vitrines of fine jewelry. On a Monday in early May, the shop was abuzz: "I just want to show you one more dress," said the owner, Claudja Bicalho, helping a customer decide. The woman bought them all.
"Like it or not, Amagansett is a resort town," Bicalho assessed the market. "When I go to a resort town, I want to shop in stores that do not have what I can see anywhere else."
A six-year-old offshoot of a pop-up she first opened in 2010 with an Australian partner, Mark Wilson, Lazypoint represents, she says, "the Southern Hemisphere of the world." The shop has a sophisticated, global vibe, showcasing craftsmen from Italy, Belgium and Mongolia.
Growing up in Belo Horizonte (translation: beautiful horizon), in southeast Brazil, Bicalho always had her own style. "A seamstress came to the house and allowed me to express myself in my clothes, which became an extension of my personality," she says. "When we opened Lazypoint, everything was department stores, with no individual value, or designers, so everyone knows what season, and what you paid. When I buy for the shop, my choice comes from a personal place. I like what I like.
"I want women to look beautiful," she continues, "to improve their lives wearing something they love. Color has an amazing influence on people's energy. That's very Brazilian, to believe in something beyond."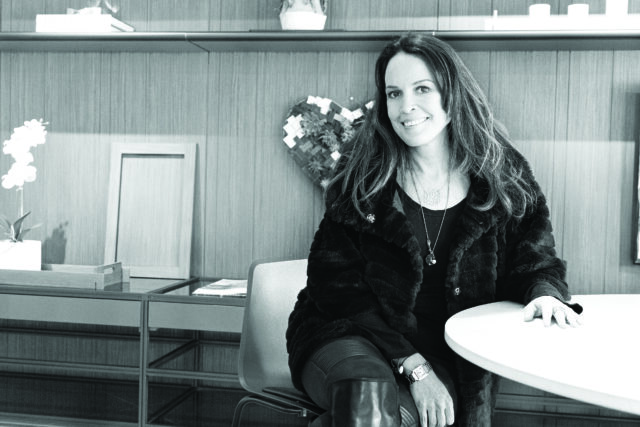 Referring to the elegant walls in the showroom kitchen of Ornare's Southampton store, Fabiola Lwow quipped, "See my two shades of gray." Long admiring the Brazilian company that had expanded to the U.S. 15 years ago, selling kitchens, closets and cabinetry, she left a career in finance to open the Southampton Ornare branch on February 1. Now working with architects, builders and clients, she described the care the company takes: "You're talking with an owner, so we take care of everything. Everything is 100 percent sustainable. If you're in a beautiful house, you'll be happy."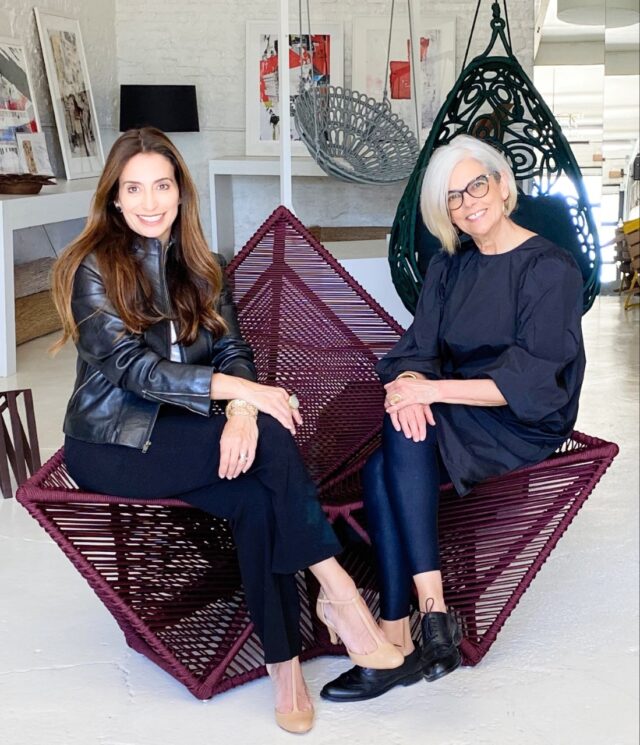 At Heritage Brazil in Southampton, the mission is to enhance and uplift applies to home furnishings. The business, housed in a historic former ice factory, officially launched this spring, when two couples, proprietors Tathiana and Alessandro Teixeira, and Lilian Vianna—with her French Moroccan husband, Michel Benarroch—stayed east during the pandemic year.
Central to their vision is a close relationship with Brazil's contemporary designers, as well as artisans and Indigenous people. The designs at Heritage Brazil include rugs made out of cattails embroidered in cotton and other natural fibers.
Seated on an exquisite chair woven in Brazil, I was surrounded by nature-inspired art: a caterpillar bench, a cypress-tree stool, woven baskets, rugs and unusual chairs, one metallic and architectural, others resembling extravagant wicker thrones in rich burgundy and forest green.
Tathiana showed me large swatches of scaly leather that formed an intricate pattern, explaining: "In the Amazon, they don't have a lot. They live off fishing, but the skin of the fish was being discarded. The fish were borderline endangered. We used the skin to produce an ecological leather. The species increased by 400 percent, so it's not endangered anymore."
As "social entrepreneurs," Heritage Brazil will host a fundraiser this summer to benefit the Amazon Zagaia Foundation and its several projects alongside the Amazon river and to bring awareness and consistent resources to those communities. and will host pop-up shows for Brazilian as well as local artists.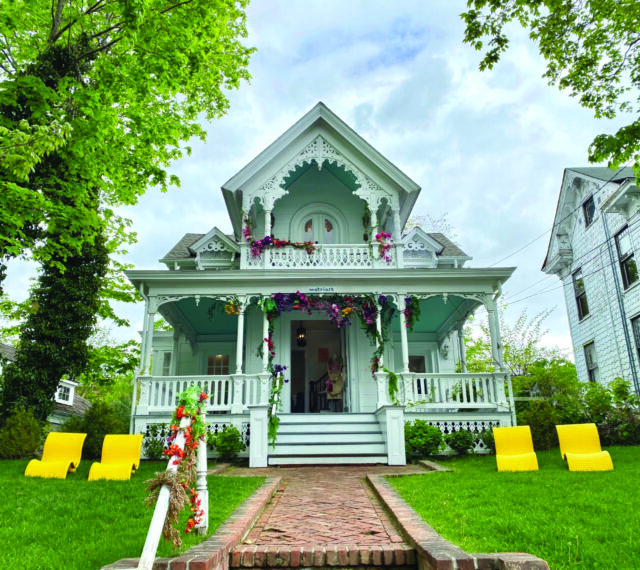 In Sag Harbor village, a beautiful house is home to Matriark, a boutique dedicated to creating a platform for women. São Paulo-born founder Patricia Assui Reed consults for Iguatami, a company of luxury malls in Brazil, and executive-produces their annual fashion conference, bringing international brands to Brazil.
Three years ago, she and her family—her husband is an architect—decided to take the leap to Sag Harbor. One morning, en route to Sagtown for coffee, "I saw this beautiful little gingerbread house on the market," Assui Reed recalls. "I wanted Matriark to be in this physical space. We opened in 2019." Matriark is focused on selling clothes, jewelry and furnishings from women-owned businesses: "I need to feel the company is small enough that they know how their merchandise is made, that they use organic, recycled materials. They must pay fair wages and the quality has to be there. I need to hear their story," she says. "Not everything is from Brazil. We are the only shop in Sag Harbor to carry Ulla Johnson." Another of her designers, Mimi Girma, has stopped by, excited to show something new she's found for the Ethiopian-inspired caftans she makes on Shelter Island, using botanical dye made from food waste in collaboration with Shelter Island restaurants.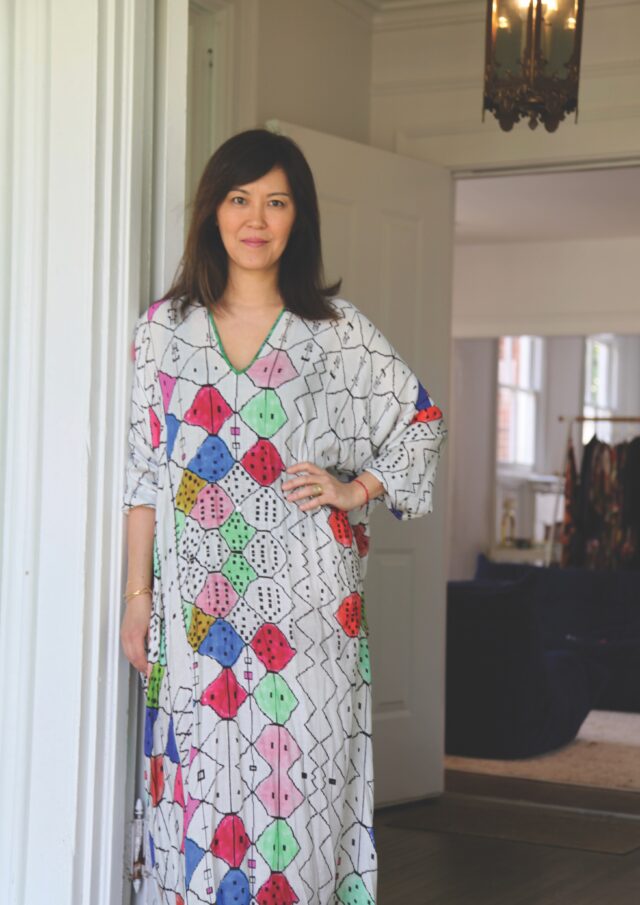 Matriark also gives back. Ten percent of net profits go to women's organizations: 5% to a local group, i-tri, empowering middle-school girls through triathlons, and 5% to the Ms. Foundation.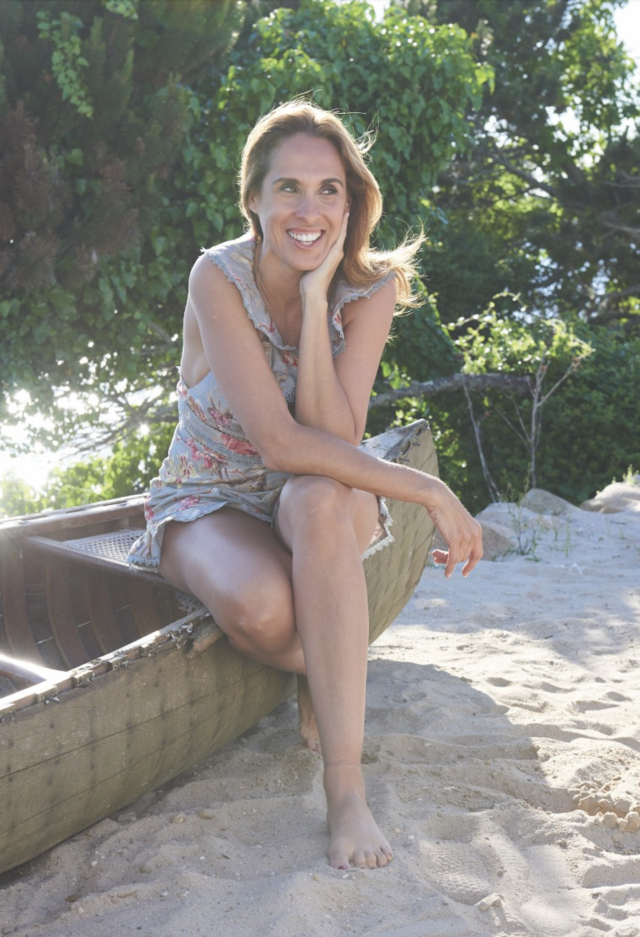 For 12 years, Jayma Cardoso has hosted beach glitterati at her Montauk hot spot The Surf Lodge, some riding the LIRR from up island for the evening just to boogie to the headliners who perform live on her outdoor stage. In a move of Brazilian resilience, she reinvented her lakeside venue as a retreat, renting out the cabanas for long-term clients during COVID last summer.
For 2021, Cardoso looks forward to a return to a popular series from prior years: "Bringing industry leaders in the wellness space to The Surf Lodge, and sharing their knowledge and expertise with our guests and the Montauk community—something I am personally so passionate about and missed tremendously last season," she says. "Now more than ever, I greatly believe there needs to be an added emphasis on health, both physical and mental, given what the world has endured this past year."
Regina Weinreich, author of Kerouac's Spontaneous Poetics and co-producer/director of Paul Bowles: The Complete Outsider, lives in Montauk and Manhattan.