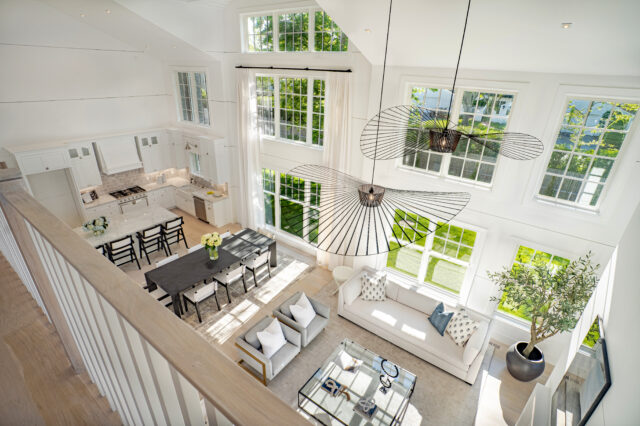 Two Stanford White masterpieces in Southampton have been restored by the innovative Jason Poremba of Jason Thomas Architects and James McMullan of Fleetwood & McMullan Architects. Opening up the East End community both to traditional design styles and a slew of new architectural offerings, The Latch Southampton Village is a new take on a traditional housing community.
The main Latch building and Terry Cottage were both dilapidated and had been altered extensively when Beechwood first acquired the property in 2016, and both Poremba and McMullan were eager to take on the restoration into the structures' original exterior aesthetics. By doing extensive research going back to the buildings' original plans, complete with Federal Revival and Dutch Colonial motifs, Poremba was able to capture that timeless elegance during the renovation process. "I knew something was wrong there, and I was able to rebuild the building through photos," he said. "It's just wonderful to see it all come back to life."
The newly constructed Town Houses and villas were designed as a natural extension to the Latch and Terry Cottage, while also staying in line with the look of the surrounding neighborhood. Original columns designed by Fleetwood are incorporated, paying homage to the historic feel with a touch of modernity. Jess Nahon of design studio Sugarhouse helped stage a 5,000-square-foot home with quintessential Hamptons luxury, including stately shingle siding, plus three interior levels teeming with natural light.
The Latch's design team envisioned the townhomes as a space for families to gather, with a large living and dining space, and also smaller, more intimate spaces for relaxing. In the formal foyer, a staircase leads to guests' bedrooms, a media room and library. Natural materials, such as marble and wood, and a mix and match of vintage and contemporary furnishings, create a perfect setting for full-time residents as well as weekenders and retirees. beechwoodhomes.com/latch