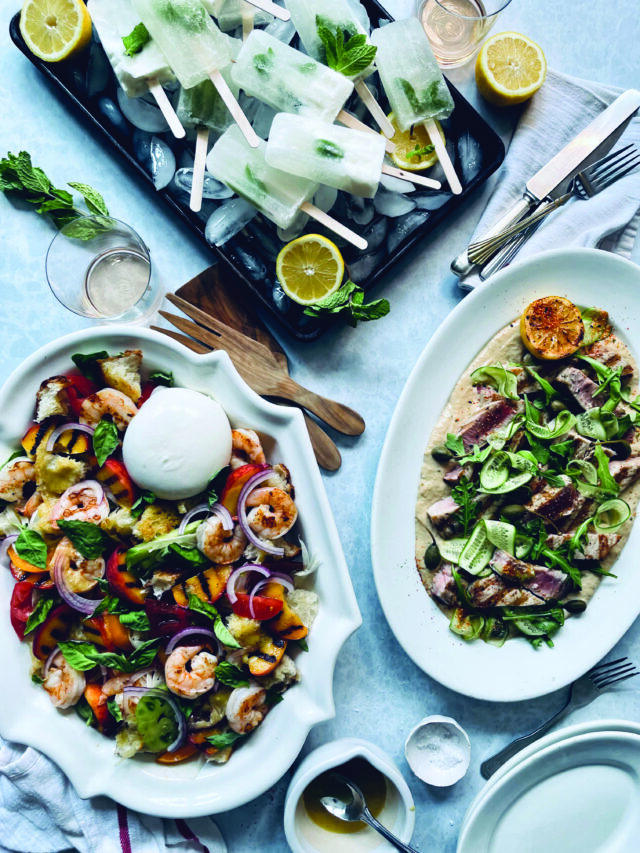 Ciao ragazzi! Those long beautiful summer days and evenings are here, and so is gathering around the table with—well, everyone!—for meals alfresco. The inspiration? Idyllic Italian summers—whether spent in Positano, Tuscany or Sardinia—are all about sun, water, an Aperol Spritz or two and long lazy afternoon lunches with big platters of simple, delicious food served family style. My riffs on some of my all-time Italian favorites are perfect for summer meals outdoors. The classic vitello tonnato (a beloved Piedmontese dish of thinly sliced veal with a creamy tuna sauce) gets a pescatarian twist and a lighter sauce; panzanella, the famed Tuscan salad, becomes an updated one-platter meal with grilled shrimp and peaches and a luscious miso-lemon vinaigrette. And what's for dessert? Ice pops with a fizzy Venetian twist. So this summer, gather friends and family, raise a glass of chilled vino rosato (that's rosé to some of you, summer water to the rest of you) and celebrate. Cin cin e salute!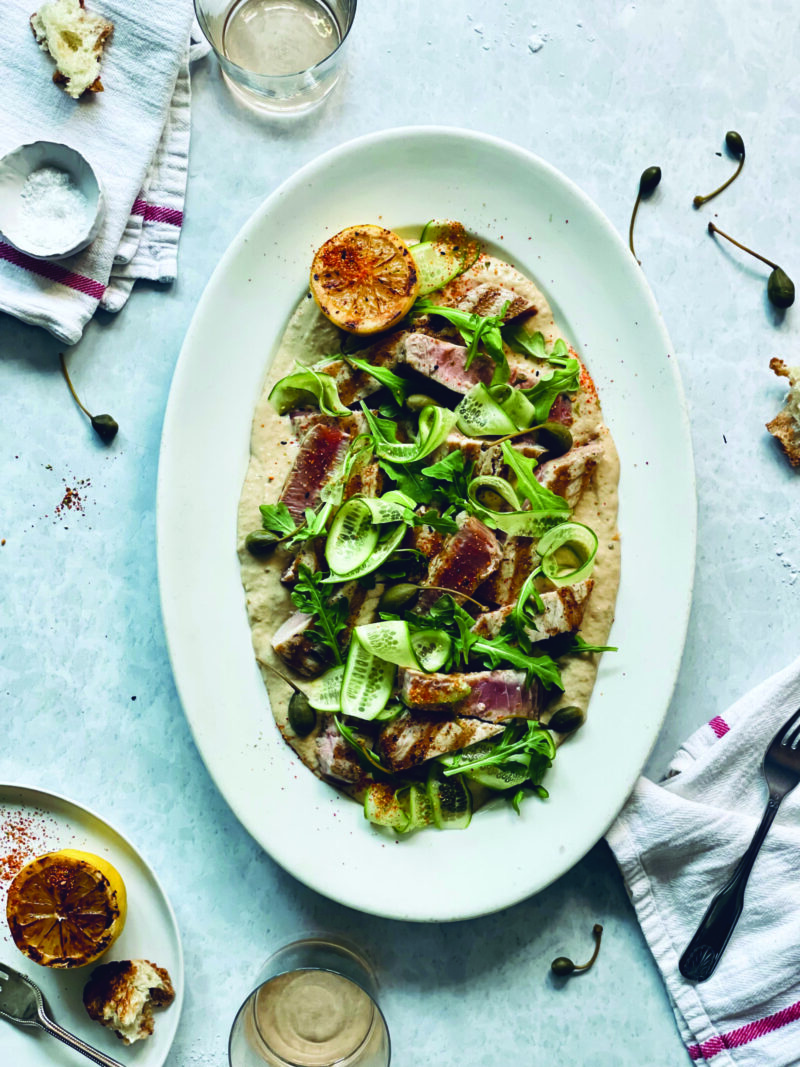 Grilled Tuna Tonnato Leggero
My light ('leggero' in Italiano, if you please) riff on the classic vitello tonnato is ideal for summer entertaining—it's a breeze to prepare, is best served at room temperature and is fully seafood-focused. This recipe takes out the traditional meat (veal, to be precise) and swaps it for grilled rare tuna steaks. That signature creamy tuna dressing still packs an umami punch with Greek yogurt and miso instead of the usual mayonnaise and eggs and is so delicious—and quick—you'll want to spread it on everything. The dressing is best made a day (or two) before serving, which will give time for the flavors to meld.
Serves 4
Ingredients:
For the Tonnato Leggero Sauce:
½ cup Greek yogurt
½ cup extra-virgin olive oil
10 oz. canned tuna packed in olive oil (not drained)
3-4 anchovy fillets
1 tbsp. lemon juice
1 tbsp. white miso
1 tbsp. capers, drained
½ tsp. ground black pepper
4 (5-oz.) tuna steaks
1 tbsp. olive oil, plus more for finishing
Sea salt and ground black pepper, to taste
1 lemon, halved
2 mini cucumbers, thinly sliced
1 tbsp. capers, drained and rinsed
2 oz. arugula or other baby greens
Flaky sea salt, for finishing
Togarashi, for finishing
Instructions:
1. Make the sauce: Add all ingredients to a food processor and puree until smooth and creamy. Make up to 2 days in advance and store in a tightly sealed container in the refrigerator.
2. Set grill to high heat. Brush tuna steaks on both sides with olive oil and season with salt and pepper. Grill each side of tuna for 1½ to 2 minutes for rare. Rest for 5 to 10 minutes, then cut into ½-inch slices.
3. Place lemons on grill, cut-side down, for 1 minute, until flesh is charred and caramelized.
4. To plate, spoon sauce onto a serving platter and top with tuna slices. Add cucumber, capers and arugula. Finish with a glug of olive oil, sprinkle with flaky sea salt and togarashi, and serve with grilled lemon.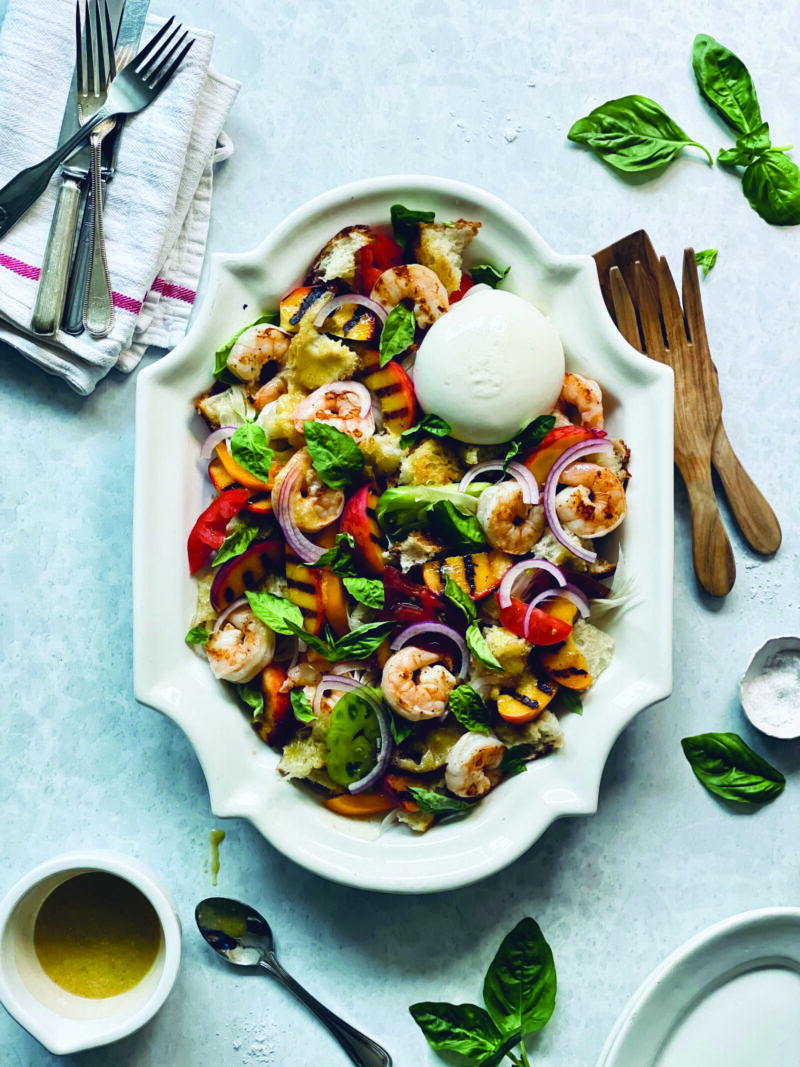 Grilled Shrimp and Peach Panzanella With Heirloom Tomatoes, Burrata and Lemon-Miso Vinaigrette
Panzanella is truly the perfect summer salad. I've upped the ante with seafood and a big ball of burrata to make it an easy one-dish meal that can feed a hungry crowd. Warm grilled shrimp and peaches sit alongside heirloom tomatoes and crunchy bread that's starting to take in the vinaigrette. Speaking of vinaigrette, a touch of miso infuses the lemon vinaigrette with a subtle umami that accentuates the sweetness of the peaches and the brightness of the tomatoes. This is summer on a platter.
Serves 4
Ingredients:
For the Vinaigrette:
2 tbsp. white miso
1 tbsp. honey
1 tbsp. Champagne vinegar
2 tbsp. lemon juice
1/3 cup extra-virgin olive oil
1/3 cup olive oil
2 tsp. lemon juice
2 large cloves garlic, minced
½ tsp. kosher salt
½ tsp. ground black pepper
1½ lb. peeled and deveined shrimp
1 small loaf ciabatta (approximately 8 oz.), cut lengthwise
1 tbsp. olive oil
2 yellow peaches, pitted and sliced into wedges
2 lb. heirloom tomatoes, cut into wedges
1 small fennel bulb, thinly sliced
1 small red onion, thinly sliced
1 8 oz. ball of burrata
Olive oil, for finishing
Flaky sea salt, for finishing
1 cup basil leaves, for finishing
Instructions:
1. Make the vinaigrette: Add all ingredients to a small bowl and whisk until smooth.
2. Combine olive oil, lemon juice, garlic, salt and pepper in a medium bowl. Add shrimp and toss. Marinate for 20 to 30 minutes. Thread shrimp on skewers.
3. Brush cut surfaces of ciabatta with olive oil.
4. Preheat grill on medium. Place shrimp skewers, peaches and ciabatta. Grill peaches approximately 1 minute per side. Grill shrimp and ciabatta for approximately 2 minutes per side. Ciabatta should be toasted and golden with some char at the edges.
5. To serve, spoon some of the vinaigrette on a serving platter or in a shallow bowl. Top with shrimp, ciabatta, peaches, tomatoes, fennel, red onion and burrata and drizzle with remaining vinaigrette. Finish with a glug of olive oil, flaky sea salt and basil, and serve.
Sgroppino Ice Pops
The ice cream truck meets cocktail hour, and how bad could that be? There's nothing more summery and more fun than dessert on a stick, and this take on the classic Italian sgroppino is it. Part cocktail and part dessert, sgroppino is an addicting frothy and slushy combination of lemon sorbet, prosecco and vodka that screams la bella vita. A prepare-ahead dessert that's both easy and impressive, these treats are infused with mint and finished with a base of honeyed Greek yogurt for a nod to the classic Creamsicle. A perfect way to end the evening—or get the party started! I've used an ice pop mold with 3-ounce slots that yields 10 pops, but any frozen treat mold will do. Also, to make a nonalcoholic version, replace
the prosecco with lemonade, and replace the vodka with lemon juice.
Makes 10
Ingredients:
11/2 cups lemonade
2 cups prosecco
Juice and zest of 1 lemon
4 tbsp. honey, divided
¼ cup vodka
10 mint sprigs, 1-inch long
1/2 cup Greek yogurt
Instructions:
1. Combine lemonade, prosecco, lemon juice and zest, 3 tbsp. of honey and vodka in a small bowl.
2. Pour mixture into mold until slots are ¾ full. Insert sprig of mint. Freeze for 1 hour.
3. Mix yogurt and remaining honey in a small bowl. Fill the remaining ¼ of each slot with yogurt mixture. Insert sticks.
4. Freeze for 4 hours or longer. When firm, serve immediately—because of the alcohol content they will melt faster than normal.
Visit petersom.com for more inspired recipes.