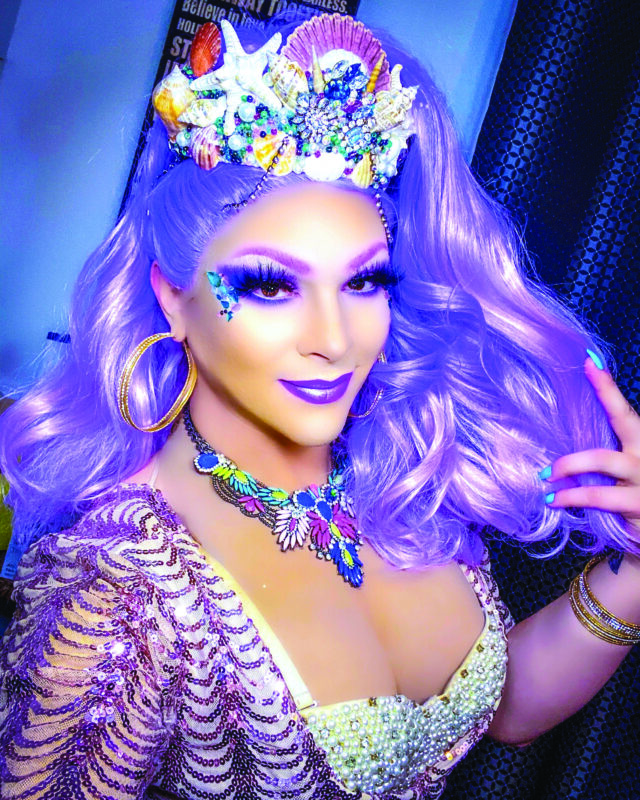 By Marisa Fox
It's not often drag comes to North Fork wine country, but if Bella Noche has her way, it may well become as de rigueur as indigenous rosé. That's because to the New York native who moved to Suffolk County a few years ago, drag isn't just about serving up a look.
"It's a journey of self-expression," says the self-proclaimed mermaid, her pearlescent aqua highlighter, cascading turquoise curls and iridescent blue lipstick glowing in the late afternoon sun, hosting a Pride event at Terra Vite vineyards in Jamesport. For the Latinx artist and storyteller, born Isaiah Negron into a conservative Pentecostal family in Astoria, Queens, that journey wasn't exactly a day at the beach. When she came out to her parents at 19, she was told she couldn't be gay in their home. She left, attended Hunter College, majoring in creative writing and journalism, while taking theater and dance as electives. After graduating, she worked for Manhattan- and Hamptons-based publicist R. Couri Hay, was an activity specialist at a center for LGBTQ youth in Astoria and fell into drag "by accident," after a friend invited her to join a first-timer's show at a club in Chelsea.
"In New York, you need a brand," she says. "I was always into The Little Mermaid as a kid and would do the Ariel flip in the pool, but the others would say, 'You can't do that; you're not a girl.' As I got older, I thought I had to look like a boy. I felt bad about how I always loved mermaids. So to me, drag was about letting go of the shame and unleashing it."
And unleash she did, with a sparkly tail and enough glittery scales, sequins, sea stars, shells and pearls to make Ariel sea-foam green with envy. She called herself Bella Noche, the Spanish version of "Bella Notte" (Beautiful Night), a song from the Disney classic Lady and the Tramp. Not surprisingly, one of her favorite gigs is hosting Drag Queen Story Hour, reading books like Julián Is a Mermaid in English and Spanish to children in public libraries, farms and museums while inspiring them to unabashedly explore who they are through gender-fluid dress-up.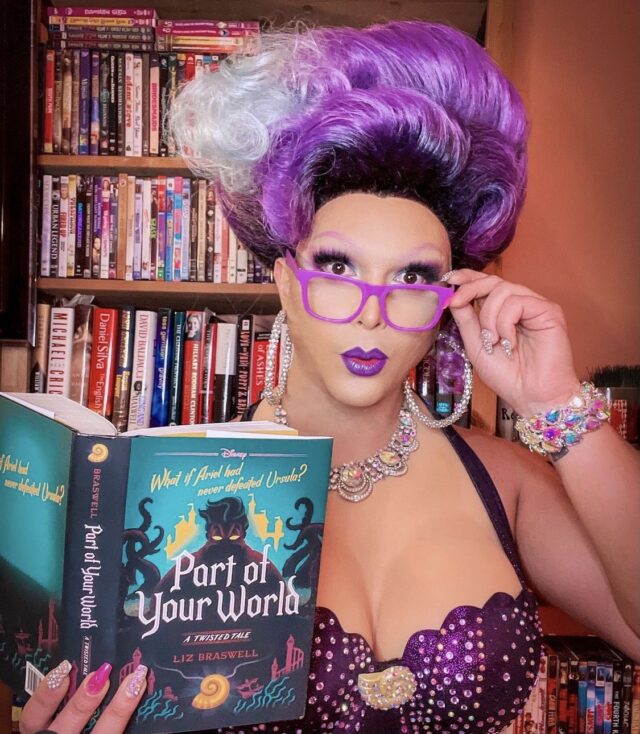 "It's the most fulfilling thing I do with my drag," she says. Though her first Long Island reading, at the East Meadow Public Library, drew a handful of protesters, she was hardly deterred, and now boasts fans from the Hamptons to the Met Museum to local teens who book her for birthday parties.
"I love Long Island," she says. "When I first got here, there was only one other drag queen, though there was once a vibrant drag scene here. Now there are at least 15 of us, and I run the local chapter of Drag Queen Story Hour."
Though advocating for LGBTQ youth may sound like a tall order in a red district, Bella says she keeps politics out of it, and appeals to parents by empowering their children's imagination. "If someone says you can't do that, don't take it to heart," she tells her young crowd. "There will be many people in your life like that. Don't let them limit you."
You can catch Bella Noche at Terra Vite in July (dates to be determined), on Facebook Live for Cocktails and Contours every other Wednesday, and on Zoom for Drag Queen Bingo on Fridays. For more info: @bellanochenyc on Instagram