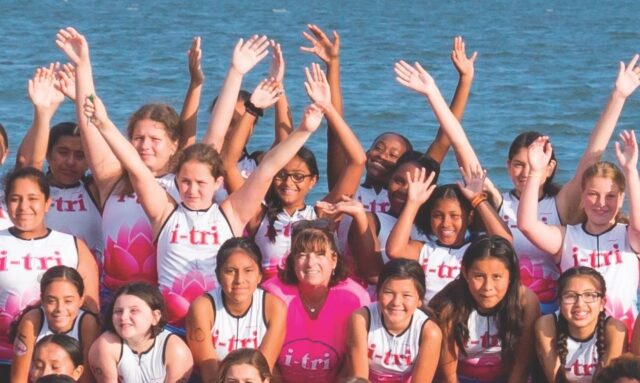 ADAM ROSANTE: For those not familiar, what is i-tri?
THERESA RODEN: i-tri empowers middle school girls through the sport of triathlon. We foster self-confidence, personal empowerment, positive body image and healthy lifestyle choices. The girls train to complete a youth-distance triathlon as a metaphor for life's journey. Along the way, they develop habits that last a lifetime. This program is always free to every participant. What sets us apart is our empowerment curriculum. We also train minds and spirits, and make deep connections with other girls, and trusted female coaches and role models.
AR: What makes triathlon training an effective vehicle for transformation?
TR: It's the concept of "a journey to the finish line and beyond." Running a 5K or playing soccer will give you a sense of accomplishment, but ask anyone who's ever done a triathlon what it's like to get into open water with 100 other competitors and they'll tell you it's terrifying. Our girls face this fear, bravely swimming 300 yards in open water, then riding 6 miles on open roads and running a mile and a half to the finish line. They cross that finish line and are transformed, feeling that if I could do that, I can do anything!
AR: Can you share a success story?
TR: There have been so many, but Kaya's story is one of my favorites. She joined when she was in seventh grade at Springs School. While her family was away for her grandfather's funeral, their home in Montauk caught fire. They lost everything and ended up moving to Springs. When Kaya started i-tri she was new to the school and didn't have many friends. She also didn't know how to swim or ride a bike, but committed to the program 100 percent. She learned how to swim and ride, but even more importantly she became a part of the i-tri family, making lifelong friends in the process. Kaya did i-tri again in eighth grade, then volunteered throughout high school as an alumna coach and mentor. She's now in graduate school, and inspired by her own experiences and the work she did with i-tri, she's studying to become a social worker!
AR: Why is it important to use your life to be of service?
TR: I believe that the more you give, the more you receive. Our first empowerment lesson each year is "How Bright is Your Light?" where we use a lantern to represent the light of our spirits. We discuss how when you feel good your light is really bright. And when your light is bright, it positively affects everyone you come in contact with. And so your job is to keep your light bright and create that ripple effect.
AR: Advice to someone looking to be of service?
TR: Do what feels good. It can be as simple as holding the door for someone, giving a compliment or saying a kind word. Volunteer. There are so many great organizations out here on the East End. Listen to your inner guidance. If it's telling you to help, then help. Every bit of positive action leads to change. You may be surprised to find that you benefit most from that change!
i-tri's Young at Heart Tri fundraiser is July 17 at 7:30AM at Long Beach in Sag Harbor. Go to itrigirls.org for info.