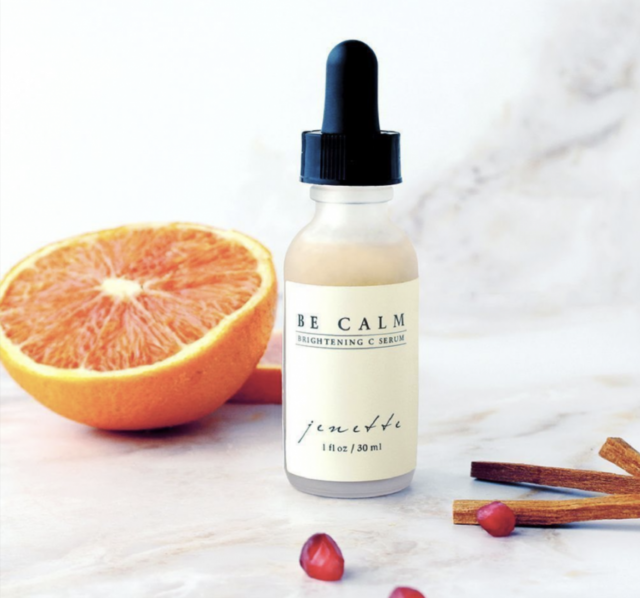 "I believe in beauty with integrity," says Jenette Serrins, founder of Jenette Skin Care. A natural extension of her thriving aesthetic beauty center in Los Angeles, Jenette Skin Care is founded on the philosophy that full-body wellness can be achieved through Earth's natural gifts. After being diagnosed with a severe hormone imbalance in her early 20s, Serrins swapped synthetic pharmaceuticals for healing alternatives rooted in Ayurveda, herbology, naturopathy, homeopathy and more. By combining both Eastern and Western health practices rooted in decades of science, the brand's collection of detoxifying, brightening and anti-aging solutions can transform skin without harmful chemicals.
Serrins gives skin care fanatics the inside scoop on her go-to routine for a radiant complexion. Beginning with a brightening toner made with aloe and organic rosemary, she then massages the T-zone with an adorable leaf-shaped Green Tea Superfood Facial Bar to smooth bumps. From there, a fragrant rose geranium anti-aging serum is applied, followed by the Be Nourished Age Defying Moisturizer infused with three to four drops of the Be Clean Detoxifying Elixir containing organic grape seed oil and organic eucalyptus lemon extract. Resources for common conditions like sensitivity, dryness and acne are available on the brand's site, and for a personalized regimen based on your skin type and concerns, Serrins offers a fleet of wellness treatments at the Being in LA center in Silver Lake.
Jenette Skin Care utilizes mindful and innovative production practices to lower its carbon footprint. By working strictly with providers who share eco-conscious values, avoiding animal testing, and creating small-batch products at an in-house lab, the brand can create high-quality remedies based on ethics and respect for the planet. Every step, from conception to execution, is finessed and overseen by Serrins, a veritable alchemist and expert at her craft.
Use code PURIST25 throughout the month of June to receive a 25% discount at jenetteskincare.com