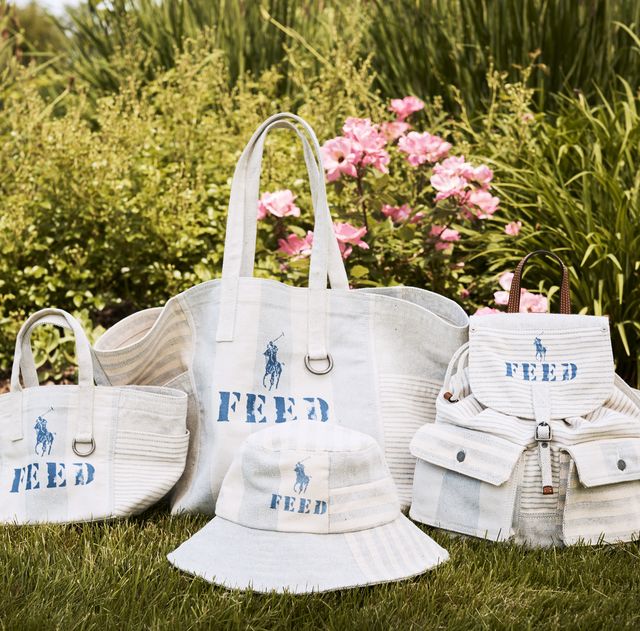 By Ray Rogers
The chicest beach bag of the season? Easy, it's one that gives back—and looks fashionable while doing it. The new Polo x FEED collection, the second capsule collection from Lauren Bush Lauren's FEED charity and Ralph Lauren, does good on multiple levels. Proceeds from each garment provides school meals for children in need through No Kid Hungry; many of the pieces (such as large and mini totes and bucket hats) are made from upcycled materials and the Polo shirts are constructed with organic cotton, and they make the perfect summer essential. Purist touched base with the founder (and new mom!) about the power of giving back and nourishing your community.
PURIST: Congratulations on welcoming your third child, Robert Rocky, into the world. As a new mom again, how has that deepened your commitment to the cause of feeding children who are in need across the country?
LAUREN BUSH LAUREN: Thanks for the congrats! And yes, becoming a new mom yet again has only reinforced to me the importance of our mission to feed kids. So much time and love goes into feeding your children and making sure they are well nourished, especially in their early days. So my heart really goes out to the many families in the U.S., especially now because of COVID, who are struggling to put food on the table.
PURIST: You started FEED back in 2007. Hunger is still a growing concern in this country, and the problem was exacerbated by the pandemic. The FEED collection donates a portion of the proceeds to No Kid Hungry, which is wonderful. Beyond supporting this initiative, what are some other ways people can pitch in? I know the food banks on the East End have been working overtime to try to get people fed throughout the pandemic, for instance.
LBL: I would encourage anyone who has the means to do so to make a direct donation to No Kid Hungry or to any of our giving partners. Buying a FEED bag is not designed to replace your regular charitable donations; rather, it's another opportunity to make a difference and give back. Whenever you are in need of a new tote bag or a gift, FEED provides a way to use that everyday purchase to do some good. Both ways of giving back are impactful and important! If you can, another great way to get involved is to volunteer. Food banks rely on volunteers to keep their doors open every day; it's a really meaningful way to get involved, especially in your local community.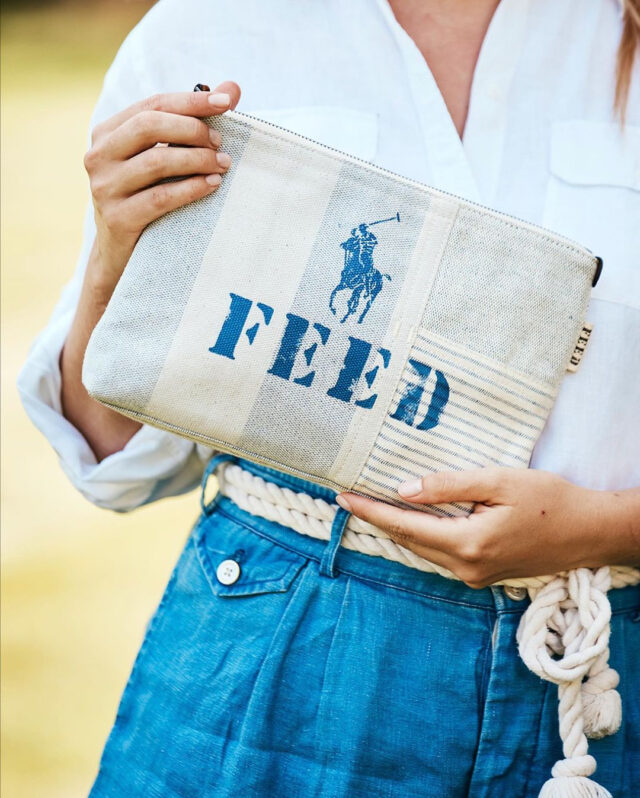 PURIST: We at Purist applaud you for your eco-friendly initiative with this collection. Upcycled materials are used to make the accessories, and the polo shirts are made with 100 percent organic cotton. Tell us about the rewards and challenges of working this way.
LBL: It was important to both of our teams from the onset to design and create a collection using sustainable materials. And I'm so proud of the collection we created together using upcycled cottons and natural indigo dyes. I think the end result is not only better for the environment, but also really beautiful and cool. Sustainability is something we've been prioritizing at FEED as well and of course, making any large-scale changes to your supply chain, materials, etc., can pose challenges, but we truly believe it is incredibly worthwhile and meaningful.
PURIST: There is a growing awareness of the need to operate this way. But it feels like it's slow going. Why aren't we seeing more companies employing these sorts of practices?
LBL: Although so much waste is created by the fashion industry, I have been very encouraged by how many brands are stepping up to make their products more sustainable. There is certainly a lot of room for continued innovation. I'm excited to see the customer demand for brands that are genuinely trying to help others and make the world a better place continue to grow.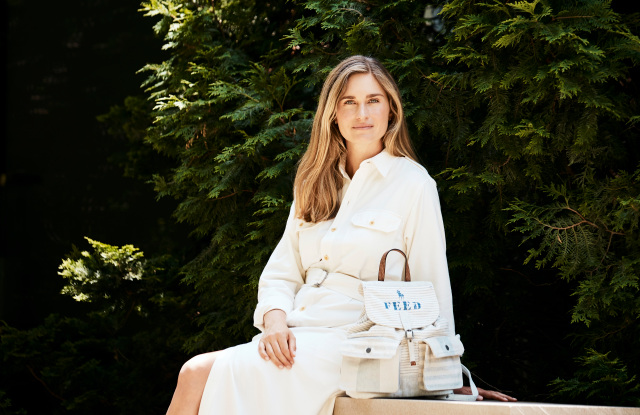 PURIST: Purist is focused on wellness—how we care for ourselves, each other and the planet. What does wellness mean to you, and what role does it play in your life?
LBL: To me, wellness means doing things that nourish yourself, your loved ones, your community and the broader world.
PURIST: After the long year of lockdown, what are you most looking forward to this summer on the East End?
LBL: I am looking forward to some beach walks and summer dinners with friends that I haven't seen in over a year. I think we are all coming out of this craving connection and some summer fun!