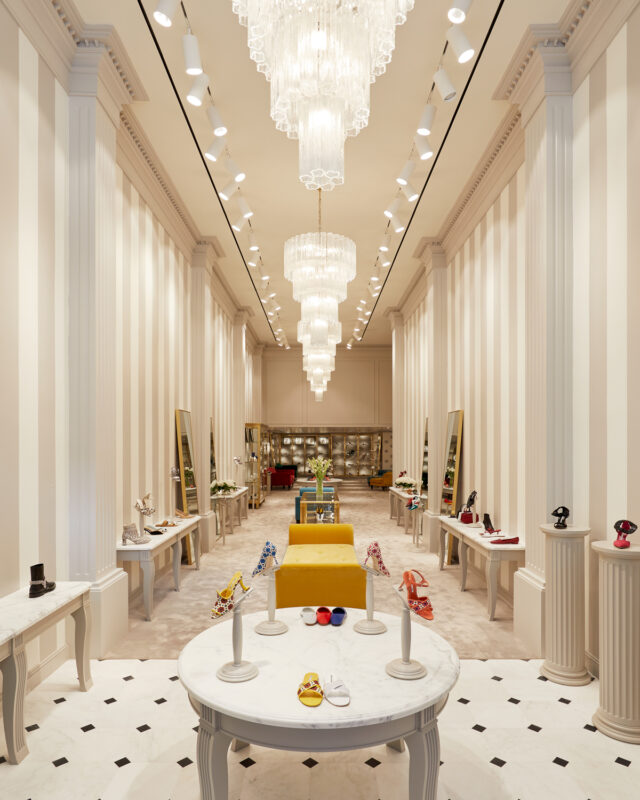 Nestled among the world's most renowned luxury fashion retailers, Manolo Blahnik's new Upper East Side flagship is housed in a magnificent 1923 landmarked building. In homage to the city that shaped Blahnik's creative journey, the brand teamed up with award-winning interior designer David Thomas to create a welcoming space with sleek interiors and classical design details. "New York has always evoked a great sense of excitement for me, a city of endless possibilities," says the brand's founder, Manolo Blahnik.
Upon entering the new boutique, two separate and symmetrical storefronts are joined by an interior archway, a link between the two vast women's and men's sections. A grand foyer with a marble floor shows off the house's signature color palette of soft gray and white. Grand columns line the walls, along with shoes displayed atop marble consoles and individual plaster plinths, expertly cast by London artisans. The store's interiors are tied together by a rare set of five vintage Venini "Tronchi" glass chandeliers sourced from Murano, Italy.
The men's section features peacock-blue lacquer fixtures with shoes displayed on adjustable tonal shelves. In the center, a polished brass bar will act as a casual hub for clients, serving an array of nonalcoholic refreshments to enjoy while shopping. A nod to the brand's original Old Church Street location in London, the fixture was designed to curate a social experience for shoppers building a new wardrobe.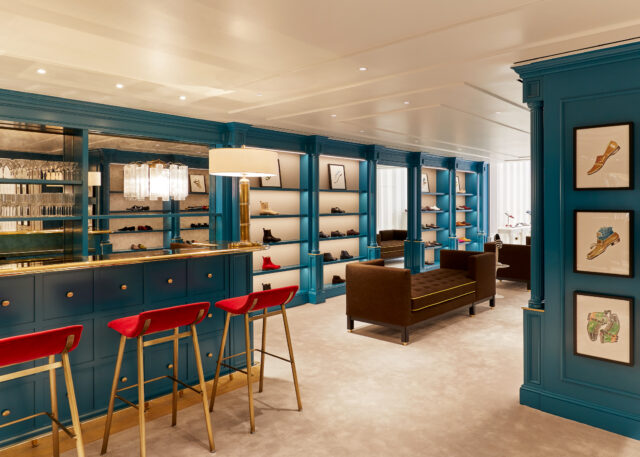 The dynamic and ever-evolving nature of Manhattan is showcased in the brand's new collection. A spectrum of colors and textures grace the women's Autumn '21 line, with hand-braided leather footwear offered alongside bright embroidered lace, plus delicately crafted designs featuring hand-assembled silk rose heads. In an exclusive collection inspired by artist Tony Duquette, deep reds and browns are adorned with refined metal eyelets, with open- and closed-toe styles enveloped in rich jewel-toned moiré silk. A variety of pumps, sandals and booties feature circular sunburst and star-shaped crystal motifs.
For men's Autumn '21, Manolo Blahnik sought to create an exquisite balance between urban edge and sophisticated luxury. Drawing inspiration from the great outdoors and nature, lightweight hiking and sleek combat boots are created with durability in mind, constructed with high-quality, water-repellent leather. For more casual looks, the line also includes richly embroidered silk velvet slippers and burnished calf loafers. From whimsical brights to deep earth tones, Manolo Blahnik offers styles for any aesthetic.
"Our U.S. customer is among the most discerning and knowledgeable in the world," says CEO Kristina Blahnik. "This new boutique will allow us the opportunity to uphold our promise to those customers as we strive to exceed their expectations in quality, creativity and service."
Visit the new flagship at 717 Madison Ave., and Manolo Blahnik's East Hampton pop-up at 52 Main St. manoloblahnik.com