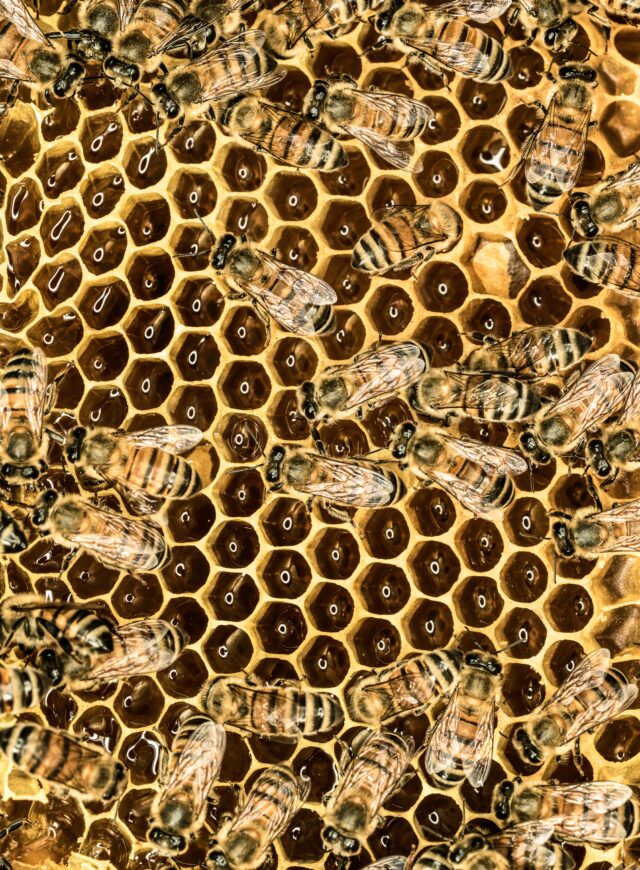 By Donna Bulseco
Photography by Dan Winters
Standing completely still isn't easy for anyone, but for Angelina Jolie, being in the moment for a photograph was "a strange meditation" when covered with a swarm of bees. "It felt very—I'm going to sound like my Buddhist practices—lovely to be that connected to these beautiful creatures," said the actor, director and activist, who posed for a gorgeous—and somewhat startling—portrait to highlight an important cause: the need to protect, and raise awareness about, Mother Earth's most essential pollinator, the humble bee.
In the photograph by Dan Winters, she is regal and commanding, the queen bee of the moment, so to speak, and it's no wonder Jolie was recently named "godmother" for the UNESCO-Guerlain Women for Bees initiative. The climate-conscious collaboration is a five-year program launched by the United Nations' educational, scientific and cultural arm and the French cosmetics giant to train and support women beekeeper-entrepreneurs in UNESCO-designated Biosphere Reserves around the world. Jolie is on board as muse and participant, both inspiring and invigorating the cause.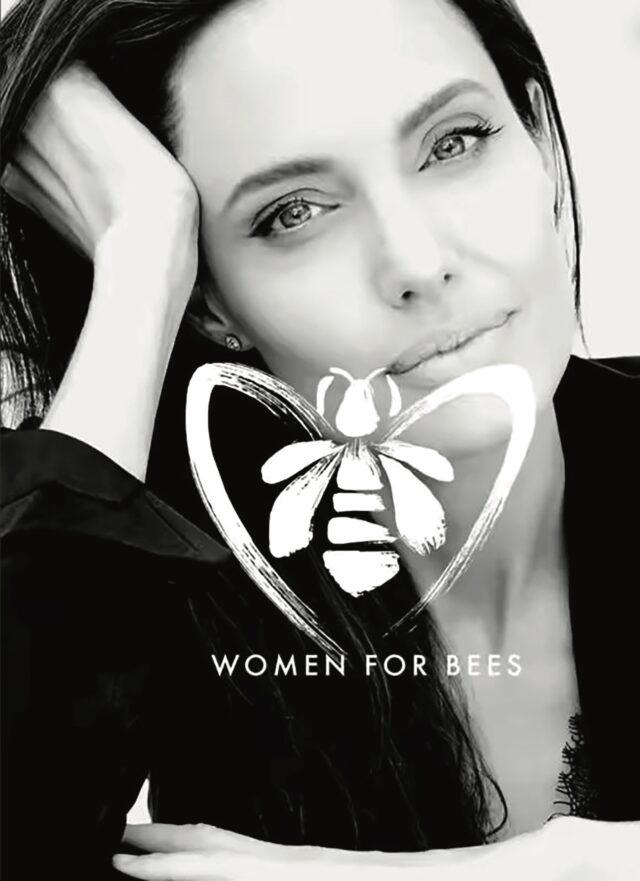 The title of godmother seems well deserved for Jolie, now in her late 40s and a parent of six, who has become a role model for several generations of women and passionate activists of all races and genders. She has been a longtime advocate for refugee rights, serving as a goodwill ambassador with the United Nations High Commissioner for Refugees (UNHCR) from 2001 to 2012, and as a special envoy since then, speaking, for example, during Security Council meetings about trauma to children and sexual violence during conflict. She has always taken social injustice personally: Years ago, in 2003, her commitment to conservation and community development found roots in MJP, the Maddox Jolie-Pitt Foundation (named for Maddox, her oldest child, now 19), which supports post-conflict rural regions in northwestern Cambodia and creates, among other activities, employment partnerships with local communities.
So why bees—and why now? Like many of us, Jolie is well aware of how bees "play as sentinels in an increasingly toxic world," as environmentalist Bill McKibben states in the foreword of the poetry collection If Bees Are Few. The bad news is there have been "large-scale die-offs," adds McKibben, and "we ignore them at our peril." But bees and their behavior also signal us in more positive ways, teaching humans how to live and work together by example. The positivity of bees speaks to us—and to Jolie, and this buzzy project, with its emphasis on empowering women, sweetly meshes with Jolie's other humanitarian efforts as well. This summer, she'll have hands-on involvement in these causes when being trained alongside 10 others in the first Women for Bees training session at the French Observatory of Apidology (OFA) in Provence.
"Women are so capable," Jolie has said. "When a woman learns a skill, she teaches other women and other men and her children. And so if you really want something done and you want it magnified, you find a woman and you help her understand what the problem is and she will work very hard to make sure everyone in the community knows."
The launch represents a continuing focus for those involved. "The Women for Bees program not only highlights our interdependency with other living species; it also encourages women to be designers of change, to create, educate and experiment with sustainable beekeeping as a way of living on Earth in harmony with other species," says Audrey Azoulay, UNESCO director-general. While sounding very boots-on-the-ground, the program also has a big-picture scope, touching many corners of the Earth. During the first two years, women will train in UNESCO-designated Biosphere Reserves in Bulgaria, Cambodia, China, Ethiopia and Russia, as well as at the French Iles et Mer d'Iroise biosphere, the Sila in Italy, Volcans in Rwanda, and Kozjansko & Obsotelje in Slovenia. By 2025, 2,500 hives will be humming away in 25 UNESCO Biosphere Reserves.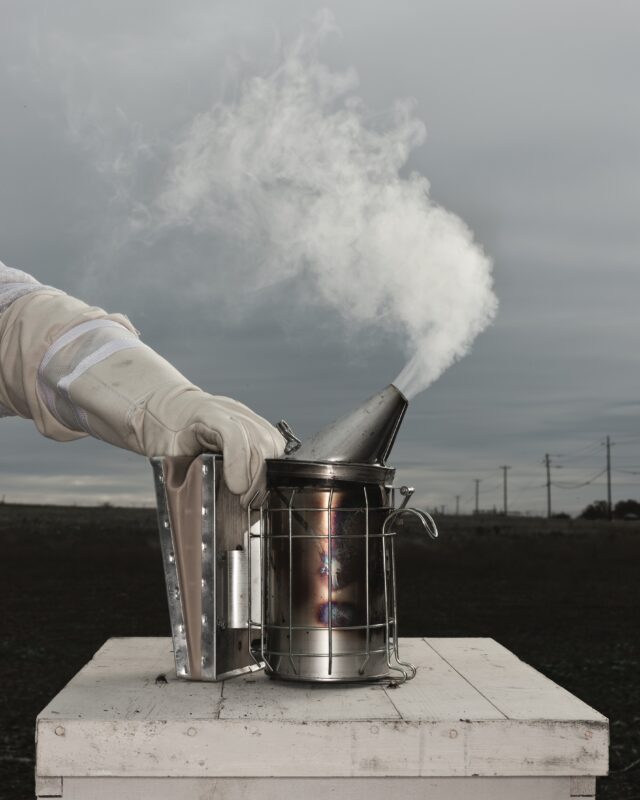 For Guerlain, this initiative also speaks to the brand's dedication to making a more beautiful, sustainable and equality-based world. It is the latest contribution to their 'In the Name of Beauty' initiative, a 14-year commitment to conservation. "The Women for Bees Guerlain x UNESCO program combines two core pillars—women empowerment and bees conservation," says Guerlain CEO Véronique Courtois. It's "a pledge for one of nature's most precious wonders and a concrete positive social impact for the women of the world." The bee has been a symbol of the beauty brand created in 1828, alighting on its iconic bee perfume bottle in 1853, and Jolie, a Guerlain muse since 2017, underscores the company's longtime authenticity to its projects.
Jolie's interest comes at a moment when climate change and the plight of displaced people are dramatically converging. How they intertwine makes for a difficult realization: If we as Earth-dwellers continue practices that erode and ultimately destroy nature, we could all eventually be part of a displaced population. In an interview with National Geographic for World Bee Day (May 20), Jolie said, "A lot of the at-risk people are displaced because of climate change… Having your environment destroyed, your livelihood stripped from you, is one of the many reasons that people migrate or are displaced or fight. This is interconnected."
She added: "Pollinators of course are extremely vital to our life and our environment. And so we have to understand scientifically what happens if we lose them."
As an advocate for action, Jolie finds power in positivity. "What's exciting to me is that instead of stepping forward and saying, 'We are losing the bees, we have certain species that have gone extinct, are going extinct,' we're coming forward to say, 'Yes, this is how you have to protect'…we're coming at this with solutions [and] empowering women in their livelihoods." One striking characteristic of Jolie's activism is her ability to speak directly to an issue and inspire others to follow. "Sometimes a lot of these issues feel so overwhelming," she says. "But then there are these simple truths and we just stick to them."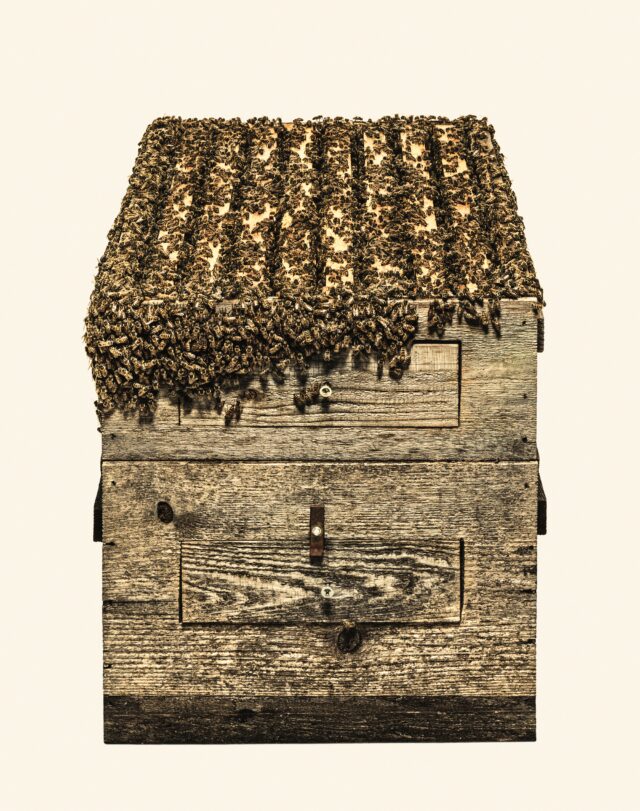 After so many years in the spotlight, it's intriguing to see how Jolie's newest fans and followers see her power deriving more from her genuine compassion and longtime engagement in humanitarian efforts and less from Hollywood stardom and her relationship with Brad Pitt. Still, her steady gaze on screen—level, enthralling, truth-seeking—continues to hold our attention, and always has, from her early Oscar-winning role as a mental patient in Girl, Interrupted (1999) to a kick-ass archaeologist in Lara Croft: Tomb Raider (2001)—a flick that launched her reputation as a female action superstar—to the seductive spy of action-comedy Mr. & Mrs. Smith (2005) and her critically acclaimed performance in Clint Eastwood's Changeling (2008). Most recently, Jolie reprised her popular turn as the evil fairy Maleficent in Maleficent: Mistress of Evil (2019), and starred in director Taylor Sheridan's thriller Those Who Wish Me Dead (2021).
Yet as badass as Angelina Jolie is on-screen, we see in retrospect that her directorial efforts always signaled where her heart truly is: in stories reflecting real-life dramas. As a filmmaker and producer, Jolie has chosen narratives grounded in reality representing stark truths—of being a soldier and a survivor (In the Land of Blood and Honey, 2011, set during the 1992-95 Bosnian War); a prisoner of war (Unbroken, 2014, about a WWII hero); or a child laborer (First They Killed My Father, 2017, set in Cambodia's Khmer Rouge era). And while no announcements about upcoming film projects have been made, Angelina Jolie knows well how to use her energy in influential ways. Like the bee, she's adept at navigating space freely and widely but returns to her interests and family matters when desired. As she told National Geographic, there are two types of bees: the domestic honeybee that makes the honey, and the wild solitary bee that pollinates. Ever the Gemini, Jolie is open to both roles; for her, two (or three or more) are better than one. "I feel like lately I've been a lot of domestic honeybee, but in my heart, I'm wild solitary."