Husband-and-wife duo Jonathan and Rene Shapiro, founders of Mixology Clothing Company, were once busy fashion entrepreneurs owning and operating 15 retail stores and a booming e-commerce platform. Throughout his life Jonathan suffered with chronic anxiety, finding little relief through years of doctor's visits, medicine and hospitalizations. Then, after finally being recommended CBD oil by an employee, a skeptical Shapiro was sold on the power of this natural health aid and hasn't looked back since.
"The balance and anxiety relief I felt using CBD was life-changing for me. We left a successful business to take a chance on happiness," says Shapiro. "It was time to align with our true purpose, to explain and educate others about the simplicity of CBD and the endocannabinoid system. To use my anxiety—anxiety that was such a curse, and such a shameful secret—and let it become my greatest ally to connect with people."
Throughout the pandemic, Shapiro spent months building Mindset's web presence, designing products, sourcing materials and coordinating with production facilities. The brand was officially launched in October, and has evolved into a movement of wellness-minded individuals taking control of their physical and emotional health. The ability to choose your mood or mindset has been a game changer in terms of how people use and understand CBD products. While there is often confusion on when or why to take CBD products, Mindset Wellness makes it simple. Offering vegan gummies, tinctures, skin care and even calming treats for pets, Mindset has created a whimsical line of products designed to balance the mind, calm anxiety and soothe inflammation.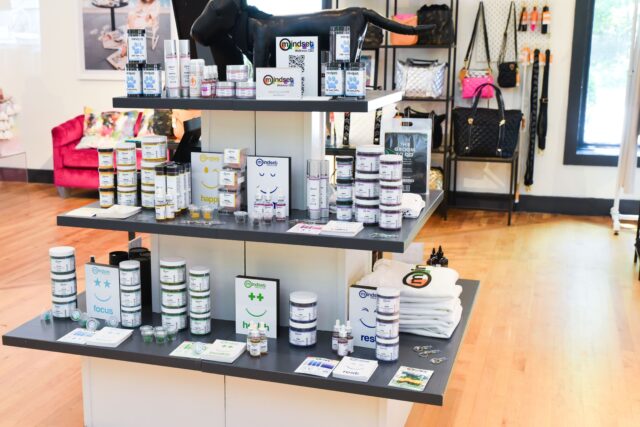 With a unique, ultra-personal approach to wellness, the brand designs products to conjure specific "mindsets." Choose from Happy, Calm, Focus, Rest, Health and Beauty to find remedies that match your needs and address specific concerns. For those in search of upliftment, try the "Happy" line of gummies, drops, sweet honey sticks or bath products formulated with the terpene limonene. To ease a worried mind, try ingestibles and wellness products infused with the terpene linalool, or stay sharp with gummies and drops containing pinene for a boost of memory retention and creativity. For some quality shut-eye, try the melatonin infused "Rest" drops, containing vitamin B12 and the terpene caryophyllene. Skin care fanatics can get their fix with the luxurious Supreme CBD Facial Serum or the nourishing Vitamin C Cream. To keep your furry friend healthy and happy, try Mindset's CBD beef jerky treats for pets.
mindsetwellness.com; find Mindset Wellness at TORCH'D Shoppe by Isaac Boots, located at 352 Montauk Highway in Wainscott (Next door to Barry's Bootcamp).