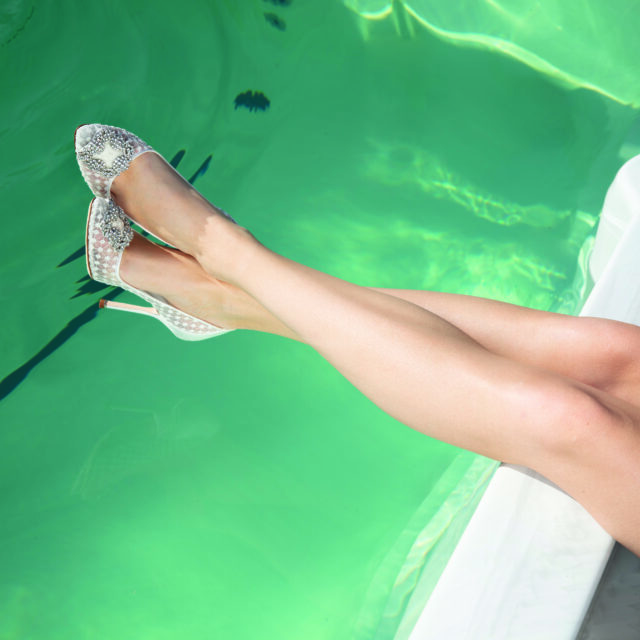 By Julia Szabo
Exquisite shoes can do so much more than alter a fashion silhouette. They can lift one's mood, improve slouching posture, or brighten the dimmest outlook. Few feel the power of chic footwear more keenly than Kristina Blahnik, CEO of the label made famous by her talented uncle Manolo. "We've all basically been seeing each other, and ourselves, from the waist up for the past 18 months," she says. "We've been looking straight ahead at a screen. Now, we're looking around again—look up and there's the beautiful skyline, look down and we see our feet. What's that beautiful object?" "Beautiful object," for Blahnik, is simply another term for shoe—and the brand's two new New York stores, on Madison Avenue and East Hampton's Main Street, are the objects' homes.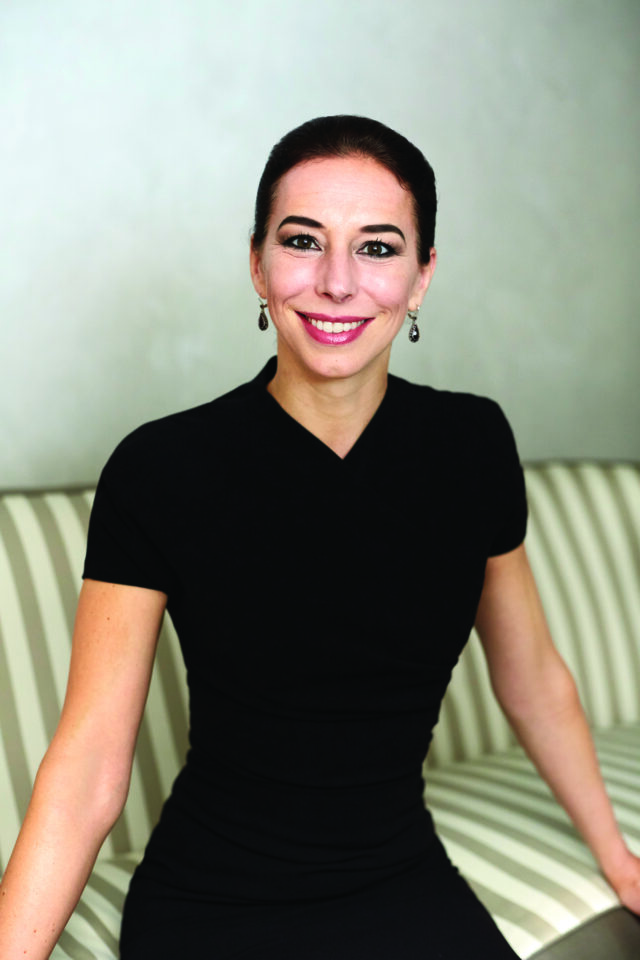 She's the CEO and a design authority in her own right, but Blahnik, an architect by training, is also a grateful niece who recalls her uncle as a reliable pillar of style advice. "He would have a comment on what I was wearing, and it would always be explained," she says. "It wasn't, 'This doesn't work'—it was, 'This doesn't work because that, that and the other.' My uncle, my mum and my grandmother all helped me in positive ways to understand not only what their style was, but also how I could make my own decisions about style." An appreciation of fine English tailoring is a strong strand in the Blahnik DNA: Manolo adores Anderson & Sheppard custom suits, while his sister—Kristina's famously well-dressed mom, style icon Evangeline—passed to her daughter many elegant ensembles by the maestro, John Galliano.
Kristina carries forth the bespoke Blahnik tradition in her own fashion, ordering trouser suits and coats from Joshua Kane, a favorite for his "disruptive, unbelievable talent." In or out of custom suiting, 6-foot-tall Kristina cuts a dashing figure, especially when accompanied by her miniature schnauzer, Poppins. Together, the two regularly beat a path between London and their weekend retreat in Sussex.
Gravitating to a chic, restricted palette of red, black, white and gray, with accents of her "core color," red—"those are my identity, my staples"—Kristina, just like any other Manolo-phile, proved she's not immune to a surprise hit of decoration and color. The proof? The brilliant yellow Maysale buckled mules that electrified her summer wardrobe. "This season, I've gone yellow," Kristina confesses. "We've all had such a miserable, cold, locked-away winter that I wanted radiant, glowing sunshine. I've never owned a yellow dress in my life; now I have three! Even my notebooks are yellow."
For relaxation, she likes to cook. "Extremely complicated, five-course dinners," she says. "That's my meditation, and I love it. I like to make plates look fantastic…that's when I'm at my happiest." Kristina is hospitality on heels, and the shops are her irresistibly inviting salons.
"The entire purpose of these spaces," she says, "is to create a welcoming home for the shoes, for them to say 'Hello' to you, and to make you smile." From the serene, Hollywood-Regency grandeur of the Madison Avenue store, to the casual "beach-hut" vibe of its East End counterpart, "We want everyone to walk in and relax," she says. "It's not about purchasing something; it's about sitting and enjoying the beautiful objects and the happy people on our team and in our community. We hope they radiate the joy of summer." The Manolo Blahnik legacy couldn't find more capable hands—or fancier feet.
52 Main St., East Hampton; 717 Madison Ave., New York City; manoloblahnik.com