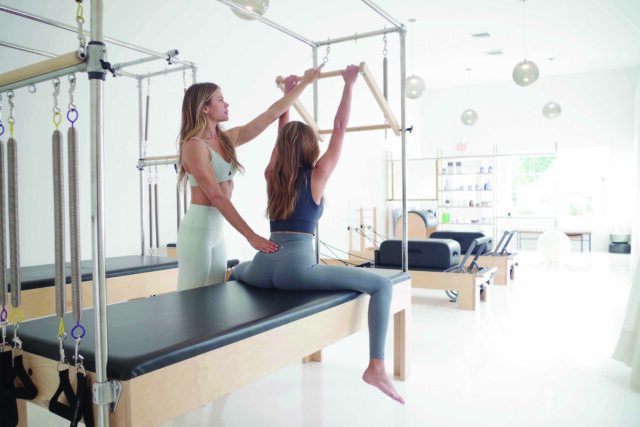 By Erika Bloom
My philosophy is that movement is synonymous with self-care, and it's as essential in our day as drinking water. For me, that movement is Pilates, and I'm observing how the balance of listening to what we need each day, combined with mindfully structuring our weeks, leads to a balance of sessions at home and in the studio.
Most days of the week, my students are at home, easing from a morning routine still in the womb of their family or their creative realm into an in-home Pilates session with one of our expert instructors. The transition into their home workout space—whether it's just mat, or we've stocked it with our props or the best Pilates apparatus equipment—is soft and convenient. It's self-love, with all the physical benefits of a workout.
Other days, they move softly out of their homes and into the curated environment of one of our studios for a more engaged, educational session on the machines, still private but enhanced by the vibration of the community of healers and practitioners around them. Some days, a virtual session fits in best—and our instructors can lead you and guide you wherever you are, whenever is convenient for you.
The benefits of the method come through however you fit it into your day. Choosing where and when you move feels natural to the energy shifts you experience throughout your day. It allows you to honor where you are and encourages an inner calm around your exercise experience.
My love affair with the method rests in the way it offers everything your body needs, from breath training and learning how to take that breath into your life to strengthening and stretching, and promoting ease of function. As you give your big muscles a rest and wake up the muscles that are under-appreciated, you can access your body in a healthier way.
The result is you'll feel more energized, your muscles will lengthen into graceful shape and your new form will translate to ease as well as aesthetic. Not only does your body look better, it feels better.
Both the sessions and the overall program are carefully individualized and tailored to meet your needs and goals. One day it could be therapeutic stretching; another it may be a strengthening workout; the next, corrective movement for an injury or postural misalignment.
All of our teachers are exceptionally trained to guide your body, whether you need more strength or more openness, whether you are an athlete or new to movement, where you are in your menstrual cycle, whether you are pregnant or postpartum, have osteoporosis or scoliosis, are healing an injury, need a new challenge, or need to find centeredness and calm.
Through August, you can find us at our Amagansett summer pop-up, a serene, beautiful space in a schoolhouse turned barn, just off the main square, easy to get to and still very private and quiet. Our top-floor space, complete with gorgeous light and views of nature, is fully outfitted with Pilates equipment, and there's a treatment room providing acupuncture and structural integration. erikabloom.com