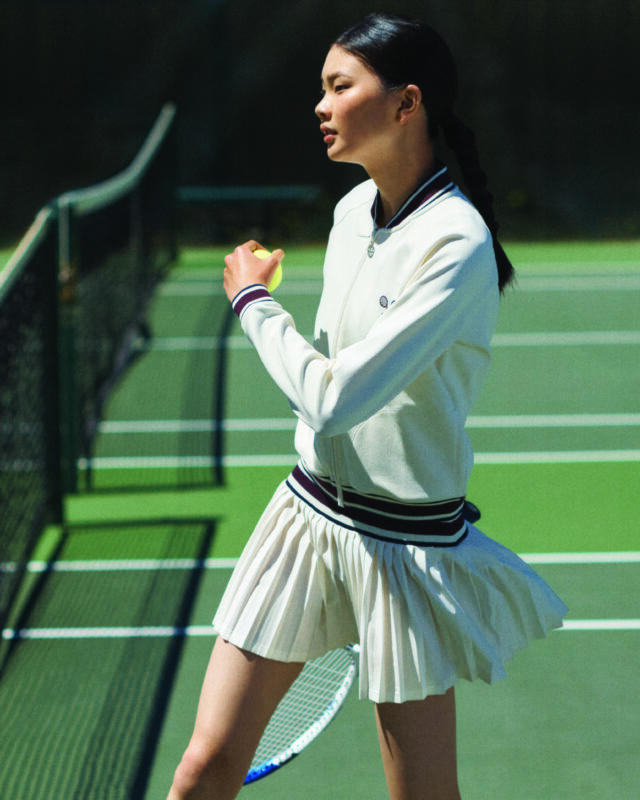 By Gabrielle Echevarrieta
Athleticism requires a delicate balance of strength and grace. Learning to move with intention, bravery and poise can drive players to victory, and many female athletes describe the integral role sports play in self-empowerment. Whether you find joy in a cardio boot camp class or a gentle yoga flow, tapping into your body's power can be a transformative experience. Fierce women deserve to feel confident in their workout gear, and Tory Burch has put a chic spin on classic fitness apparel.
"I have always been passionate about sports," says Burch. "Activewear is something I've wanted to do for years. Our goal is to design a collection that balances style with function." Throwing it back to the groovy summers of the 1970s, the Tory Sport collection brings vintage motifs into the modern age. Nostalgic chevron, tie-dye, floral and geometric prints are incorporated into performance-ready fabrics, designed for ultimate comfort and support on the go or lounging at home.
A must-have for invigorating tennis matches in the Hamptons and beyond, the V-neck tennis dress and warm-up jacket pictured here are crafted with breathable, moisture-wicking jersey fabric. A perfect way to look effortlessly beautiful while showing off your sharp game, the varsity-style ensemble is silky-smooth, showing off curves while remaining flexible enough for high-impact movement. Adorned with a charming embroidered racket emblem on the breast, the tennis jacket can be paired with Tory Sport's seamless shorts and sneaker collection for a versatile look on and off the court. toryburch.com/sport