Founder: Joni Brosnan, creator and CEO
Mission: Very simply, to bring healthy, fresh, organic food (with both vegan and gluten-free options) to a demographic that was scared to death of it at that time. Health food for the everyman. Eat good=feel good. I like making people feel good.
When You Started and What's New This Season: We opened in 2000 and each season we try to bring a little change. I stay true to my roots—what would I do, what would I eat? It's the Golden Rule, divine law, you know: Treat everyone as you would like to be treated. For me, that includes eating and serving food that is as clean as possible.
How You Weathered the Pandemic: My business evolved during COVID with the help of both my husband, Michael, and my kids, Liam and Grace. They all came to work with me, all hands on deck. It was a godsend.
Fun Fact: I am married to one of the funniest people. When I need a name for an item, he never fails me—and he's a pretty good dishwasher, too, when we need him.
Must Try: Love, peace and chicken bowl, no doubt!
Morning Fuel-Up: On my busy days I usually just make a protein-packed smoothie. I designed the Get Naked smoothie at the shop, and it's pretty much my go-to. It has raw coconut water (rehydrating, with natural electrolytes); organic blueberries (naturally antioxidant and anti-inflammatory); organic banana (loaded with potassium); raw protein powder (I love the Garden of Life brand); a blend of hempseeds (full of protein); maca powder (a root from Peru that's good for energy); and cacao powder (for iron, protein and magnesium). Then I add a tablespoon of avocado (for vitamin K, potassium and folate); some chia seeds (an ancient superfood rich in fiber); a handful of spinach (for iron and vitamin C); a handful of kale (more potassium); and finally, a handful of almonds (even more protein and fiber). It's so satisfying and filling.
28 S. Etna Ave., Montauk; 631.668.3663; jonismontauk.com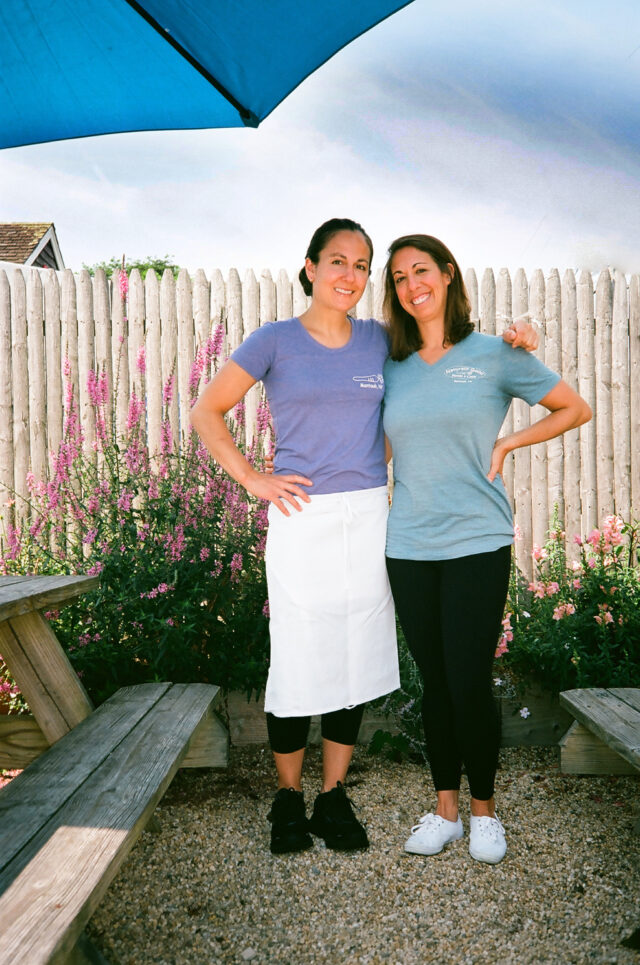 NATURALLY GOOD Foods + Cafe
Owners: Andrea Mavro and Lauren Martin
Mission: We love food, especially clean and natural foods that we know are helping our bodies function the best they can. We want people to know that healthy food can taste delicious. We also want people with dietary restrictions to know we've got them covered, too. We try to offer foods you can't find at conventional grocery stores, and focus on choosing products with clean ingredients. We support local farms as much as possible, selling their produce in the market and using it in our fresh juices, salads and sandwiches.
When You Started and What's New This Season: We had some new hot dishes on the specials menu in the off-season, such as tomato and eggplant coconut curry served with jasmine rice and a side salad. There's also a new burger in the works: a pumpkin-falafel burger with a cucumber-jalapeño aioli. Both are vegan and made from scratch with organic ingredients.
How You Weathered the Pandemic: Since we are a grocery store, there was a lot of pressure on us to remain open and provide for the community. I couldn't be more proud of our staff for sticking it out and working through it all. The fear and stress of the unknown took a toll on everyone, so in April 2020 we started closing one day a week—we're closed every Thursday for a Mental Health and Decompression Day, and it's glorious.
Fun Fact: We love it when employees dance at work, and it's highly encouraged. You only dance when you're happy, so if you're dancing at work that means you're happy. There is nothing better than that!
Must Try: The fish tacos are a fan favorite. We use local fluke and corn tortillas with cabbage, cilantro, tomato, avocado, honey-lime vinaigrette and chipotle aioli, served with a side salad.
Beach Picnic: Try Lauren's Go-To Sandwich: organic homemade hummus with avocado, tomato, cheddar cheese, sprouts and hot sauce on sprouted multigrain bread. We cook our chickpeas with kombu so our hummus won't make you feel bloated, and the hot sauce will actually cool you down, so this is great for the beach. You'll also get a lot of iron from the chickpeas and the combo of avocado and tomatoes together. To further help cool you down on a hot day, get the Tropical Smoothie, which tastes just like a piña colada. Our ingredients are super simple: organic pineapple, coconut water, banana and ice.
What's For Dinner? : Any one of our Salad Specials would be great for dinner. The Salad Special changes daily, but one example includes organic arugula, quinoa, local cucumbers, oranges, dried cranberries, scallions, toasted pecans, avocado, pea shoots and garden basil vinaigrette. I love a vegetable-heavy dinner because your body has all night to digest it, so you won't go to bed feeling hungry. This salad has quinoa on it, which is a perfect protein so you get all the amino acids to help repair and rebuild the stresses from the day, but you could always add tofu, fish, chicken or a veggie burger if you want more.
779 Montauk Hwy., Montauk; 631.668.9030; naturallygoodcafe.com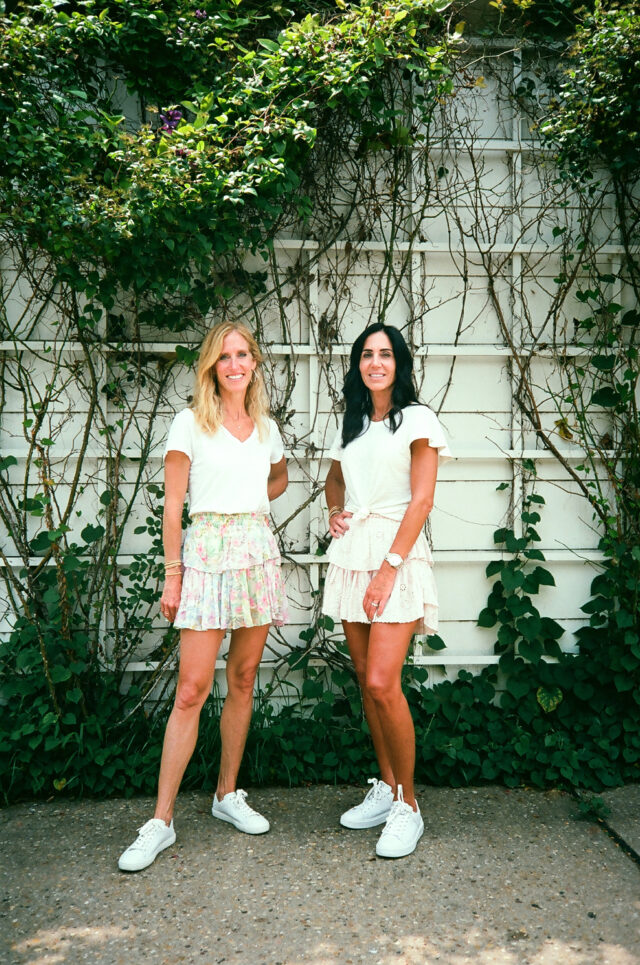 ORGANIC KRUSH
Founders: Michelle Walrath and Fran Paniccia
Mission: We are passionate about the power of education to help others find their personal wellness path through healthy food choices. We know firsthand how good it feels to feel good, and we want everyone to have that same opportunity.
Sometimes, certain foods need to be removed and other foods and supplements added to an eating plan. Very often, cheap cooking oils and chemical-laden foods are culprits that can disrupt someone's overall well-being. We know that we can make a difference in the health of our children and our communities through our 100 percent organic restaurants. Nothing makes us happier than knowing that we're a part of our guests' wellness story. Having good health makes so much more possible.
When You Started and What's New This Season: We started our business in May 2015. We now have eight Organic Krush restaurants on Long Island, Connecticut and Virginia, and this season, we launched our first fine-dining concept, La Fin Kitchen and Lounge, a beautiful seaside dining restaurant in Montauk. Our philosophy there is the same as with Organic Krush—clean, healthy, simply prepared dishes that leave you feeling happy, not heavy or full, and presented in a beautiful environment.
How You Weathered the Pandemic: The pandemic was a challenge for everyone in our industry. We didn't shut down; instead, we went to work every day, stayed close to our teams, and, like many others, had to get creative. We started a 100 percent organic grocery delivery, created wellness kits, did hospital deliveries, and we boosted each other's morale and comfort levels daily.
We implemented safety policies and emphasized sleep, handwashing, vitamin supplementation, good food and juices so that we could keep our immune systems strong. There were about 150 of us on the Organic Krush team who stuck together and kept the restaurants going, and we're proud of everyone for their hard work and dedication. We're also grateful to the community that supported us through this very difficult time.
Fun Fact: It was one strong woman—a celebrity—who actually was the catalyst for bringing us together in business. The deciding moment to build a business around organic food came in August 2014, when we were on the way home from the Taylor Swift tour in Boston. There was no good food to be found anywhere, and after hours in the car, we decided, "That's it! We have to create our own restaurant—one we can be proud of that makes food we'd be happy to serve to our own kids!"
Must Try: These are some customer and staff favorites: chocolate zucchini muffin (gluten free, dairy free and vegan); Mexican coffee smoothie; chocolate chip protein bar; Austin chicken over brown rice or in a tortilla; and cauliflower flatbread.
Morning Fuel-Up: A healthy way to start the day is with our delicious gluten- and dairy-free berry nutty oatmeal. It's topped with berries and layered with our homemade granola. It's high in fiber and nutrients to give you a strong start to your morning. We'd pair that with a matcha tea latte, which is high in antioxidants, and a cold-pressed immunity shot, known for its flavorful cardamom. You'll be off to an amazing start.
Beach Picnic: Our gourmet to-go items make for the best beach lunches. Always ask for one of our homemade dressings like the lemon-herb, to top the kale detox salad or the sweet potato salad. Try the dairy-free chicken salad for protein, and a salted caramel energy bite for a delectable dessert treat.
What's For Dinner? : Our family dinner packages can be ordered any time of day, ready for pick up upon your arrival. Our Organic Krush app makes ordering very easy. A tray of mac and cheese, steak skewers with fried rice, chicken Parm, or pasta and broccoli (all can be made gluten-free) rock our world at the end of the day. These trays easily feed four, and often there are leftovers.
211 Main St., Amagansett; 631.527.7717; organickrush.com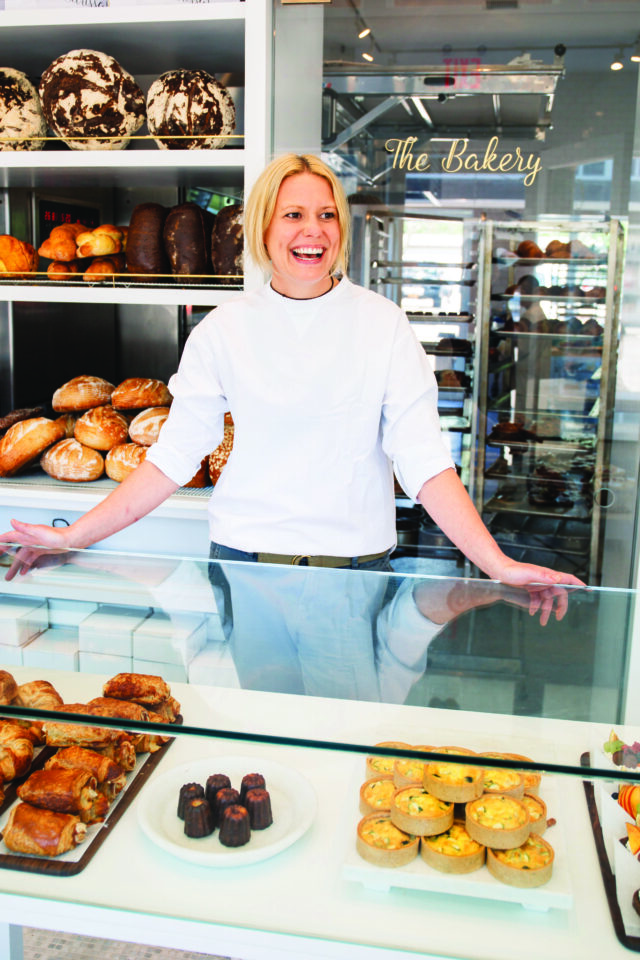 CARISSA'S THE BAKERY
Founders: Lori Chemla and Carissa Waechter
Mission: At Carissa's, we began with baking bread and evolved into a locally minded kitchen and community hub. At our counter-service, all-day bakery, we sell European-style breads, viennoiserie (Viennese-style pastries) and vibrant cakes inspired by the surrounding flora, all baked on site in our bright, sunny, modernist space. Our dishes are based on the principles of wholesome ingredients that honor the season. We practice living responsibly. That means minimizing waste and use of plastics, and—through thoughtful sourcing—supporting the small growers and producers near us who prioritize organic and sustainable farming, fair trade practices and overall transparency.
When You Started and What's New This Season:
We opened the doors to our original location on Newtown Lane in the summer of 2017. Our venture into a restaurant, café and wine bar on Pantigo Road opened two years later. This season began with our new executive chef, Evan Tessler, joining our team. Prior to Carissa's, he cut his teeth at Café Boulud, then grew into executive roles with the Union Square Hospitality Group and Untitled, the Whitney Museum's restaurant. We have expanded our private garden to include more vegetables and herbs to be used by our kitchen. We're excited to have also begun designing and building our forthcoming Sag Harbor location, on Bay Street, so look out for that later this year!
How You Weathered the Pandemic: We recognized from the beginning of the pandemic the importance of staying open for both our community and our team, and we never closed our doors. Previously, our model was completely different, focusing on the dine-in experience at our Pantigo location, but COVID forced us to learn a different model. We began offering our menu to go, built out our website to include online ordering and began offering comforting family-style dinners. We also decided to showcase a few of our friends in New York—who were also facing business challenges—through pop-up to-go dinners, such as Saigon Social and Sobre Masa.
Fun Fact: We name all of our equipment. The big deck oven's name is Olive, our van's name is Pickle, the rotating oven is the Twirly Bird and many more. Yes, we embrace our inner quirkiness.
Must Try: French chefs tell us that our croissants are the best, and our bacon, egg and cheese sandwich has a very devoted following. It starts with our sourdough bread.
Beach Picnic: Start with our grain bowl, with farro, fava bean tahini and fresh local veggies. As a side, add on our creamy hummus with crudités of local heirloom carrots and radishes from our garden. To drink, a gazoz, a refreshing Israeli favorite made with sparkling water, fresh herbs and fruit. We add in ferments of strawberry and rhubarb for extra flavor.
What's For Dinner?: Our Signature Salmon Dinner (preorder it online 24 hours in advance), which serves four. It consists of a beautiful oven-roasted salmon with tahini and za'atar, and is served with roasted local greens, mint couscous, our seasonal market salad and a loaf of our artisanal bread. It's a well-rounded dinner that checks all the boxes of omega-rich protein, green vegetables and fiber without compromising on flavor.
221 Pantigo Rd., East Hampton, 631.604.5911; 68 Newtown Lane, East Hampton; 631.527.5996; 3 Bay St., Sag Harbor; carissasthebakery.com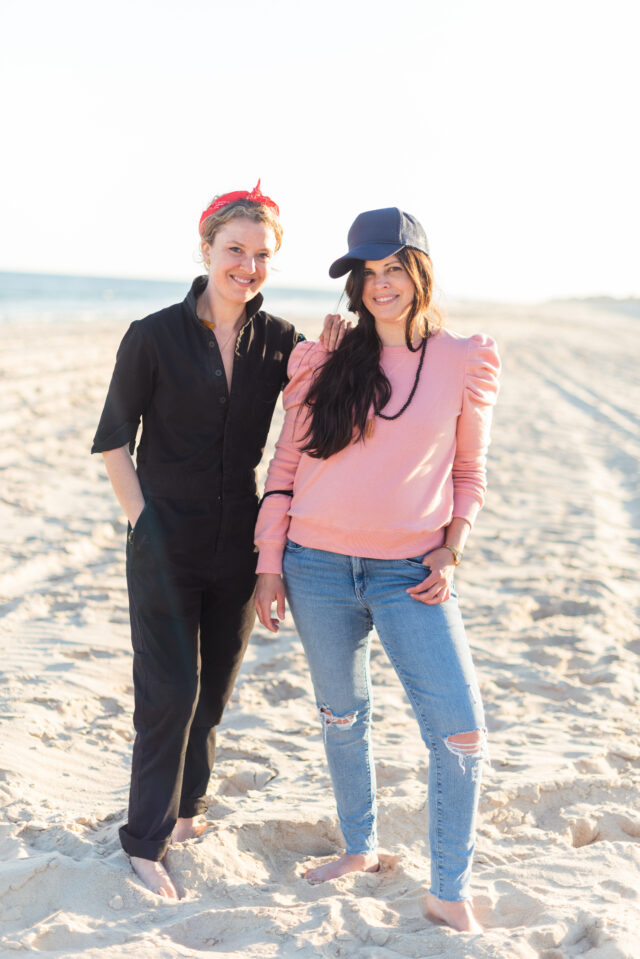 HAMPTONS ARISTOCRAT AND COOKSHOP
Founders: Lexi Ritsch and Louisa Young
Mission: To offer easy entertaining at every price point for every client, while simultaneously supporting the local farming community. Educating clients, through food, about the importance of thoughtful sourcing of organic-practice and non-GMO produce, sustainability, humane farming, and the history of Long Island's farmers.
What's New This Season?: In August we launched The Dune Buggy, a 24-foot open-air dining cart for beach and farm dinners. The cart's dome pizza oven allows guests to enjoy an alfresco chef dinner, including bone-in rib-eye steak and whole roasted fish, beachside.
How You Weathered the Pandemic: When COVID hit, we pivoted our Easy Entertaining menu to offer a more at-home approach to regular family dining, delivered. This shift paved the way for our new prepared food market, Cookshop, which opened in March 2021 in Westhampton Beach. A fine-dining but fast-casual approach to grab-and-go has proven to meet a need in the local community for fresh, local-inspired prepared foods by the pound.
Beach Picnic: We offer beautiful wooden picnic boxes perfect for the beach. Each box has one protein and a choice of three side dishes. Our favorite combinations include seared tuna (high levels of omega-3 fatty acids), local Balsam Farms broccoli Caesar salad (rich in sulfur-containing glucosinolate, known to slow down and kill cancer cells), kale and pomegranate salad with a honey vinaigrette (a healthy trio!), and our roasted sweet potatoes (which lower inflammation) and tahini (rich in protein and vitamin B).
Cookshop: 87 Sunset Ave., Westhampton Beach; 631.383.9617; heritagearistocrat.com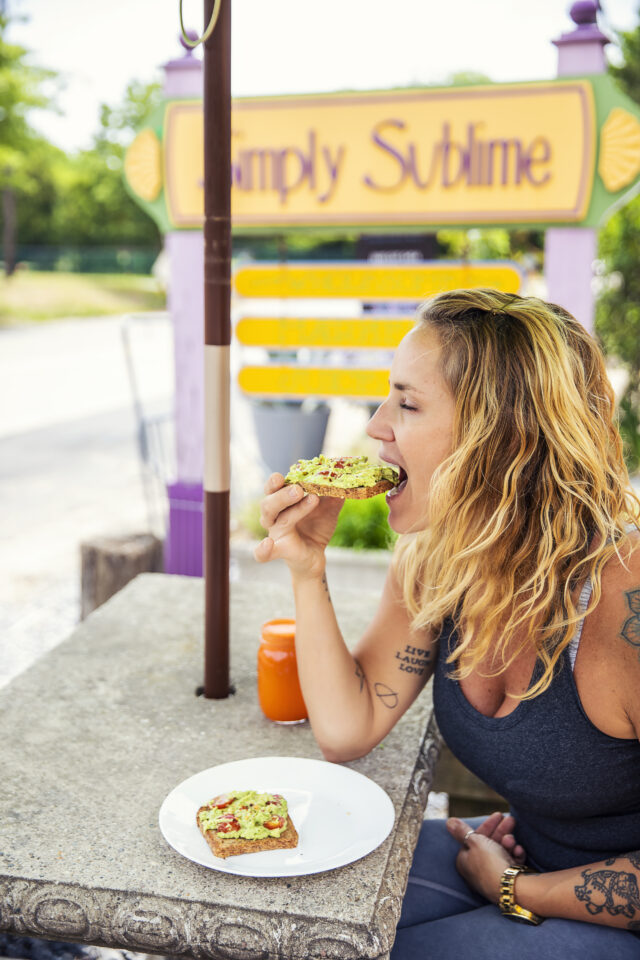 SIMPLY SUBLIME
Founders: Sisters Alison Burke and Juliette Logie
Mission: "I was a vegetarian for many years and found it really challenging to grab a great vegetarian lunch in East Hampton, so we decided we should be the ones to provide it," says Burke. "I'm a yoga teacher and a mom and am super passionate about health and organic food. We wanted to share this passion with the community."
When You Started and What's New This Season: Simply Sublime turned 9 years old in August.
How You Weathered the Pandemic: We were able to pivot and offer concierge grocery service for our clients.
Fun Fact: We were bartenders for years at a frozen-drink bar before opening and growing Simply Sublime. That's why our smoothies are so good—lots of time with blenders!
Must Try: Our most popular smoothie for years has been The Bomb (hence the name): banana, vanilla protein, almond milk, almond butter and a touch of agave.
Morning Fuel-Up: Our anti-inflammatory drink The Mother, which has apple cider vinegar, turmeric, lemon, lime, cinnamon, ginger and filtered water sweetened with a little honey, coupled with our fan-favorite avocado toast.
Beach Picnic: A Mason jar of detox water with fresh sliced cucumber, lemon and mint that you can refill all day, and our Thai Shrimp Salad with peanut sauce and fresh herbs—light, clean and delicious.
What's For Dinner?: Our veggie chili: It's vegan and filled with beans and lots of flavor, and pairs well with our Mexican Ensalata for a Mexican-inspired meal.
85 Springs Fireplace Rd., East Hampton, 631.604.1566; simplysublimehamptons.com