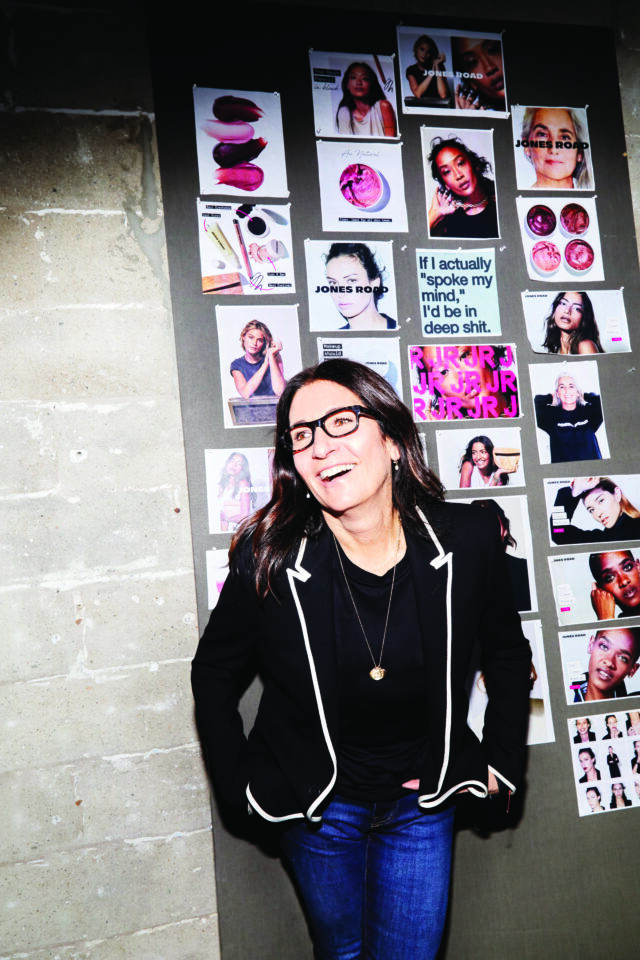 By Donna Bulseco
Here is something you may not know about Bobbi Brown: She's a certified health coach, having completed a program a few years ago with the Institute for Integrative Nutrition. "At the time, I was super-cleaning up my diet and household supplies. It wasn't because I was afraid of getting diseases, but I got sensitive to chemical smells," says Brown. "I also had a meeting about 'clean' beauty and was given Credo's Dirty List of 2,700 banned ingredients that show up in mainstream beauty products." It was part of the evolution of her Evolution_18 line of wellness supplements, and Bobbi Brown wanted to delve into the subject of clean beauty—not just for a passing knowledge and not to proselytize about why people need it, but to figure out the right formulas for her Jones Road line. "Clean beauty is more than a trend. The world is starting to realize why it's important." So did she.
That practical approach to health and beauty—and the world, really—sits at the heart of the legendary makeup artist's success and goes into creating must-have-it products like the Hippie Stick, that soothes as it slicks your skin, brows, lips, lids, whatever; or her best-selling Jones Road Miracle Balm, a complexion-enhancing tint that imparts a glow of bronze, dusty rose, tawny or au naturel. Two new Jones Road shades launched this summer: Sunkissed and Magic Hour, and both hand over the prettiest golden glows. "I knew [Miracle Balm] was a game changer," says Brown, "because I gave little samples to friends and within no time at all, they came back with empty jars, like 'Please, sir, can I have some more?'"
As an entrepreneur, household name, wife, mother, friend and inspiration, Brown believes in her own natural curiosity and invests time and energy in understanding how things work. During her first foray into beauty, "I was disrupting what was happening, but I did things that made sense to me."
In that way, she continues to bring a single-mindedness to her approach. Her hashtag, #hownottolooklikeshit, she says, explains it all. So it's not at all surprising that an episode of NPR's How I Built This with Guy Raz podcast was devoted to her shakeup of the beauty industry in the late '80s with her nude-makeup philosophy that popularized neutral palettes and natural tones.
There is another thing you may not know about Bobbi Brown: She's now a Sag Harbor homebody who eased into the new life her family created at their weekend house during the height of last year's health crisis. "When the pandemic started, and our youngest—my baby, a senior at Syracuse—came home, it was a giant blow for him. We all heard there would be a lockdown for two weeks, so we decided to stay in Sag." Those two weeks turned into months, and others descended. All of a sudden, there were seven full-timers in the house, plus three new puppies—five dogs in all. Wi-Fi challenges and cleaning chores aside, "it was the best and the worst of times, but way more the best," says Brown, especially because "my kids are foodies, so we had competing chefs!"
Now that some semblance of normality has returned, Brown's life in Sag Harbor feels joyful, hanging out with close friends from Montclair, New Jersey, who moved nearby, or going to Yoga Shanti for a restorative class. One of her three sons just got married; the ceremony was a real celebration of love and family. Even daily life holds sweetness: The house is close to town, and Brown's walking path is past the harbor and the Goop pop-up shop, where Jones Road products are now sold—the only spot other than the website to buy them. "When I stopped by, I felt like I was doing a personal appearance," she said, as customers gravitated to her for makeup tips.
Her ramblings around town are restorative: "I use my creative brain while I'm walking," she says, finding inspiration in the architecture for the houses she and her husband are renovating. She listens to podcasts, and her choices are as original as you might expect: Jalen Rose: Renaissance Man, How I Built This, The Daily, SmartLess with Jason Bateman, Will Arnett and Sean Hayes. A late-in-the-day beachgoer, she and her husband head to Peter's Pond around 3:30 on warm afternoons and sometimes they'll stay until 6, reading (recent books include Eartha & Kitt: A Daughter's Love Story by Kitt Shapiro and Simply Halston by Steven Gaines) before stopping by Lulu Kitchen & Bar for roasted cauliflower steak or mussels, or Tutto Il Giorno for branzino poached in parchment with olives and tomatoes.
Occasionally, she'll indulge in a detox cocktail of Tito's on the rocks with fresh cucumbers, lemon and mint, but generally she bypasses dessert. "I'll have fresh blueberries at home," she says, adding: "Here's a tip I always give. I've learned never to order a drink of alcohol and a dessert at the same meal." It's a lesson in healthy living that happily goes down easy.
jonesroadbeauty.com; evolution18.com
LIGHT UP YOUR LIFE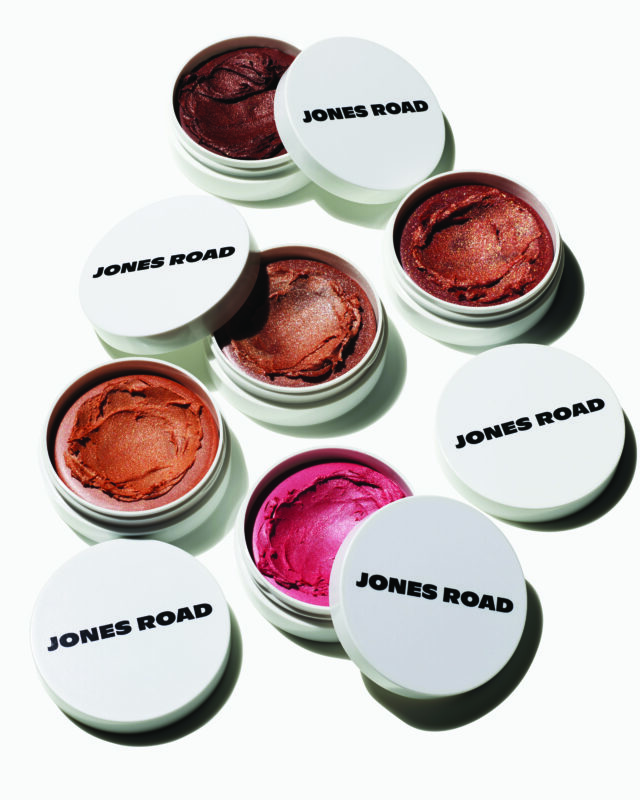 What's the miracle of Miracle Balm? In the original four shades, as well as the newbies, Magic Hour and Sunkissed, the oils used in the mix hydrate and smooth skin with light-reflecting particles. Think of the way skin looks in soft sunlight—gold glints shimmer, and create a flattering glow.
What's inside the mix? Here are the big three:
JOJOBA SEED OIL replenishes the skin's natural oils, hydrating without oiliness.
ARGAN OIL also adds dewiness by delivering vitamin F, linoleic acid, fatty acids and ferulic acid, the latter being especially effective at reducing photo-aging. In other words, you can bypass the look-better filter when posting selfies.
VITAMIN E You need protection against the elements, and tocopherol (aka vitamin E) does that while helping cells excel at their usual game of restoration.