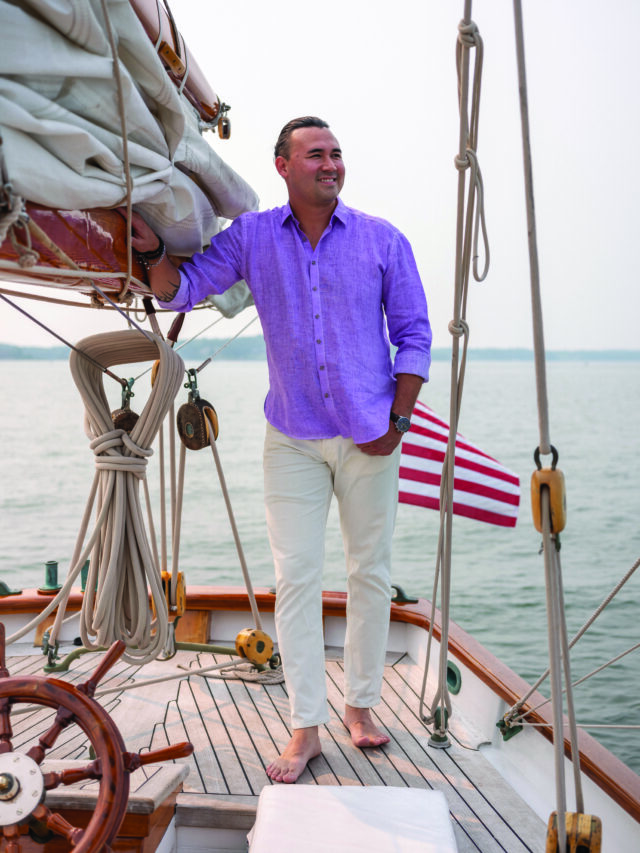 By Beth Landman
In 2018, when Tora Matsuoka surveyed Claudio's on the North Fork, a property that had just become his client, he knew that he and his partners had a lot of work ahead of them. It was the oldest single-family-operated restaurant on Long Island, and contained three seafood concepts under one umbrella. The main building opened in 1870, and though there were compelling photos of people celebrating the end of Prohibition, Matsuoka had a hunch that the waterfront structure, which sat on a pier, might be precarious.
"This was literally a week before opening but I got this flash of fear," he recalls. "I called an engineer and asked how many people we could safely fit on the pier." After poking and prodding, the answer was 1,000, but nobody could move because a portion of the pilings was found to be brittle. "He scared the pants off me," recalls Matsuoka, who thought quickly and sent welding divers into the water to wrap the dock with steel cables, and at the end of the season, everything was rebuilt from the pilings up.
A child model and later an award-winning hula dancer in Hawaii, Matsuoka, the son of a Japanese sumo wrestler father and a Jewish American artist mother, launched his restaurant career at Sen in Sag Harbor when he was just 13. His father was a partner in the business, and after working his way from scrubbing basement floors to becoming a manager, Matsuoka bought out his father's shares at 21 and helped double the revenue and triple the profits.
After opening other restaurants and investing in hospitality real estate, Matsuoka, who is also a co-owner of K Pasa in Sag Harbor, became a partner of Seasoned Hospitality in 2014. He joined Stephen Loffredo; the company expanded and specializes in providing consulting services to real estate developers, hoteliers and restaurateurs. The two partners launched a management company in 2018 that operates large properties, usually in partnership with landowners and investors.
K Pasa is such a hit that Matsuoka is looking for new locations up and down the Eastern seaboard. Seasoned Hospitality's newest clients is the Ram's Head Inn on Shelter Island. Other clients include the Martinique and Franklin hotels in New York, and Columbia University, most recently supporting their partnership with Franklin Becker and his Manhattanville Market. The company also just finished plans for a 15,000-square-foot restaurant and event space in South Florida. Generally, Matsuoka oversees food and beverage operations and helps monetize real estate that way. "We do everything from start to finish—design, construction and budget," he says. "At any one time, I'm fielding three to four projects. I call it the hospitality shuffle! But no matter how many locations we have across the country, the Hamptons will always be my home." seasonedhospitality.com