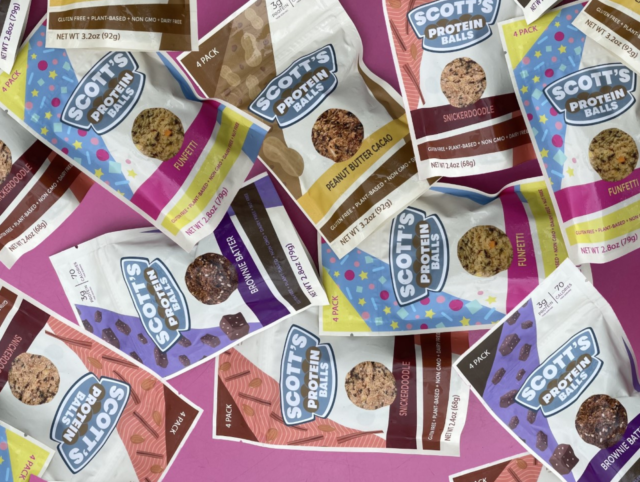 Eating well shouldn't be a chore. And it certainly shouldn't limit someone to bland, uninspired snacks. It can be difficult to strike a healthy balance between nutritious and indulgent. Even more challenging is finding a meal replacement without unnecessary or harmful ingredients. Many "healthy" snacks on the market aren't anything to get excited about, like processed granola bars packed with additives and sugar or chalky protein powder.
The founders of Scott's Protein Balls whipped up a great solution: a line of snacks that taste good and are good for the body, too. Driven by the desire to help his wife, Lori, eat and live clean after treatment for breast cancer, Scott Levine sought out a wholesome alternative for snacking on the go. They rolled up their sleeves to create a meal replacement line that was the perfect balance of sweetness and nourishment. After experimenting with different options (and plenty of taste-testing with the help of Lori), Scott's Protein Balls was born. They can be found in over 30 stores in New York, Connecticut and Florida as well as online.
Free of gluten, dairy and soy, Scott's Protein Balls are a plant-based, non-GMO snack anyone with a sweet tooth will love. Made with all-natural ingredients, this snack fills the gap in a well-rounded diet. Scott's Protein Balls ditches excess ingredients such as preservatives or artificial flavors, opting instead for oat flour, flax and chia seeds.
Choose from five delicious flavors including snickerdoodle, peanut butter cacao, java peanut butter, confetti and brownie batter. Their nut-free flavors, confetti and brownie batter, are an ideal treat to slip into a child's lunch box, while snickerdoodle is perfect for almond butter lovers. Whether on the move or reveling in an evening snack, Scott's Protein Balls are a satisfying treat to reach for at any time. Click below and use the code PURIST20 for $20 off an order of $50 or more.