Vibrant Mini Pumpkin Pies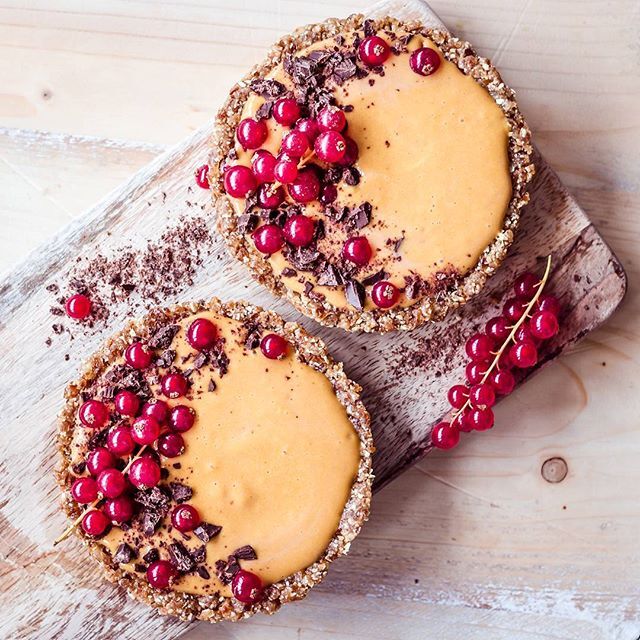 Serves 12
Ingredients for crust:
2 cups raw pecans
1/2 cup unsweetened shredded coconut
1/4 maple syrup
2 tablespoon coconut oil
1/4 teaspoon sea salt
Ingredients for filling:
1 15-ounce can pumpkin puree
1/2 cup coconut milk
1/2 cup maple syrup
2 eggs plus 1 egg yolk
1 teaspoon ground cinnamon
1-1/2 teaspoon pumpkin pie spice
1 teaspoon vanilla extract
1/4 teaspoon sea salt
Non-dairy whipped cream
Instructions:
Preheat the oven to 350 degrees F.
In a food processor, combine pecans and coconut. Pulse until they have a sandy texture.
Add in maple syrup, coconut oil and sea salt. Pulse again until everything is mixed.
Line 12-cup muffin pan with cupcake liners.
Divide the nut mixture as evenly as possible amongst all 12 cups, using your fingers to pat them down in each cup to form a crust for each mini pie. Dip fingers in water if it gets too sticky.
In a mixing bowl, combine pumpkin puree, coconut milk, maple syrup, eggs, egg yolk, cinnamon, pumpkin pie spice, vanilla extract and sea salt. Whisk everything together.
Pour the filling as evenly as possible into the 12 muffin cups.
Bake for 30 minutes or until set.
Transfer to refrigerator to cool for at least 1 hour or overnight.
To serve, top with whipped cream.
Mediterranean Spiced Salmon with Burst Tomato Relish Over Sweet Potatoes
Serves 4
Ingredients:
4 8-ounce skinless wild-caught salmon filets
1 quart chicken bone broth or chicken broth
2 large sweet potatoes, peeled and cubed
1/2 cup almond or coconut milk
1/2 teaspoon sea salt
1/2 teaspoon black pepper
4 tablespoons olive oil
1 pint cherry tomatoes
1 garlic clove, chopped
4 kale leaves, de-stemmed and chopped
1 teaspoon paprika
1 teaspoon garlic powder
1/2 teaspoon turmeric
Instructions:
put the salmon fillets on a plate and set aside to come to room temperature.
Put the broth in a large saucepan or soup pot. Add the sweet potatoes and boil until soft and fork-tender.
Strain the sweet potatoes, reserving the broth. Put the sweet potatoes in a blender with nut milk and puree until smooth. Season with 1/4 teaspoon sea salt and 1/8 teaspoon black pepper. Set aside.
In a large saute pan over medium-high heat, add 2 tablespoons of the oil and tomatoes and saute until the tomatoes begin to blister. Add the garlic and kale and saute until fragrant, add about 2 minutes. With a fork, smash half of the tomatoes.
Set aside.
In a small mixing bowl, stir the paprika, garlic powder, turmeric, and the remaining sea salt and pepper together until well mixed. Sprinkle evenly over the salmon filet.
Warm a large saute pan over medium heat, then coat with the remaining 2 tablespoons of oil. Add the salmon filets and cook for 3 to 4 minutes per side or until the fish is firm and light pink. Remove the filet from heat.
Ladle a thin bed of the sweet potatoes puree on four dinner plates. Plate the filets over the puree, garnish with tomato relish and serve with Roasted Broccoli Rabe.