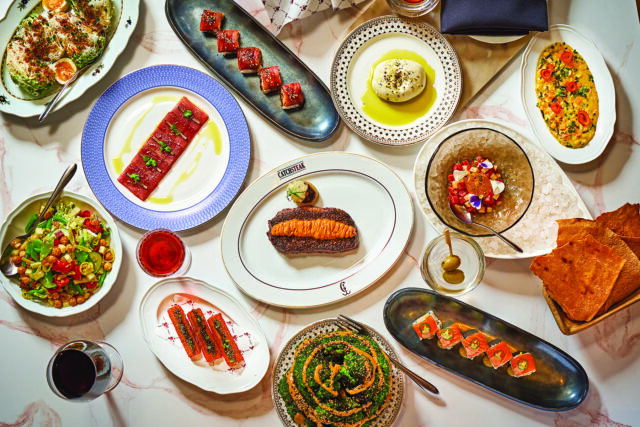 By Nancy Kane
Aspen is known for superior slopes, but after a day on the mountain, these restaurants offer the real fun, in the form of sumptuous meals and soul-warming cocktails.
Popular NYC restaurant Catch Steak brings their inimitable modern steakhouse vibe to downtown Aspen. A 10,000-square-foot space designed by the Rockwell Group incorporates natural and reclaimed wood accents that complement the woodsy feel outside. Located in the former Aspen Kitchen, Catch Steak sits steps away from the Aspen Mountain Gondola. With a heated rooftop dining terrace as well as a main bar, dining room and private cellar, the menu offers top-notch steak cuts along with options like Chili Tuna Tartare. 515 E. Hopkins Ave.
The wintry sister to Montauk's The Surf Lodge, The Snow Lodge returns at the St. Regis as The Snow Lodge Supper Club. Expect seasonal cuisine alongside cocktails helmed by the award-winning team at Dante. And don't miss the music series—from unplugged acoustic performances and DJ sets to cabaret. Artists Léon and Jake Wesley Rogers are already on the bill. 315 E. Dean St.
Centered by a wall of windows offering sweeping views of Aspen Mountain, Casa D'Angelo serves up authentic Italian food in a warm, welcoming setting. Celebrity chef Angelo Elia (who owns nine restaurants across southern Florida and the Bahamas) mixes traditional Tuscan classics with local ingredients. Elia is also a vineyard owner, so the wine list is extensive. 105 S. Mill St.