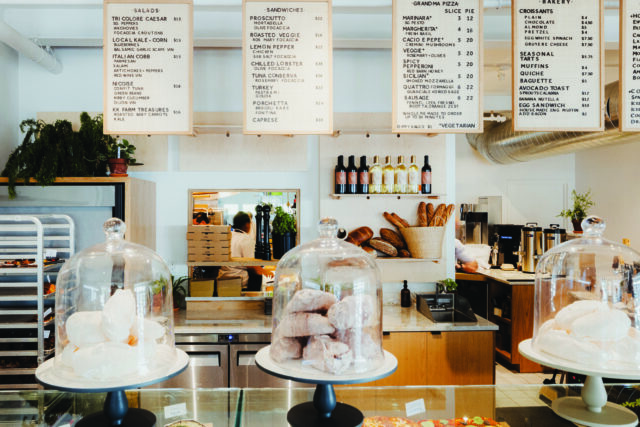 By Marisa Fox
The term "healthy dessert" may sound like an oxymoron or summon memories of spelt scones as dry and bland as cardboard, hardly the thing you'd trot out at a Christmas party. But leave it to third-generation pastry chef François Payard to rise to the challenge of creating holiday confections that are nearly guiltless indulgences.
After all, the Nice, France, native is a James Beard-awarded pastry chef who may be best known for turning local palates on to a light, meringue-based, delicately flavored cookie known as the macaron, a bestseller at his Payard Patisserie and Bistro in New York, South Korea, Japan and Las Vegas. Though he's since shuttered his chain and moved out to the East End during the pandemic, he's hardly stopped creating luxe desserts.
Newly installed as pastry chef for Michelin-starred chef and restaurateur John Fraser's North Fork Table & Inn and Southold General, François Payard is whipping up treats that meet Fraser's local, seasonal and organic ethos.
"Some bakers have a hard time understanding farm to table," says Payard, who divides his time between his Southampton home and Southold. "Many said it's not you. But that's the reason why I took the job. It's a great concept. It's all about quality, preserving the land and preparing dishes with great care."
The slow-food mandate, which is about sustainability and celebrating regional communities and their culinary traditions, is one that inspires Payard, who enjoys gathering herbs from the garden at North Fork Table & Inn, dutifully samples apples from local orchards, poaches pears in wine from local vineyards and sources his pumpkin pie from gourds harvested at a nearby patch. In some ways, being on the East End reminds Payard of the French Riviera of his youth, where he learned to bake at his grandfather's patisserie, Au Nid des Friandises.
"It is a little provençale here," he says of the North Fork. "The coastal climate, the wineries, farms and artisans.
"We work with the bounty available right now," he adds. "We use lettuce leaves from KK's the Farm for our salad, so you can get chicory and pepper flavors. For dessert, I only use fruit that is in season. So we focus on what's available right now, and find the best apples for tarte tatin. I may try 10 different types of apples until I find the one that works best. Some are too juicy. Others don't hold the shape. It's a time-consuming process."
The specific dictates of each local ingredient is one reason why François Payard is sometimes reluctant to share recipes, though he's written several cookbooks, including Bite Size, Simply Sensational Desserts and Chocolate Epiphany.
"With cooking, you can improvise, but you can't with baking," he says. "You have to know which seasonal fruit is best for a certain type of recipe or the exact temperature for the cream, whether you're making sabayon or mousse, because a few degrees difference can affect taste and texture."
Undaunted by the challenge, he's concocted what he terms the Payard twist on classic American holiday treats, from pumpkin pie to apple crumble to fruitcake. To see his pastries displayed at Southold General is to marvel at nature's beauty and his artistic hand. An Italian Christmas tradition like panettone becomes a chic, bite-size baked pudding soaked in rum and garnished with figs, dates and candied orange; pumpkin pie is reinvented as a squash and pumpkin seed soufflé topped with airy, orange-blossom and fennel-pollen meringue sculpted like Venetian glass. Feast your eyes on his Long Island chestnut-pear tart topped with glistening, scarlet-hued pear slices, poached in mulled wine and sprinkled with Sicilian pistachios.
"One thing I remember from my childhood is seeing street vendors selling roasted chestnuts," he says, adding that the East End's many chestnut trees led him to this latest confection. Though not a popular ingredient in American desserts, chestnuts are high in vitamins and minerals, including vitamins K, B5 and B3, as well as phosphorus and magnesium. They're also low in calories, carbs and fat, and contain more fiber than other nuts.
His flourless chocolate walnut cookies—recipe at right—deliver on flavor without the gluten and bad fats of traditional holiday cookies. Walnuts are high in omega-3 fatty acids and antioxidants, which means they add crunch and nutritional value to dessert. When Payard can't find local ingredients that fit the bill, he sources the best quality he can obtain, like Valrhona chocolate, an upscale, bittersweet French bar that's dark, at 70%-85% cocoa, and loaded with antioxidants. Bon appétit!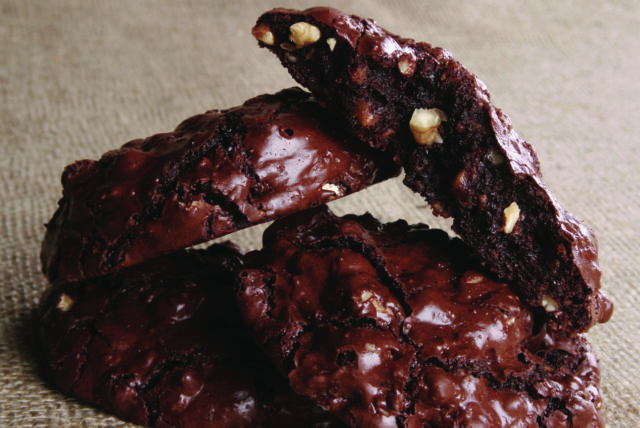 Flourless Chocolate Walnut Cookies
Serving Size: About 12 4-inch cookies
Ingredients
½ cup plus 3 tablespoons Dutch-process cocoa powder
3 cups powdered sugar
Pinch of salt
2¾ cups walnuts, toasted and roughly chopped
4 large egg whites, at room temperature
1 tablespoon pure vanilla extract
Directions
1. Place racks in both the upper and bottom thirds of the oven and preheat the oven to 350 F.
2. Line two baking sheets with parchment or silicone baking mats.
3. Combine the cocoa powder, powdered sugar, salt and walnuts in the bowl of an electric mixer fitted with the paddle attachment.
4. Mix on low speed for 1 minute. With the mixer running, slowly add the egg whites and vanilla.
5. Mix on medium speed for 3 minutes, until the mixture has slightly thickened. Do not overmix it, or the egg whites will thicken too much.
6. With a 2-ounce cookie or ice cream scoop or a generous tablespoon, scoop the batter onto the prepared baking sheets, to make cookies that are 4 inches in diameter.
7. Scoop 5 cookies on each pan, about 3 inches apart so that they don't stick when they spread. (Set the extra batter aside until the first batch of cookies is baked before scooping and baking the remaining cookies.)
8. Put the cookies in the oven, and immediately lower the temperature to 320 F.
9. Bake for 14 to 16 minutes, or until small, thin cracks appear on the surface of the cookies.
10. Switch the pans halfway through baking.
11. Pull the parchment with the cookies onto a wire cooling rack, and let cool completely before removing the cookies from the parchment. Store in an airtight container for up to 2 days.