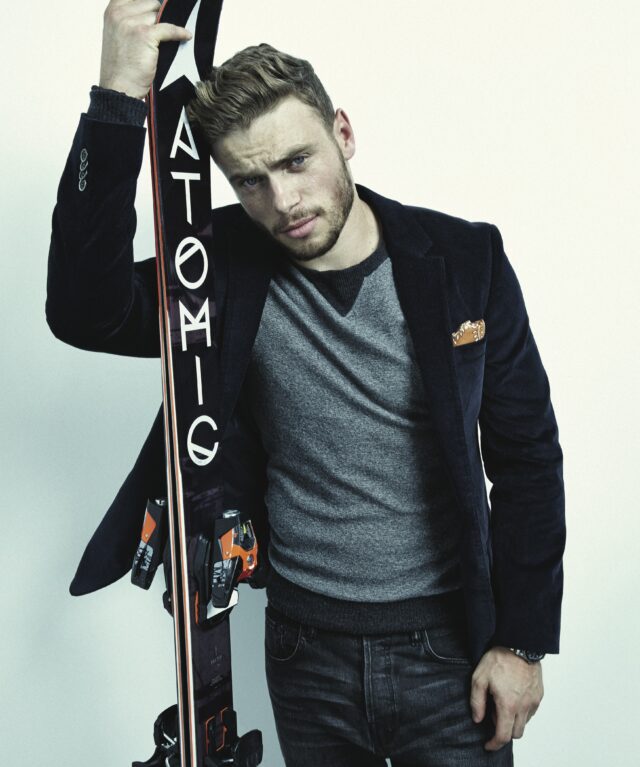 Cristina Cuomo: As a professional athlete, what are the most important things you do to support your training?
Gus Kenworthy: The most important thing to supplement training is sleep, which is hard when you're on the road.
CC: What does a day in the life of an Olympic silver medalist look like?
GK: My day mostly revolves around coffee. It's the first thing I think of when I wake up. I go to the gym every day. I also like working out with friends or my boyfriend. A lot of athletes just want to be in there doing their thing on their own. But I'm codependent—I like doing everything with friends.
CC: Will this upcoming 2022 Beijing Winter Olympics be your last one?
GK: Yes, it will be my third and final. My first Games in 2014 was actually the first time that my sport was included in the Olympics. It was the inaugural event for ski slopestyle and ski halfpipe. I felt very honored getting to be a part of the first Team USA for that sport. By 2018, I was back. It was my first Olympics being out, vocal and visible as a gay man. It was also the first time that any gay man had competed for Team USA [in skiing] in the Winter Olympics.
CC: You've been training your whole life for this. How do you decide what you want to do next?
GK: I want to pursue acting. I have a foot in the door because of the Olympics, and I feel like that got me a couple of roles already [on American Horror Story and Will & Grace]. I did some correspondent work for NBC during the summer Olympics, and I've hosted segments for Nightline, and just random things here and there, trying to get better in front of the camera as myself.
CC: What attracted you to that secondary career while you were in the midst of being an Olympic athlete?
GK: I always dreamed of being an actor as a kid, and I did some theater. In a way, it's every kid's dream to get to be on TV and be in movies. It certainly was my brother's and mine.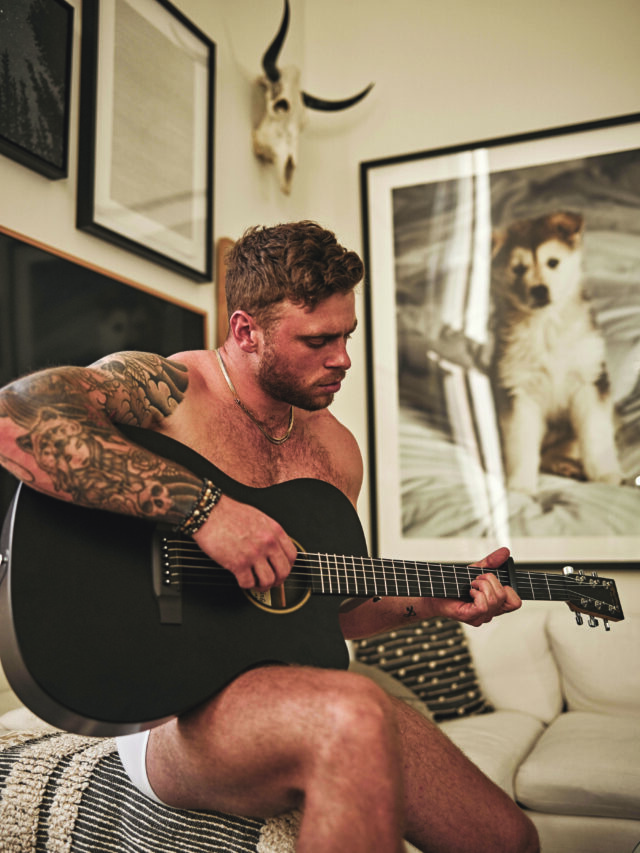 CC: Music plays a big role in your life. I love listening to you on Instagram. You're self-taught at the guitar. What compels you to learn all these things?
GK: When the pandemic happened, I was locked at home; I really wanted to try and make the most of that time, and so I taught myself guitar. It was definitely a saving grace for me.
I think as a kid a lot of my drive, whether it was subconscious or conscious, came from the fact that I was in the closet and I knew that I was gay and that I was different. Even without contextualizing it, I knew that I had something that made me different, and at that time in my life I felt like it was a deficit. And so I felt like I had to work harder in every aspect of my life to make up for this shortcoming. I felt like, if I have this thing working against me, I have to be this, that and the other. So, I was studying hard, was a straight-A student, and pushed myself in skiing and in all the sports that I did. I think it's probably in some ways damaging psychologically to push yourself for those reasons, but I think I definitely did push myself really hard, because I felt like I had something to make up for.
When I came out, it was very liberating. I didn't feel that pressure anymore, but I felt a different pressure. I had a new community that I was a part of, and a new audience that I was trying to do right by. I wanted to try and be the best that I could be, not just for myself but for the community.
CC: As an outspoken member of that LGBTQ+ community and an activist, you're vocal about your political beliefs. As an athlete and actor, how important is it to use your fame toward a better, more progressive future?
GK: I think everyone should utilize their voice and vocalize their beliefs. I do think that when you're given a platform, you really have to realize that it is a privilege, and then use that privilege to lead by example, and help speak up for those who have been marginalized.
CC: Speaking of injustices, you're an animal rights activist. You went to South Korea to shut down a dog meat farm with Humane Society International when you were there for the Olympics, and you brought home your dog daughter, Birdie. Why was this mission so important to you?
GK: Animal adoption has always been very near and dear to my heart. In 2014, when I was at the Olympics in Sochi, my first boyfriend and I found a family of stray dogs—four puppies and a mom. We vowed to bring them back and make sure that they didn't get euthanized. I put them on Instagram and Twitter, and the posts ended up really taking off. Because of that, the Humane Society International reached out and offered to help bring the dogs back. One of those dogs lives with my mom, and two of them live with my ex. I began a long-standing relationship with the Humane Society International because of that. In 2018, when the Olympics were in South Korea, they reached out to me, because of a dog meat farm a few miles from the venue.
They asked if I would come visit a farm while I was there and help them film a PSA to try and bring awareness to the cause. And so I went to a dog meat farm, which was really the most upsetting thing I've ever witnessed. While I was there, I saw a family of puppies being born in a cage in the snow, shivering. Had we not been there that day filming that PSA, those puppies probably would have died because it was so cold. Long story short, my dog Birdie was one of those puppies born in that cage that day. All 90 of the dogs that were on that farm were brought back to the U.S. and Canada, and adopted out through local agencies. I have Birdie, who came from there, and then I have another, Frank, who is also a rescue. He's a little terrier thing.
CC: What's the best advice you've ever been given?
GK: It's not even advice that was given to me, but it's a quote I read when I was a teenager, and it stuck with me forever: "Be who you are and say what you feel, because those who mind don't matter, and those who matter don't mind." It really resonated with me, especially when I was coming out. Anyone who doesn't support you for who you are, who doesn't care about you for you, just doesn't matter. Anyone who does matter will care.
CC: You made a point of thanking the people who do matter to you by dedicating each of your Olympic endeavors to someone. You said you're dedicating next year's Olympics effort to your mom. I wanted to ask you about growing up in Telluride, Colorado, and what that was like.
GK: It was idyllic, a fun place to be a kid. There were a lot of kids my age. Never had to lock the door. Felt safe. Always a neighborhood kid to play with and a lot of things to do, whether it was hiking, biking or skiing. It was just a very active place to grow up.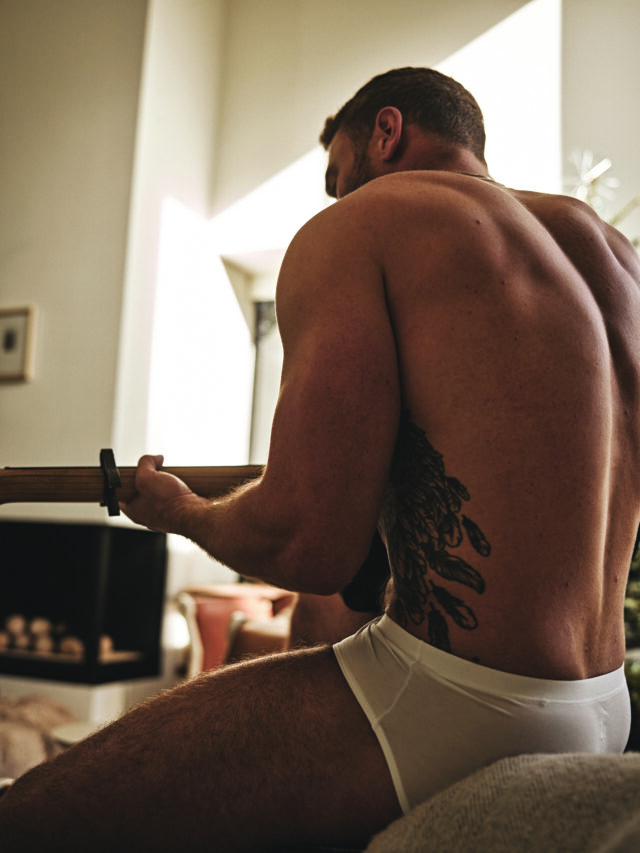 CC: You've spent a lot of time in Aspen for the X Games and such. What are some of your favorite things about Aspen?
GK: I love the restaurants in Aspen. I feel like what I like about Aspen, honestly, is that it's so glamorous. Telluride to me is similar to Aspen, but Telluride feels very old-school. I love its soul and character. Aspen is the epitome of luxury and comfort, and it just feels like a vacation every time you're there. I'm in Aspen every year for the X Games, and usually a couple of other events during the year, so I spend a lot of time there.
CC: You did a clothing collaboration with Ron Dorff and you were the face of H&M and Ralph Lauren, and you're currently the face of Prada. How did you get into fashion?
GK: My mom instilled an interest in fashion. She ran a consignment store throughout my childhood, so she's always been really good at finding beautiful garments and old vintage things and putting together great looks. It translated to me a little bit, and then through skiing and Olympics and some of the notoriety that I've gotten, I've had the opportunity to do modeling campaigns with all these incredible brands like Ralph Lauren and now Prada. It does feel a little bit surreal, but it's amazing.
CC: You're an ambassador for different brands. You invested in Cann, a cannabis-infused social tonic company. Why do you migrate toward these wellness-centric brands, and how do you look for the ones you want to support?
GK: Sometimes the brands find me, and sometimes I find them. Cann actually was a company that a friend had invested in. I thought it was a genius idea, and reached out to the company to see how I could be involved. I also work with Beam, which makes CBD products. The brand has a sleep product, capsules or a powder mix, that I take every night before bed. I was saying at the beginning of this interview how important sleep is, and Beam really ensures me a good night's sleep.
CC: Tell me about the breath work you do and your meditation practice.
GK: I meditate between 10 and 20 minutes daily, which started two years ago, and has been a really wonderful thing. I am someone who overthinks things. Meditation is a way to stay grounded and in the moment. Breath work is more occasional for me, because it can be very intense.
CC: I know that your openness about mental health during the pandemic isolation really goes a long way with those who were struggling, and also your ability to be publicly vulnerable. Why is it important for you to share not just your ups but your downs, too?
GK: It's fairly easy for Instagram to become a highlight reel, and that is the way we are mostly sharing ourselves on social media. And if you're only sharing the highs and not the lows, then it creates a really warped perception of you and your life and it translates to other people. I get upset and compare myself to people, and I think that it's true that comparison is the thief of joy. So I think it's important to not just share the ups but also the downs, and try to have just real transparency about stuff that's going on. Mental health is such an important thing to talk about, and doesn't get talked about enough and is stigmatized. The pandemic was a hard time for everybody, and I definitely was very depressed during it. I actually started taking antidepressants during the pandemic, and am still on them. I feel like it's not something that should be shrouded in shame or mystery. It's just a non-big deal, and it's something that helps keep me where I need to be.
CC: The environment is very important to you. What are some of the environmental issues that you support?
GK: I feel a little bit, I guess, sometimes silly talking about it because, in terms of carbon emission, I'm also jetting all over the world. Flying is the worst thing you can do. I've tried to stop eating red meat and pork, because both of those industries emit so much more methane than chicken or fish. I believe it's important to speak up for politicians and candidates who support your ideals in terms of climate change and environmental impact. If it's left up to people, it won't change—people are selfish and do things out of convenience, myself included. I think that we sometimes need to be forced into things. You read statistics that are overwhelming, but if everybody recycled for a year and did all these things, it still wouldn't make as much of a difference on the environment as taking one less flight a year. For me, it's a leadership problem on a global level. More needs to be done to hold oil and gas corporations, and all these companies, accountable because I feel like they can actually make the difference.
CC: You jumped to Great Britain's ski team from the U.S. team. How did that happen?
GK: I've always held both passports, so it was always an option for me. While qualifying for my first games, I decided to ski for the U.S. because I live in the U.S. The second time around, I again had the opportunity to compete for Great Britain, but decided to stick with the U.S. This third time around I thought, I'm going to do this for my mom. That would be an amazing tribute to her, and also it would be a cool and different way to approach the third games. In the past two rounds, it's been dog eat dog for the coveted spots. Competing for Great Britain, I had the luxury of earning my spot last year. Knowing that I was locked in and ready to go to the games, I could use the next few months to focus on training and getting the best run possible ready.