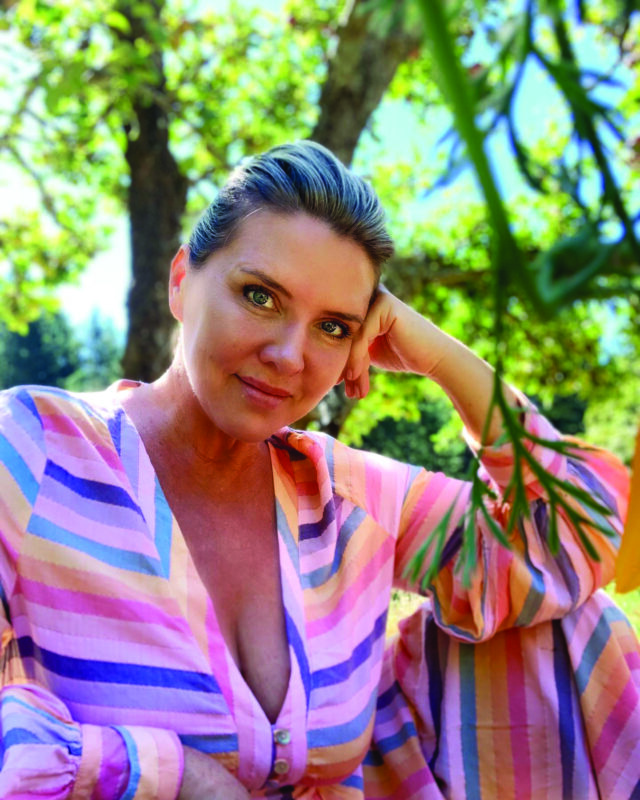 By Beth Landman
"Three years ago, you were blocked from advertising feminine care products on social media because they couldn't tell the difference between women's health and porn,'' notes Christine Mason, founder of Rosebud Woman, an intimate body care line that she launched in 2017.
That's all changed now, with Rosebud's products not only on social media, but displayed boldly in Anthropologie, The Detox Market, Saks Fifth Avenue, Neiman Marcus and Nordstrom. The Honor Everyday Balm, Arouse Stimulating Serum and Anoint Nourishing Body Oil are packaged in beautiful glass jars, while the Soothe Calming Cream comes in an easily transportable tube. There are also individually packaged cleansing wipes and a travel kit with mini versions of the offerings.
Mason was not always in the feminine-care space. "After school I started a bunch of tech companies, so early in my life I began entrepreneurial work," she recalls. She was also a mom, and by the time she started her first business, a software company, in 1998, she had four kids. "It's a strange jump from being a tech CEO," she says.
Even when she was a tech CEO and starting her own companies, she had interest in women's health and began teaching yoga, practicing tantra and exploring alternative medicine. "While I was running tech companies, I started learning about plant medicine from all over the world," she remembers.
Getting in touch with her feminine side took some work, as she was raised by her father after her mother was murdered, the victim of a violent crime when Mason was just 11. "I didn't have a feminine influence," she explains. "Living a logical life was preferable to living a curvy feminine life, and that worked to an extent."
A combination of dedication to her practice and need to comprehend the kind of criminal mind that took her mother's life led her to become involved with a prison program that uses yoga to help rehabilitate inmates. "I was teaching in studios but I wasn't transforming lives," she says. "They were there for yoga butt. My personal trauma led me to this program that helped people take responsibility for their crimes and apologize to the victims."
Mason began her journey into the feminine-care space by making her own products. "People would come over and open the fridge, and I would have giant jars that looked like yogurt but were face and body creams," she recalls. When she hit menopause and wanted products that she couldn't find, she delved deeper into plant knowledge and did a survey of 3,000 women aged 25 to 70. The data revealed a desire for products that addressed dryness, irritation and lack of sensation. "That was the road mark from my refrigerator to a line that met specific needs."
In addition to growing Rosebud from zero to millions and creating a self-funded company that has doubled in size each year, Mason writes books and produces a podcast. She is expanding the line to include two new products—one to address crepey skin—and 10 percent of the profits will go to women's charities. "When I was searching for a name for the line, I found 700 nicknames for women's genitalia, but only six were kind," she says. "Now, I see a world where women can talk about their genitalia as easily as their elbows." rosewoman.com