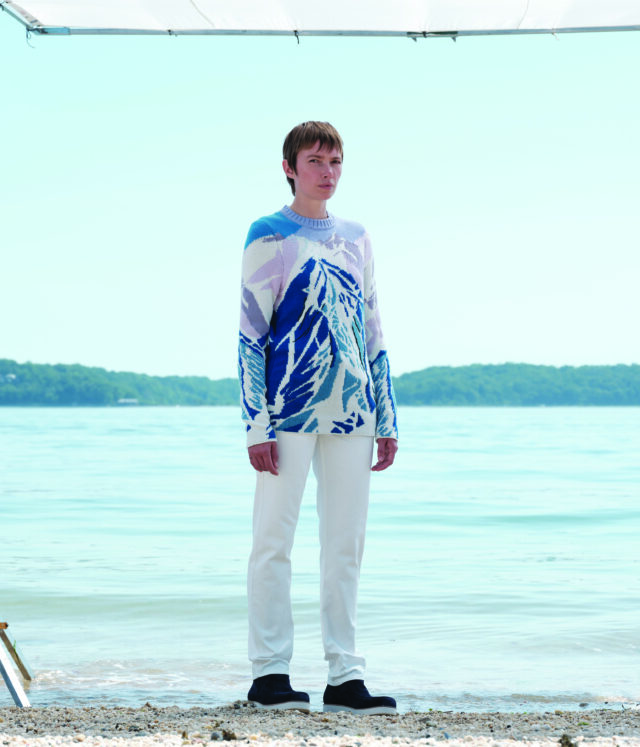 By Jim Servin
With head and heart equally attuned to couture flights of fancy and planet-friendly business practices, Gabriela Hearst is a creative visionary whose time has come, and not a moment too soon. The 45-year-old designer is changing the course of one of the world's notoriously wasteful industries (fashion is the second-largest polluter of water in the world) while winning raves for her own impeccably tailored eponymous line, established in 2015, and for the bohemian, retro knitwear and accessories of French fashion house Chloé, where Hearst was appointed creative director in 2020. The mother of three, who grew up in Uruguay on her family's 17,000-acre horse ranch, is married to publishing scion Austin Hearst and lives in Manhattan. This season, she brings her timeless style to Aspen, in a pop-up boutique at MAX, 609 East Cooper Avenue, from December 15 to March 31.
Jim Servin: What inspired you to open the pop-up in Aspen?
Gabriela Hearst: I have been feeling for a while that Aspen is a location we wanted to explore, and we have a great friend, Max, who has a store there with extra space that we were able to transform with reclaimed wood and pieces that our friends Antoine and Benji created specifically for the project. We are also launching our landscape sweaters, and we have one of the Aspen Mountain. Let's see if our intuition about being in Aspen is right.
JS: Growing up on your family's farm in Uruguay, how did you become aware of the importance of sustainability?
GH: We lived sustainably, but it was sustainable in a utilitarian sense. I am a sixth-generation rancher, so that really paved my path. The furniture had been there from my great-grandmother, everything was built to last. We had solar panels because they were needed—sustainability was a way of life. I knew no other way.
JS: You are successful at the highest level of fashion, using sustainable practices—introducing compostable bioplastics for packaging, and staging a carbon-neutral fashion show for the Spring 2020 collection. Was this challenging to introduce to the couture world? Did you have to overcome resistance to these practices? Has it gotten easier in recent years as the world's awareness of the importance of sustainability has expanded?
GH: Yes, it was challenging, but we are very passionate about it, and I'm quite stubborn myself, so when people would say not to make luxury with sustainability, I would just not pay attention. At the beginning, we were having pushback when launching our biodegradable compostable packaging, which often didn't seem to meet the requirements of some vendors, just because a manual said you couldn't use it. I think nowadays the mentality has changed a lot. We have used repurposed and dead stock materials since our first show, and now it's a common practice. I think we're getting to a point where we have luxury clients who shop at our Madison Avenue store, our London store, or now at the Aspen store, who want the most minimal packaging possible.
JS: What prompted you to include such ingenious materials into your designs, such as the anti-radiation fabric that shields against the radiation emitted by mobile phones, introduced in the Resort 2017 collection as lining for jacket pockets, or aloe-treated linen wool, introduced in the Resort 2018 collection, a sustainable process that gives the fabric the property to moisturize the skin?
GH: Well, it really comes from the principle that we want to give our clients the best, right? I remember a doctor telling me never to put your cellphone in your front pockets because of the radiation this could provoke on your reproductive organs, so when talking with a colleague about radiation, the effects of it, and the chances to be affected by it, I thought it was better to be safe than sorry. We found a German material mostly made out of silver, which we line all the pockets of our jackets with for an anti-cellular radiation and anti-microbial effect. We thought that this was worth the investment for our clients.
In regard to our linen, I don't use virgin cotton because the cotton industry is one of the biggest producers of herbicides and pesticides, responsible for about 18 percent of all the herbicides and pesticides currently used, not to mention the effects it has on water reserves, as it is a crop that absorbs a lot of water.
I've always been very intrigued with linen. In Europe, people accepted it quite well, but in America, clients find it scratchy, or there are comments about it being too wrinkly, and so when I found aloe linen material from Solbiati, it was a very exciting day. I wanted to do sheets, pajamas, all types of clothing, everything I could do with this material, because linen production absorbs less water than cotton, and doesn't use herbicides and pesticides, plus it has the added value of being a flaxseed, which provides you with nutritional value. When treated with the aloe leaf, it becomes softer. It is much better for your skin due to the moisture of the aloe, and it wrinkles less, so the whole experience has been great.
JS: To what do you attribute your ability to think outside the box when it comes to fashion—to value sophisticated aesthetics as well a bigger environmental picture, all the while maintaining a premium on luxury—cut, color, texture, style?
GH: I had a conversation with a neurologist not long ago and it's official: I think differently. I have a natural propensity to look at things from a different angle than most people do, and so something that for most people may not be a common practice at that moment, makes complete sense in my mind. Perhaps that is a farmer's common sense. I come from a family of ranching and farming of many generations, so the way I think is also grounded in common sense and practicality.
JS: Could you tell Purist readers about your three-point approach to design, which looks at fossil fuels, overconsumption and the need to rehabilitate the environment?
GH: It's the way I look at the product and at the business in general, where I always try to hit these three points. I ask myself: What is the involvement of fossil fuels in this product? We must start thinking net zero, and moving away from this addiction we have to fossil fuels, and always think about minimizing the impact of fossil fuels in each product. The second point is making sure that we are not overproducing, but we are producing the right amount. Overproducing causes overconsumption and waste. Finally, the point of conservation and rehabilitation: How much water do we save? How does this conserve the environment? Does this have a biodiversity angle on the crop's growth? This is how I always look at the product, and it is ingrained in the way I design.
JS: When Jill Biden repurposed the navy sample of the ivory inauguration dress you designed for her—she wore the sample to President Joe Biden's first joint session address to Congress—was that sending a message to the public that sustainability is catching on?
GH: I don't know if that is the interpretation of what our first lady did, but for sure she is so resourceful, a teacher, a very smart woman who is not a wasteful person. At the moment of this interview, the House passed a $555 billion bill toward sustainability, so I think sustainability is a main pillar of the Biden administration. It's the first time in the history of America that such an investment has been made toward sustainability, so we are moving forward.
JS: You were appointed creative director of Chloé in 2020. How do you feel about being the first female designer with a multicultural heritage, of both Uruguay and the U.S., to take the helm of a Paris fashion house?
GH: I have to say that it was a real moment of pride. Most of the time I try to not think about those things from an ego perspective, but as a Latin American woman I felt very proud, my children were very proud, my country was very proud. It's obviously pride that comes with a lot of responsibility, and a commitment that I have to fulfill the mission.
JS: How sustainable are you in your home life?
GH: An investment we were really excited about was installing a natural filter system for our own water. New York water is perfectly drinkable, but we went the extra step and wanted to make sure we always only drank tap water at home, and the system allows huge savings.
JS: What areas of work and life are you still trying to do better, in terms of sustainability?
GH: Because I'm traveling to France a lot, air travel is on my mind, but now you can look at the airlines and know which has the less impactful route to take. I travel with Air France, as they are very good at telling you what the footprint of your travel is.
JS: What's your motto for the new year?
GH: I'll be small for no one.