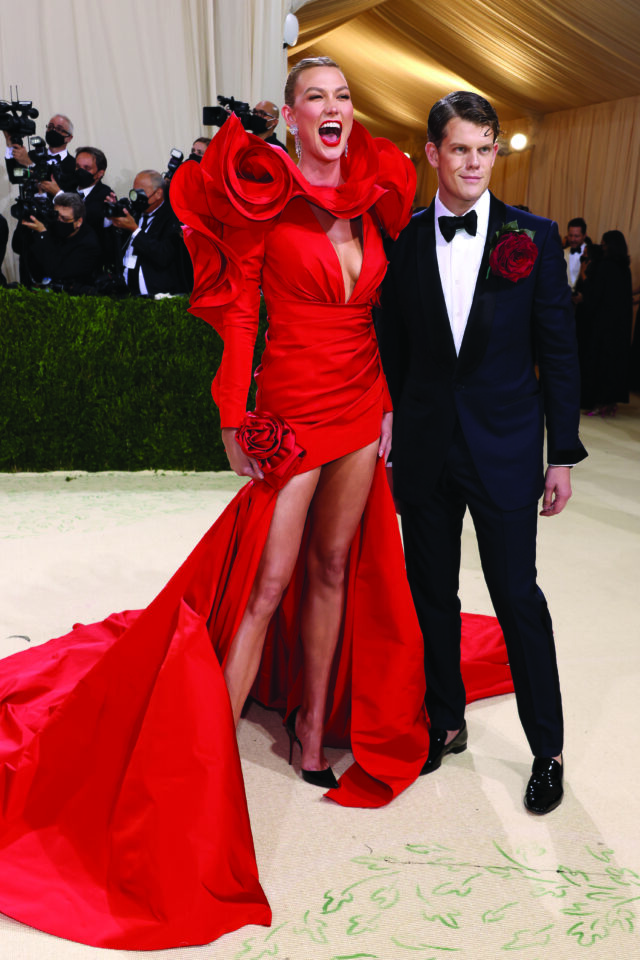 Wes Gordon is everywhere these days. In just the past few months, Gordon, creative director of Carolina Herrera, designed costumes for the American Ballet Theatre, walked the red carpet at the Met Gala and picked up a prestigious award from the Fashion Institute of Technology. That's in addition to doing his day job. And dressing Meghan, the Duchess of Sussex. Did I mention he's also a new father?
Full disclosure, Wes Gordon is a friend. I'm a fan and have been since he first started designing clothes for a living more than a decade ago. This year, Carolina Herrera is marking a major milestone—40 years in business. We sat down recently to talk about how a Warhol portrait inspired him, how he and Mrs. Herrera never talk about fashion, and how becoming a father changed everything.
ALINA CHO: When did your love of clothes begin?
WES GORDON: I was always fascinated by clothes. I would sit in my mom's closet with her in the morning. She worked when I was younger, and would go to an office, and I'd pick her outfits for her. Before I even had any concept of what I was doing, I would say, "This, this, this and this."
AC: Before you had a right to…
WG: And then I became very particular about what I would wear.
AC: I feel like there's a famous old childhood photo in which you're wearing suspenders.
WG: I was always in suspenders. I was one of those little boys. I loved art, painting and drawing; that was my favorite part of the day. But all these interests just converged and came together into me realizing that it was fashion that I love.
AC: You graduated from one of the best fashion schools in the world, Central Saint Martins in London.
WG: I spent four years in London and graduated in 2009, at a time when…
AC: …the world was rough.
WG: The world was rough. It wasn't like people were hiring and growing businesses. So yes, we could chalk it up to, "I was so brave and bold and started my own collection," but it was also, if I wanted to make clothes and design, that was the way to do it then.
AC: I bought a lot of Wes Gordon clothes.
WG: I know! At the time, so few stores were willing to make investments, particularly on young designers, but they were willing to give me a chance to do trunk shows, because there was no risk. The clothes were presold. So I was given this chance to literally go on the road, and carry a suitcase full of my samples, and go to every Saks, every Neiman's, every specialty store, because I had to, because that was the only way to keep my business going. But because of it, I gained such an incredible relationship with our clients, who are the same clients who now shop at Carolina Herrera.
AC: How did you get on Mrs. Herrera's radar?
WG: I had my own line for almost eight years. You're very familiar with the industry. Every day is a battle for survival, right? So, we made it almost eight years, and did some incredible things, despite all the impossible odds stacked against a young, four-person brand.
AC: Right.
WG: One day, out of the blue, I received a text message from Emilie [Rubinfeld, president of Carolina Herrera, Ltd.], whom I didn't know, saying, "We'd love to chat with you about consulting for Herrera. Are you available?" I was like, "Yes, of course. Of course I would." Because I was in the moment, winding down my own collection, and…the stars aligned.
AC: And now, here you are as the creative director of this American heritage brand that's now 40 years old. It does seem like a dream job.
WG: I feel at home.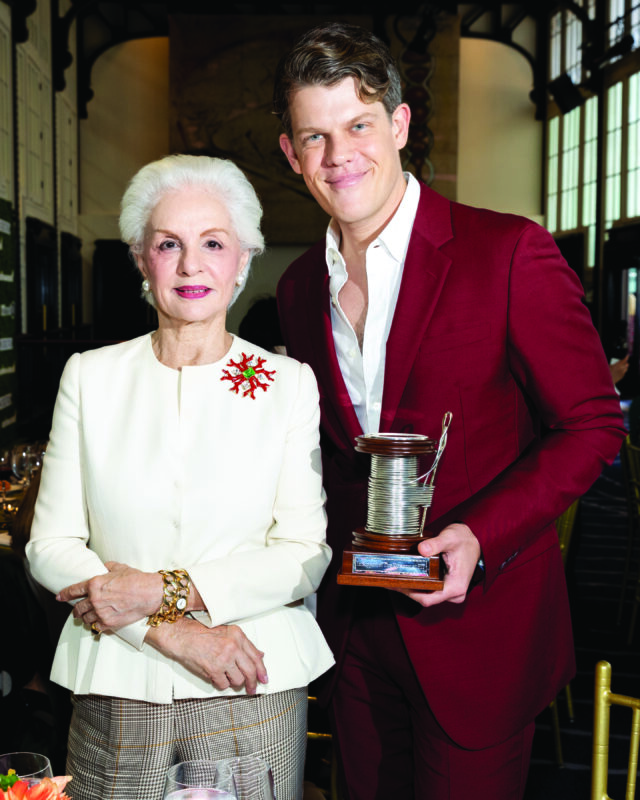 AC: What does Mrs. Herrera say about your designs?
WG: I'll tell you the truth. We're great friends. I dine with her often. And we don't talk about work.
AC: Really?
WG: Never. The beginning was learning from Mrs. Herrera, and then it was about doing a delicate waltz between my voice and her voice. And now I think I really have found my identity as creative director of Herrera.
AC: It is very quintessentially Herrera and, yet, it is also now very quintessentially Wes Gordon, you know?
WG: I love that. When I was originally tasked with thinking through what is my plan for Herrera, what is my vision, it really started with the Warhol portrait of her. The color, and the jewelry, and the boldness, right?
AC: Yes.
WG: And just this idea that in New York, where everyone's about a black car, and a black or gray outfit, let's stand for the woman who wants to be in head-to-toe hot pink, or who wants enormous earrings. And this zest for life, this flamboyance, this vitality—right now, we're in a moment where that is really resonating. And I think we're entering a chapter where that's going to resonate more than ever. We've been through a dark period. But things we choose to bring into our lives, more than ever, I think we want those to be happy, joyful things.
AC: Before we go, I do want to talk about this new human in your household.
WG: Oh my God, Henry.
AC: I can't believe I haven't met him yet.
WG: I've become that person. I was in Dallas recently, and I've become the person who, 30 seconds into every conversation, has somehow found a way to take out photos of him on my iPhone.
AC: "Have you seen my baby?"
WG: Uh-huh. "Look at him."
AC: Well, he is cute.
WG: What was amazing is that it took us two-and-a-half years.
AC: Wow.
WG: We have a pride group at Herrera. I was a guest speaker about the whole journey because I learned so much in the process. Paul [Arnhold, my husband] and I are so committed to being totally open books, because there's so much information people don't have about it. It's information you only learn when you go through it. It's a whole village that comes together to create these babies.
AC: How has having this extra human in your life changed you?
WG: Just suddenly, the new noises in your house. Your house just becomes the happiest place. Now, he's really playing with his voice. So he just sings and laughs. It melts your heart. You don't realize that you have the capacity to love something as much as you do until you're holding your baby.
Alina Cho is an Emmy Award-winning contributor to CBS Sunday Morning, producer of the upcoming Netflix documentary on Martha Stewart and host of The Atelier with Alina Cho at The Metropolitan Museum of Art. Her newsletter, Cho & Tell, can be found at: alinacho.bulletin.com.