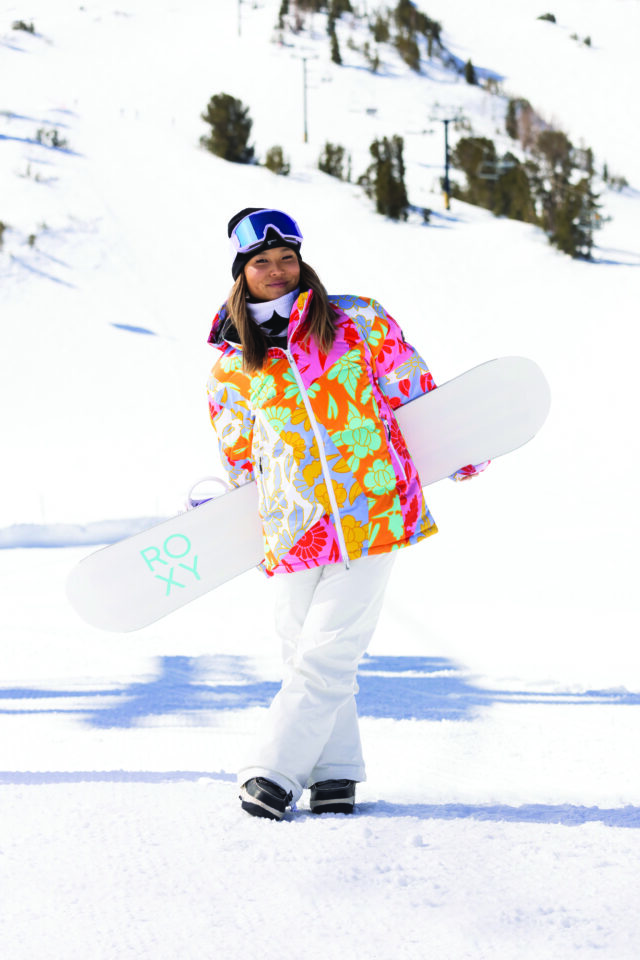 Cynthia Rowley began her creative quest as a painter, not the fabulous fashion designer she grew up to be. The artist's instinct for color and composition shines through in all of her pursuits—including the ones that take her far from the atelier and out into the sea. Rowley's an avid surfer; she's also a huge supporter of athletes who glide gracefully along crests of frozen rain. Among them are snowboarders Torah Bright and Chloe Kim, who are Aspen-bound for the X Games in January. But not all who go to Aspen love snow sports; aerobic shoppers will be equally delighted by Rowley X Roxy—the designer's collaboration with the leading action sports apparel company—and a visit to Rowley's seasonal pop-up at the W Aspen Hotel is just the exhilarating lift they seek. Highlights include the Puffer Jacket, in basic black with painterly pink floral accents, and the beguilingly bell-sleeved Cold Sunday Jacket in solid, beatnik black. Any self-respecting ski bunny will gladly pair such refined yet rugged outerwear armor with separates from the same capsule collection: seamless knit leggings and a matching top with a "counting sheep" pattern, a floral color-block sweater, and snow-white Insulated Bib Pants. —Julia Szabo
PURIST: What inspired you to team up with Roxy?
Cynthia Rowley: Roxy and I both have a commitment to functionality and sustainability. Warmth, movement, versatility and beauty all have to be equally considered. As for sustainability, we've been making wet suits, doing them in limited quantities, applying a really artistic kind of precious special approach to those. We wondered, "Why can't we do the same for the snow collection?" Just apply that same cadence of introducing new products, making them in limited quantities so there's no excess, and using recycled materials and organic fibers as much as possible.
All of the products are directly linked to outdoor activities and endeavors. I'm so lucky to be working with Roxy, who understands the world of sport better than anyone, so I can concentrate on pushing the design to new heights.
PURIST: You were always so focused on neoprene and surf? What was the vision behind the ski line?
CR: In the last year and a half, I feel like everyone discovered their passion for outdoor sports. With gyms closed, I think people found new ways to enjoy the great outdoors. Let's face it, sports are sexy. A wet suit makes you look and feel like a superhero, and so does skiwear. We wanted something you can wear from the slopes to the streets. I wanted crisp, fresh colors and prints that would pop against the white snow.
The Cynthia Rowley pop-up is located at the W Aspen Hotel, 550 S. Spring St., Aspen, from December 2021 through April 2022. cynthiarowley.com