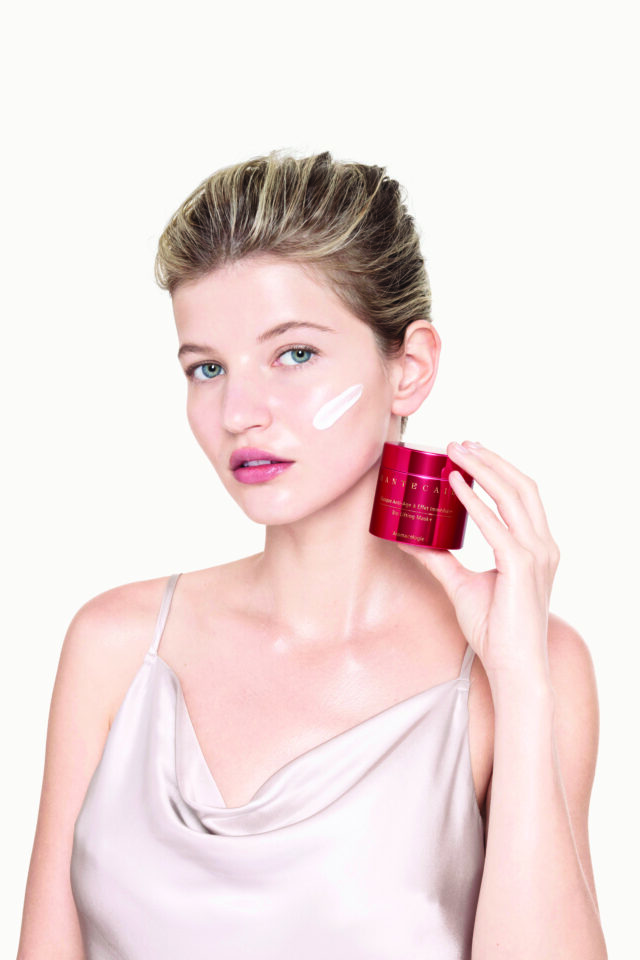 According to the ancient Chinese zodiac, tigers are synonymous with strength, and 2022 marks the lunar year of this noble wild cat. A New Year comes with resolutions—and self-care should always be at the top of that list. Launching just in time for your recommitment to your complexion, and in honor of the Year of the Tiger, is Bio Lifting Mask+: a highly anticipated, reformulated and more powerful version of Chantecaille's cult-classic bestselling anti-aging mask. Taking everything that made the original formula so effective and beloved, the brand has developed a new formula using cutting-edge science—all while keeping the formula vegan-friendly and 94.7% natural.
Reimagined with a cocktail of revolutionary, new peptides and extracts and increased amounts of essential original ingredients, Bio Lifting Mask+ reduces the appearance of fine lines and accentuates the natural contours of the face.
Co-founder Sylvie Chantecaille has been committed to keeping up with science since the brand launched over 23 years ago, sourcing not just the latest ingredients, but pioneering the use of plant stem cell extracts before any brands considered turning to nature for their formulas. "As science advances, so do our products and formulas. Thanks to new technology, we have made a terrific product even more amazing," she shares.
Sylvie's daughter, the brand's co-founder and creative director Olivia Chantecaille, partnered with her mother on the development of this formula after discovering "recent advancements made with peptides, alga blends, and botanicals…we recognized how they could tremendously boost the already-proven results of the Bio Lifting Mask+."
"The new Hexapeptide Amplified acts as a 'needle-free Botox' and has visible results in just five days," says Chantecaille's vice president of sales, Alex Chantecaille."The Contouring Hexapeptide is also a very new ingredient, and a personal favorite—it keeps the youthful roundness of your cheeks nice and juicy."
Bio Lifting Mask+ can be easily incorporated into any skin care ritual, whether used just twice a week, or every day. Results are visible within 10 to 15 minutes, but Sylvie's best-kept secret is applying a layer of the mask as a night treatment, because "Your body naturally repairs and regenerates itself overnight, so it's the perfect time to mask—you will see incredible differences in your skin, whether you are worried about redness, fine lines, volume, or dry skin," shares Sylvie.
Honoring the majestic symbolism of tigers, Chantecaille has continued their ongoing partnership with SUJÁN to benefit the organization's Tiger and Leopard Conservation Project. "SUJÁN has helped develop the most intelligent and efficient ways to preserve wild spaces and territories for these animals," says Sylvie. "They are given a true chance at not just surviving but thriving in harmony alongside humans. SUJÁN's hospitality business benefits not just wild species and spaces, but the community surrounding it all, by building and funding schools and clinics." Beauty that gives back—what a perfect way to begin the New Year (and your day).