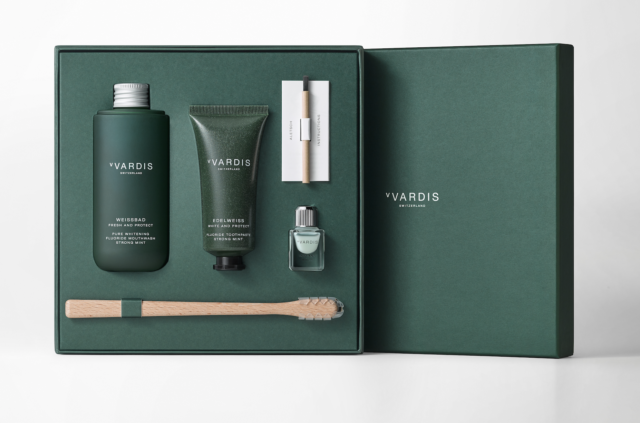 There are a plethora of whitening toothpastes, rinses, and strips out there making big promises on the strength and brightness of your teeth. Many whitening aids can leave teeth and gums feeling sore and sensitive, and contain harsh ingredients that don't account for the long-term wellness of your mouth. For powerful results without compromising comfort, it's important to choose mindfully created products made by forward-thinking brands like vVARDIS.
vVARDIS, a Swiss oral care brand, uses a combination of biomimetic compounds and natural minerals to mimic your enamel, creating a powerful barrier against tooth decay and disease. Opting for the latest science in dental care, vVARDIS employs a collection of patented formulas to produce a line of products proven to bring out the radiance in your smile. Incorporating vVARDIS revolutionary whitening and cleansing aids into your daily routine can ensure the strength and beauty of your smile for the long haul.
The luxury Oral Care Collection, a perfect gift for those who prioritize dental health, contains everything needed to achieve and maintain a pearly white grin. This kit contains the ​​revolutionary Aletsch teeth-whitening serum, that nourishes, protects and strengthens your teeth without compromising the structural integrity of your enamel. Aletsch whitens without sensitivity to teeth and gums and provides a layer of protection, whitening and brightening for a healthy, natural, radiant smile. An eco-conscious alternative to plastic toothbrushes, the Rheinholz wooden toothbrush is crafted using sustainably sourced Swiss beechwood, with bristles patterned for optimal cleaning between teeth and the gumline without irritation or bleeding. Pair this gentle brushing experience with the Edelweiss toothpaste, a peroxide-free formula that strengthens and repairs enamel while whitening teeth, crowns and veneers up to 10 shades. Finish off the vVARDIS dental health ritual with the Weissbad anti-bacterial mouthwash, infused with powerful ingredients to prevent tooth decay, protect against erosion and freshen your breath.