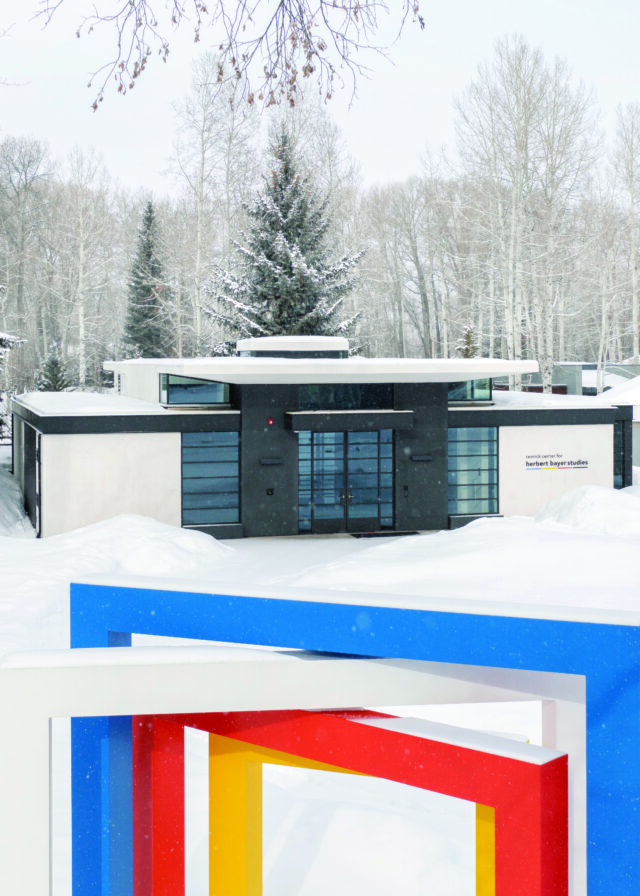 By Tess Weaver
Opening in June, Aspen's new Resnick Center for Herbert Bayer Studies does more than honor the legacy of Herbert Bayer, one of the most influential designers and artists of the 20th century. A 30-year Aspen resident whose legacy includes the Bauhaus movement, Bayer, who died in 1985, is responsible for much of Aspen's iconic architecture and bringing Aspen culture to life. Lynda Resnick Executive Director James Merle Thomas says the Bayer Center, as it's known informally, isn't a traditional museum.
"The Center is a platform for conversations around art, design, architecture—and, crucially, around media, history and culture," says Thomas, a prolific scholar and curator advancing a global and inclusive vision for art.
What Thomas calls a once-in-a-generation, transformative project for the Aspen Institute and for the greater Roaring Fork Valley was made possible by a landmark gift from Lynda and Stewart Resnick, longtime supporters both of the Aspen Institute and of Bayer's legacy.
The Center aims to encourage a fresh look at Bayer as a complex artist and thinker, a man of diverse talents. Bayer's cross-disciplinary experiences—including graphic design, painting, sculpture, and environmental and interior design—open endless possibilities for the Center. "His legacy encompasses the ways that modernism was not only a German sensibility, but a truly global phenomenon," says Thomas. "Part of our task means rethinking the canon of modern art and design and reframing how these histories are told, who is included, and how such stories are continually reflected in the present day."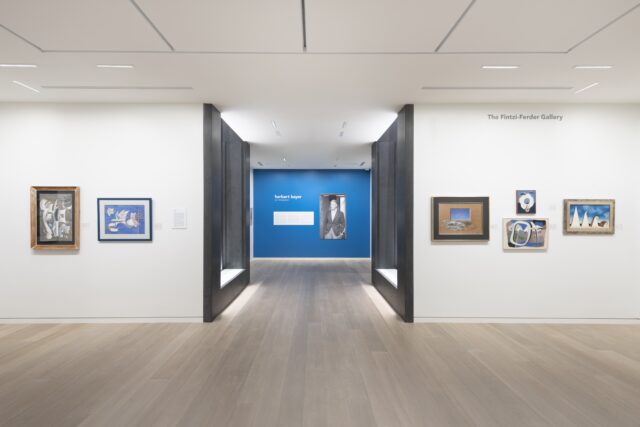 Free and open to the public, with bilingual materials and educational initiatives, the Center offers a wide range of staffed and self-guided tours of both the new building, which includes approximately 8,000 square feet of storage, archival and museum-grade gallery spaces, and the Bayer-designed 40-acre campus of the Aspen Institute. Located on the southeast corner of the Institute's campus on Gillespie Street, the Center bridges the Aspen community with "Four Chromatic Gates," a 16-foot sculpture of multihued nested rectangles, one in a series designed by Bayer. With the opening of the Bayer Center, the Aspen Meadows campus now has over 10,000 total square feet of gallery space for the display of art and media.
Respecting the fundamental geometries and spatial flows central to Bayer's art and architectural work, architects Jeffrey Berkus and Rowland+Broughton scaled and placed the Center adjacent to Bayer's historic Boettcher Building, and employed squares and rectangles based on the Fibonacci sequence to compose the floor plan. "It was important that the design connects people to the fundamentals of the Bauhaus design movement, and to the natural world that surrounds us," says Berkus.
The Center's first show, a monographic exhibition by guest curator Bernard Jazzar comprising nearly 200 of Bayer's works of fine art—primarily paintings and works on paper—represents a major milestone in the posthumous reception of Bayer and his artwork. Late this summer, expect a new group show of rare archival and design works by Bayer and his peers. aspeninstitute.org