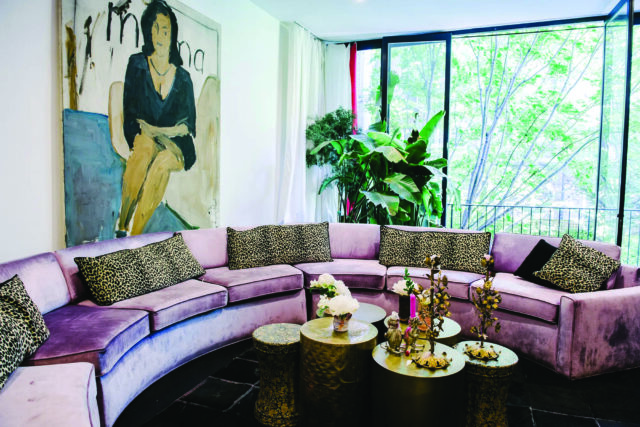 By Donna Bulseco
Nothing can stop the free spirits of the world, and that's been true of designer Cynthia Rowley since she launched her womenswear collection in the '80s up through the past two years when she, like many in the fashion world, keenly felt the challenges of running a business during a pandemic. Known for her flirty dresses, riotously colorful prints, and witty reinterpretations of separates, sunglasses and gowns, Rowley found a way to switch things up in all facets of her life, keeping her vision, her brand, her life, her family—hey, even her home—true to one of her core ideas: Always evolve. During the toughest times, people reveal their true nature, and Rowley is indomitable, but in the most mellow kind of way.
"We did a huge pivot in March 2020," says the Illinois-born designer about her company responding quickly in a move to DTC (direct to consumer) and getting more into functional fashion (pretty, yet sturdy, wet suits, rash guards, skiwear). "We were taking the pandemic lifestyle of outdoor living and blending it into the ready-to-wear we're known for." In truth, the company has always done well, but the shift to becoming a global lifestyle brand changed the rhythm and focus of her days. "For one thing, it's fun," Rowley says. "It's allowed me to do a lot of really cool stuff I wasn't able to do before: Create new pieces on a daily basis, ship on a daily basis, open more stores. My business never really fit in the old-school way, and now I can do what I want—there's an authenticity to it."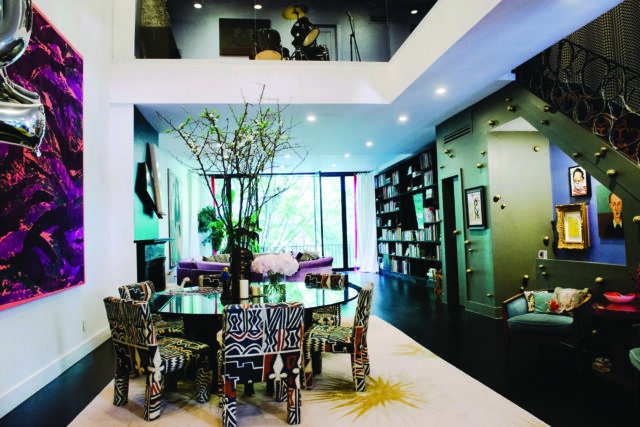 When Rowley talks about this seismic shift, there's an unflappable quality to the way she unspools the narrative, like the surfer she is, using her sense of balance to read a wave and ride it. The calm ability to "go with the flow," as writer Tom Wolfe called the attitude in The Electric Kool-Aid Acid Test, is evident as well when Rowley describes her West Village brownstone, her haven (always) but especially so during unsettling times. "It's been a constantly evolving project ever since I bought it when people thought I was crazy," she says. "But in my life it seems the worst ideas often become the best ones. It was definitely one of those."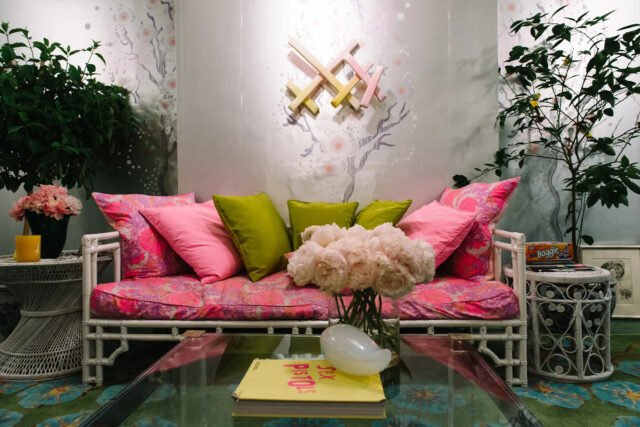 She compares it to Wes Anderson's The Royal Tenenbaums in its fashionably eclectic style, and talks about how much of a departure its decor is from her previous abode in Tribeca. "I had been living in a loft, like…a spaceship—huge and white and open, white wall-to-wall carpet. Then I started having kids… and once I found purple crayon on the carpet, I got to rethinking 'home.' I wanted a place with outdoor space, and somewhere where we could make a mess inside and not worry about it."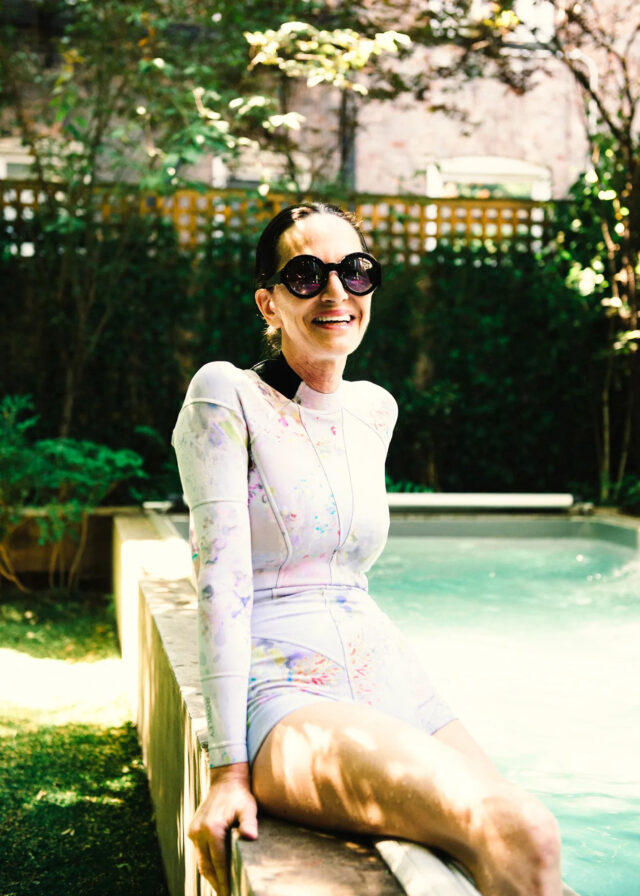 Rowley found "her project," as she calls it, in a dilapidated town house in the West Village that, legend has it, was the childhood home of legendary NYC Mayor Fiorello La Guardia, and the guts and glamour of the place has been evolving "in an organic way" ever since, inside and out. The main floor was opened up, giving it a lofty feeling and providing big open spaces for the art collection she's amassed. There's a new front stoop, a swing, a shuffleboard court, and a ruby-red climbing wall, and all members of the family clock time on the treadmill in the carved-out gym space; a sleek outdoor pool allows Rowley the luxury of "meditative" lap time throughout the year (those gorgeous wet suits of hers come in handy when there's a chill).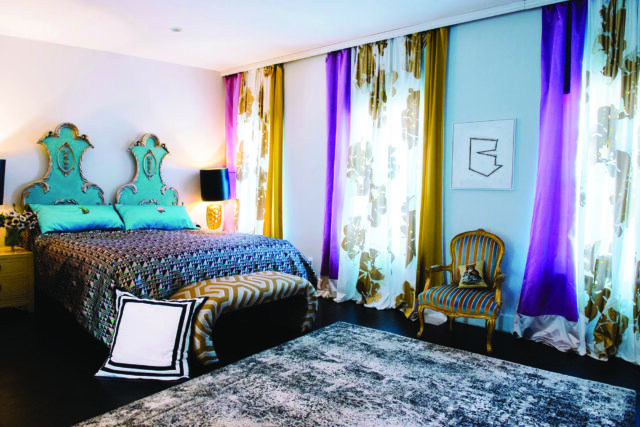 Every room has an experience built into it, and all the rooms get used, she insists, from the cool music room mezzanine—an indoor balcony filled with drums to bang and guitars to strum—to the slightly more formal living room, with its elegant curvy couch and nearby, the eye-popping staircase with its Rowley-designed rug and wallpaper. Think a Mick Jagger meets Auntie Mame kind of vibe. "I grew up in a house where my mom made sure she didn't have a living room with the velvet rope across the door," says Rowley. "The couch makes for a great hangout; it fits 16 people cozied up there, to eat and talk and get together to watch the Oscars." That's her happy time.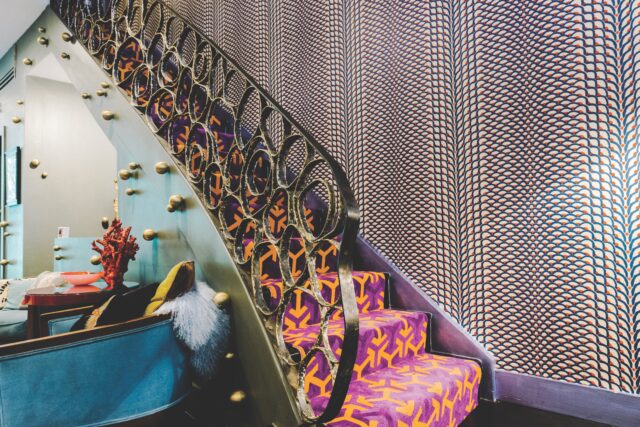 While gathering people together wasn't a given during the pandemic, dreaming about it led to the creation of the designer's charmingly eccentric tabletop collection of napkins, place mats, and the coolest quilted oven mitts reminiscent of opera-length gloves. "Eating at home all the time, and not wearing pretty dresses, we thought about making a table pretty," says the designer. Rowley's love of an unfettered mix of elements wins out here, too. "I'm not afraid to throw things together; it's the way I work," she says, pointing to a longtime collaboration with creative partners and the "vocabulary" they've developed through the years. "The mix of print and pattern and colors is just my way of putting things together, and a lot of it is fearlessness and trust and if you like it, then it will make sense."