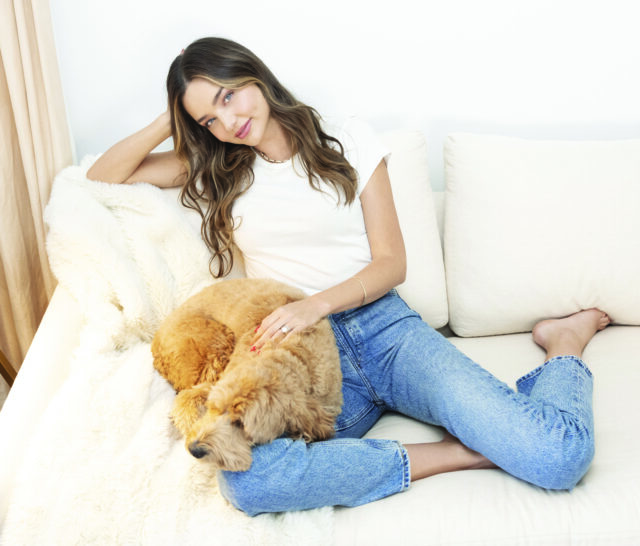 By Cristina Cuomo
Cristina Cuomo: What inspired you to develop the skin care line Kora Organics in your 20s, just before the clean beauty movement really took off?
Miranda Kerr: I launched back in 2009 and the concept was [in] 2006. When I was 16, my mom was diagnosed with cancer in her spleen, and that really was kind of a wake-up call to all of us. We thought we were living a healthy life and she was eating organic vegetables, because my grandparents had an organic vegetable patch. Basically we thought that we were super healthy, eating healthy food, eating organic produce from the garden. I grew up in this little country town in Australia. And then a friend of my mom's gave her this book, The Chemical Maze. It basically showed how there are so many ingredients in all the products that we were using from our personal products to cleaning supplies to any packaged goods, actually. Even products that were claiming to be natural, really weren't. They had just maybe one natural ingredient and then a bunch of potentially harmful ingredients in large doses.
This is really what sparked my interest in finding certified organic products, because that way you actually have the verification that the product and the ingredients are what they claim to be. In 2009, we launched our climate control skincare in Australia and that was when modeling was still a primary focus of mine. I was working crazy hours and traveling the world. In 2016, I decided to shift more of my focus onto Kora and that's when I decided to launch in America. Now we're sold internationally, across 30 countries. And the company still to this day is 95 percent mine, and 5 percent is from the original investor.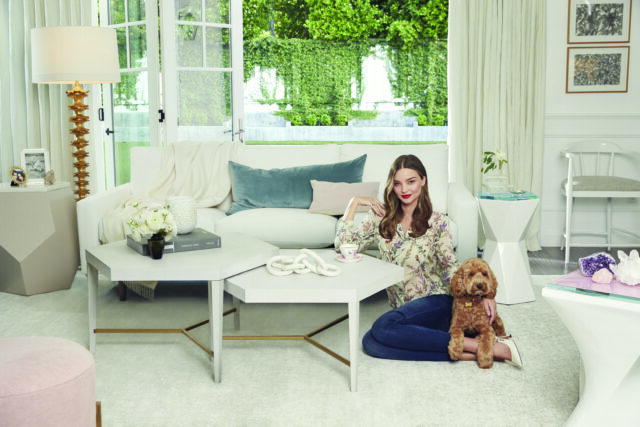 CC: That is amazing—and all while you were traveling around the world modeling. What is the origin of Kora?
MK: It started as a passion project. I wanted to find these products for myself. And then I gave the Noni Glow Face Oil to my mom. She had a terrible issue on her nose and she was on a steroid cream for a dermatitis, rosacea skin condition around her nose. Within a week of using the sample of the Noni Glow Face Oil, it had completely healed up and she was like, "Miranda, this is amazing. All I've been using is your face oil. I'm completely off the steroid cream." And it still has never come back. She never had to be on a steroid cream ever again.
CC: What is the significance of your brand being Climate Neutral Certified [by the nonprofit Climate Neutral]?
MK: We committed to become Climate Neutral Certified from 2021 and beyond. To me, it's so important that we all do our part. Starting from 2021, we've measured all of Kora's carbon emissions for each year and then we purchase verified carbon credit to offset our entire footprint. And with these carbon credits, they fund projects around the globe to help with climate change, like planting trees, water filtration systems installed and renewable energy sources used. And in addition to that, in all of our product launches from this year forward, we are using recycled or biodegradable materials in all of our primary and secondary packaging. We're striving to have, over the next three years, all of our existing products repackaged to be even more sustainable and incorporate more refillable options when possible, like with our Turmeric Glow Moisturizer and our Berry Bright Vitamin C Eye Cream.
CC: The key ingredient of noni is in all of your products. Tell me about that and why focus on this specific one?
MK: Noni [juice] is something that my whole family and I have been drinking since I was 13. My grandmother introduced it to me, and still to this day I really feel that noni [a fruit grown in Australia and Polynesia] has been the key to my health and wellness because it's something that I've done for so long. It's a superfood known for its anti-aging benefits. It's also anti-bacterial, anti-inflammatory, anti-fungal and it really helps your immune system.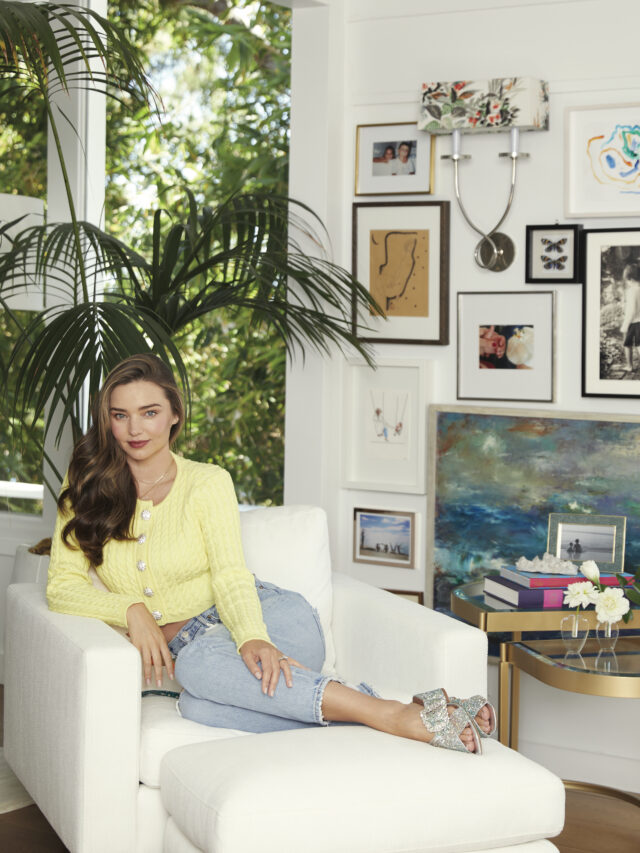 CC: Tell me about your passion for crystals. I noticed them everywhere. How does filtering these products through rose quartz crystals, for example, during the manufacturing process infuse them and enhance the consumer with positive vibration?
MK: We created an infusion process in all of our skin care formulas where we filter our products through rose quartz crystals in the manufacturing process. Kora's organic skin care products are all energized with the rose quartz crystals and then after the products all touch upon it, it comes out of the vat and gets energized by the sun, the rose quartz crystals. We have other crystals that we use for other products, like aquamarine with our Minty Mineral Hydration Mist, clear quartz with our Milky Mushroom Gentle Cleansing Oil, and citrine with our turmeric products. Rose quartz is at the heart of the brand, just like noni is at the heart of the brand. Every single product has its own aromatherapy blend as well, for either a soothing benefit or an uplifting benefit. They also have skin benefits as well.
CC: What are some of your beauty hacks?
MK: Well, I love our Dry Body Brush. I've been doing it since I was a teenager and I feel it stimulates circulation and invigorates you and wakes you up. I also love our Rose Quartz Heart Facial Sculptor. It's a gua sha that I use as part of my self-care routine. It's like a hot facial sculptor. I use the Noni Glow Face Oil and it's just incredible to depuff and lift your face. Celery juice is a good anti-inflammatory; it supports kidney function and it's alkalizing. I also love my infrared sauna.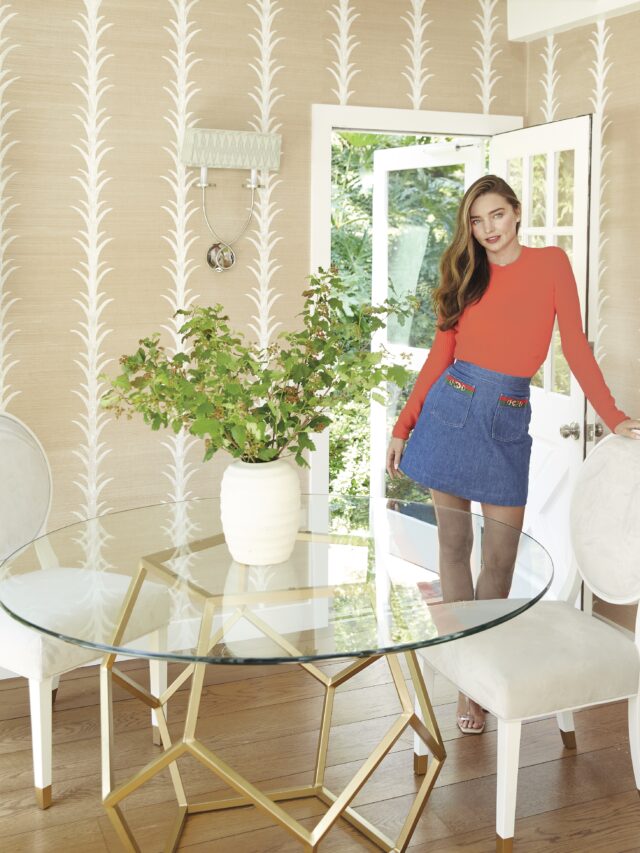 CC: Let's talk about your house. What is your favorite room in your home and why?
MK: Probably the kitchen. That's where we spend the most time together. Or the playroom for the kids. The kids are now at an age where they like to get involved and make things. We'll make things together and they'll be like, "Come on. Help me make Daddy's breakfast" or "Let's bake a cake" or "How about we make some cookies." They really get into it, which is nice.
CC: I love that. What are the best spots in your house to find those quiet, mindful moments?
MK: I try to create mindful moments everywhere—just having little moments with the kids. We have a balcony off our bedroom. The sun shines there, and I sometimes sit with the kids and just look at the birds and it's just really peaceful. Also the bathtub is nice.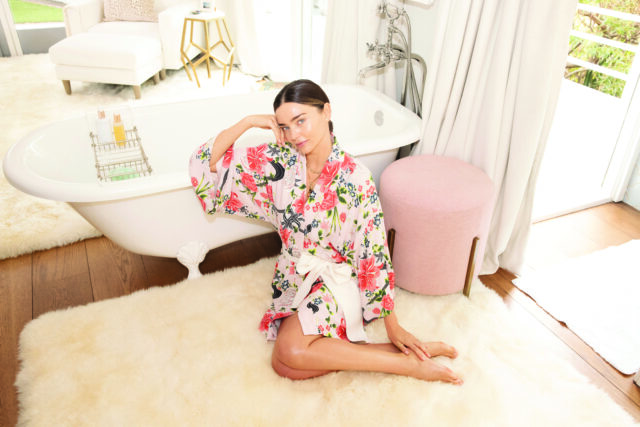 CC: What inspired you to bring that claw-foot tub into your bedroom?
MK: I always wanted a bathtub in my bedroom, and so when I bought the house, I took the walls down and made the bathroom part of the bedroom. It just felt like something kind of different and fun. In my home in Malibu, another mindful spot is the living room, so I can be close to nature. As a child, I just loved climbing trees and being among the trees. That's how I feel in our Malibu home—it feels like a tree house.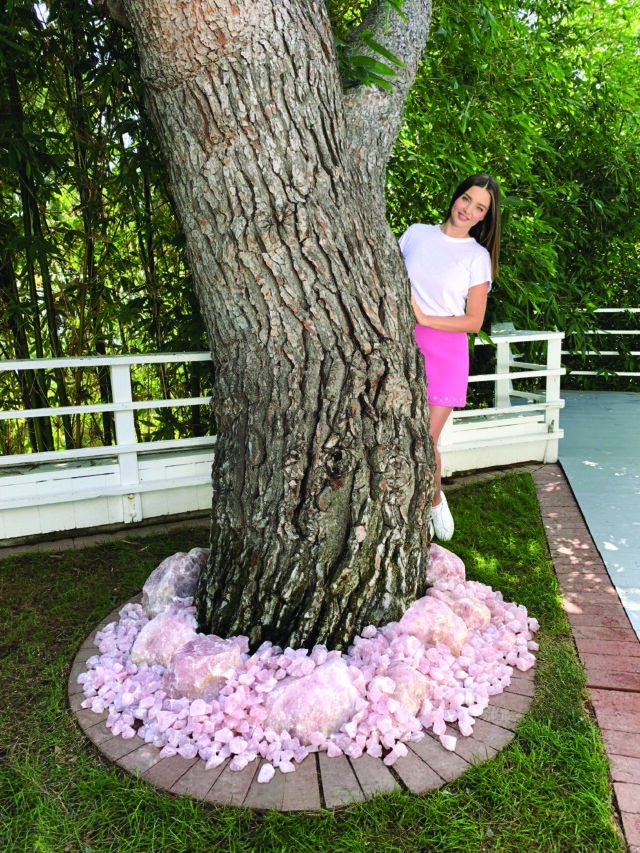 CC: You have a beautiful tree in your yard, with that moat filled with your favorite rose quartz crystals. What was the evolution of that concept, and how much time do you spend there?
MK: I just love rose quartz crystals, and when I had the feng shui expert look at my home, that corner was supposedly the love area. Rose quartz crystal is all about love. There's a swing right next to it for the kids, so they're surrounded by that loving energy, too. Their little playhouse is right next to it, too.
CC: You've created a multitude of brand collaborations with positive intentions and meaning. Why was developing a fine china, glassware and giftware collection for Royal Albert with that prestigious Wedgwood British collection important to you?
MK: I've been fascinated with Royal Albert since I was a little girl. My grandmother had a Royal Albert tea set. She kept it on display in a cabinet at her home. That was her prized possession. So, I said to them I would love to create teacups. I'm inspired by nature; my favorite flower at the time was peonies. Butterflies I just love because of the symbolism of growth, change and evolution. These designs are symbolic of that joy and transformation, and having those special moments with those you love. I wanted the collection to be an uplifting experience, so that you can share it with your friends or family.
CC: You have three boys. That's a handful. Can you share some parenting wisdom you've learned along the way from raising boys?
MK: Well, no two days are ever the same. I really have learned that it's super important to be flexible, like a willow tree. It's important to have routines, because children thrive on routines. But at the same time, you have to have flexibility within that. I even incorporate that not just with my family, but with my team now at Kora. I say, "Let's be flexible like a willow tree, and let's go with any challenges that come along. Let's not be rigid like an oak. People perceive the oak to be super-strong, but in a storm the oak is the one that breaks." It's really important to have that flexibility.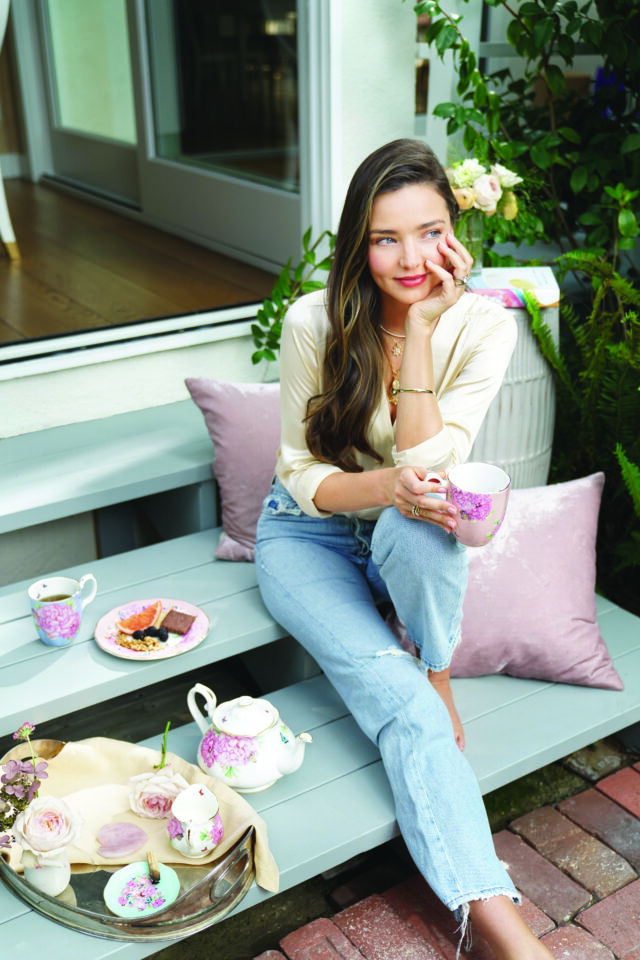 CC: What's the best advice you've ever been given?
MK: The best advice I've ever been given is probably from my mom, who would say if you're going to do something, give it your hundred percent or don't bother doing it at all. And that applies to everything, whether I'm washing the dishes or playing with the kids or having an interview with you, or whatever I'm doing.
CC: How do you stay grounded?
MK: My childhood is what grounded me the most. Growing up in one of the smallest country towns in Australia, and very humble beginnings, really taught me to appreciate life and all of its blessings. My parents bought the cheapest house in town because they were very young when they had me, and they worked really hard and built their own businesses from the ground up. I had my grandmother, who was very nurturing and loving, because my parents worked pretty much my whole childhood, which taught me the importance of having a good work ethic. I think to this day, I now try to infuse the two—the nurturing from my grandmother and grandfather, and the strong work ethic of my parents.
CC: You are a true wellness practitioner in all aspects of mind, body and spirit. How do you impress the importance of wellness on your husband's impactful social media empire?
MK: Well, you know, Evan [Spiegel, co-founder and CEO of Snap Inc., the company behind the Snapchat app] didn't grow up learning about health and wellness the way I did, so the last eight years have been an interesting experience to him, learning and seeing the world differently through my eyes. He said to me the other day, "You know what? I think I'm actually going to go more plant-based now. Like maybe 80 percent plant-based." It's not just eating organic—all the produce we buy is organic and fresh because of my influence.
I actually even completed a course that Stanford was doing through Coursera, a course online, because Evan went to Stanford, and I thought, "Maybe if I could do this course through Stanford he might listen to me more about health and wellness." He was so proud that I did that course. They were talking about how plant-based was really kind of the way for optimal health. Anyway, he was like, "OK, great."
CC: What's nice about that is he's got an average of 300 million people on his platform every day, so if he can incorporate that idea into his platform, it would be so nice. My kids are all obsessed. Your books Treasure Yourself and Empower Yourself are filled with advice for your generation. What's the biggest takeaway?
MK: Our thoughts are really powerful. Every thought that we think affects us on a cellular level. I say in Treasure Yourself that every woman is like a flower, and there's no flower more beautiful than another. Each of us has something unique to bring to the table. We need to embrace our own individuality, and lift each other up. So, whatever it is you're passionate about, embrace those passions. Follow what makes your heart happy. That's where you'll be the best version of yourself.