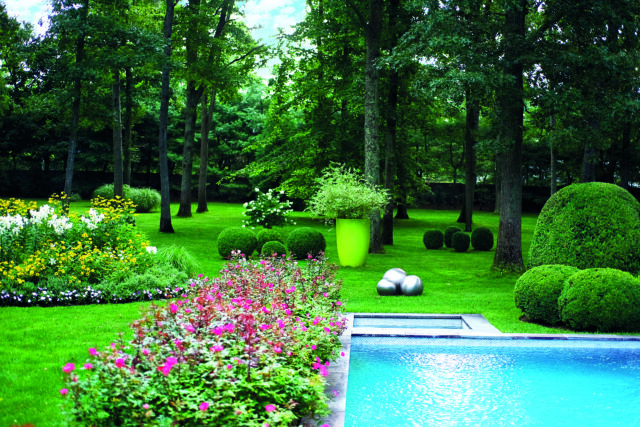 By Julia Szabo
A fan of the fresh-air lifestyle long before the pandemic made alfresco dining and socializing de rigueur, Frederico Azevedo creates charming spaces, inside and out. As the founder of Bridgehampton's popular concept store and landscaping design firm, Unlimited Earth Care, Azevedo has one mission: "Helping people realize their dream lives." With his business and many projects keeping him on the move—including The Garden Market, his carefully curated retail nursery, which opened last summer—it's a wonder Azevedo has any downtime at all. Not surprisingly, for treasured moments when he does get to relax, his year-round Hamptons home, Casa Meu, is a light-filled, white-walled oasis with stunning accent hues as vital as Unlimited Earth Care's renowned Technicolor artistry.
A sense of balance is the cornerstone of great design, and Frederico Azevedo's clients appreciate the synergy between exterior and interior decor: "Color and texture create the link to nature," he explains. "Unity is when all colors come together." Casa Meu is a showcase for the maestro's many gifts, bringing them all under one roof (and pergola). Here, his design philosophy truly comes to life: Real flowers bloom outside, while indoors, floral images attain immortality in artist Scott Kilgour's painting "Roses and Calla Lilies," just one of many gems in Azevedo's art collection, which also includes a gorgeous Curtis Jeré wall sculpture (resembling abstract callas and lily pads) along with works by Alex Katz, Eric Fischl, Maria Reyes-Jones, Ugo Rondinone, Steven Klein, and Paul Robinson.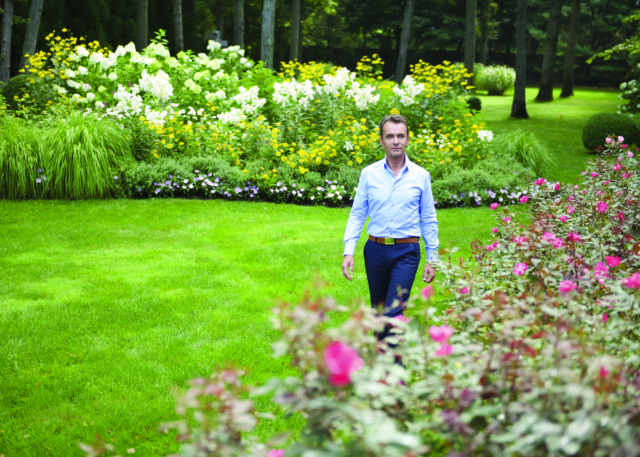 Meanwhile, out in the garden, it is Azevedo who wields the painterly palette and the camera (an accomplished photographer, he captured the images on these pages). Artfully lavishing one's land with color, he says, stimulates more than visual excitement: "Color brings the pollinators, creating an ecosystem that will sustain the garden. The Garden Market, alongside the Unlimited Earth Care headquarters in Bridgehampton, carries my favorite sustainable plants and flowers, allowing people to invite visitors like monarch butterflies to their homes."
A landscaping virtuoso, the Brazil-born Azevedo is a latter-day Russell Page (renowned British garden designer) via Rio Grande do Sul, with an ever-lengthening list of global clients from Europe to North and South America. In each of his projects, in every hardiness zone around the world, Azevedo makes sustainability a priority. Of equal importance is beauty. Aesthetic perfection, for him, is about celebrating natural shapes, then "heightening" them, as in spherical topiary that's both elegant and playful. The goal? "To create a totally new experience."
That new experience is certainly a colorful one. Upon his arrival in the Hamptons in the 1990s, Azevedo made quite a splash with his vibrant color palette: "Everything was white. White gardens, furnishings by Philippe Starck and Martha Stewart, all monochromatic," he recalls. "The first garden I did was all in orange, red, and yellow—luckily the clients accepted it." More than accepted, it was celebrated. "It became a tourist destination," he recalls. "Everybody would go to that house to see the colorful garden." Today, the destination for garden aficionados is Casa Meu.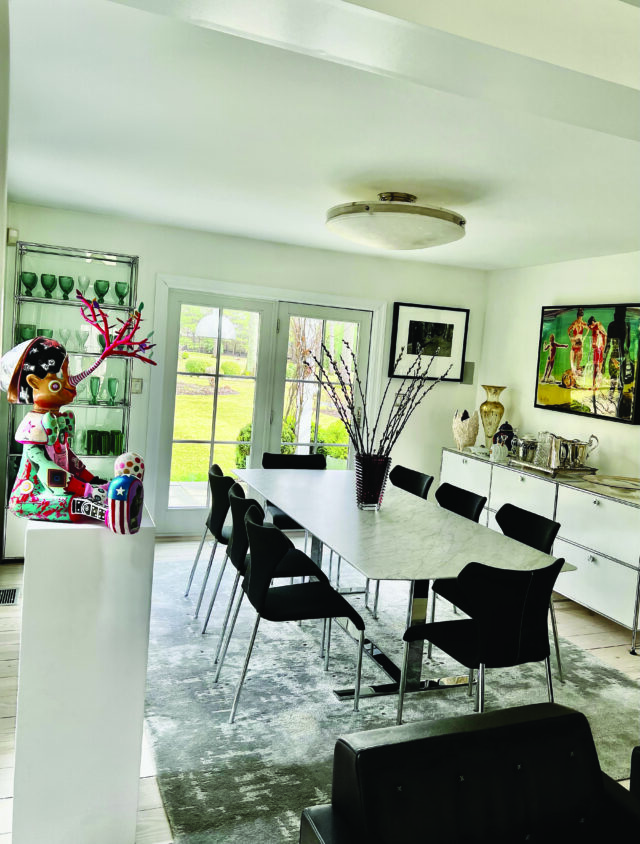 On his home turf, green is still Azevedo's favorite color: On an emerald lawn by Unlimited Earth Care, the vista is bounded only by the imagination. His verdant aesthetic, beautifully embodied in his coffee table book, Bloom: The Luminous Gardens of Frederico Azevedo (Pointed Leaf Press), entices new followers to his Instagram feed, @justfredericoazevedo.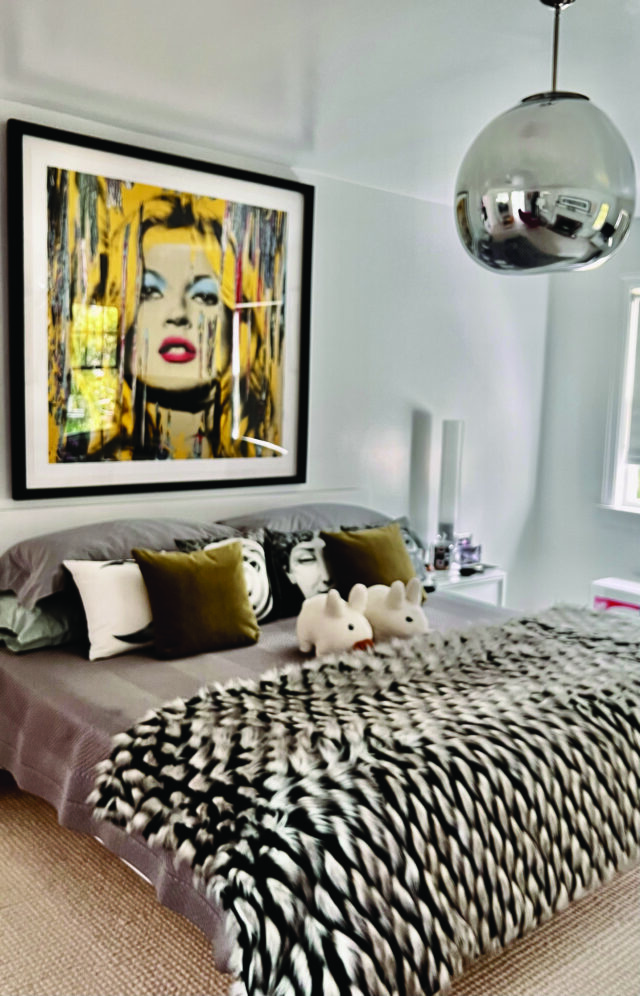 Whether popping against the pristine white walls or the glorious lawn, the dominant accent colors—red and green—impart a dynamic stop-and-go energy. Calming details echo the garden (a velvet Ligne Roset tufted chair as rotund as the topiary; Flavio Poli's glass fish sculpture) while reds reverberate, from the climbing roses planted near the pool to the claret leather B&B Italia armchair in the master bedroom.
Everywhere the eye can see, beauty is achieved through artful balance. Antique white floor lamps bookend the substantial jet-black leather sofa by Jean-Marie Massaud for Poltrona Frau. A small, mirrored accent table reflects the Paul Smith carpet's straight-laced stripes, transforming them into sinuous waves. Once a fixture at Barneys New York, that little table "was part of the store furniture," Azevedo explains. "I had to keep something from Barneys in my life." Petite and impactful, it's paired with a large, tweedy gray lounger by Florence Knoll.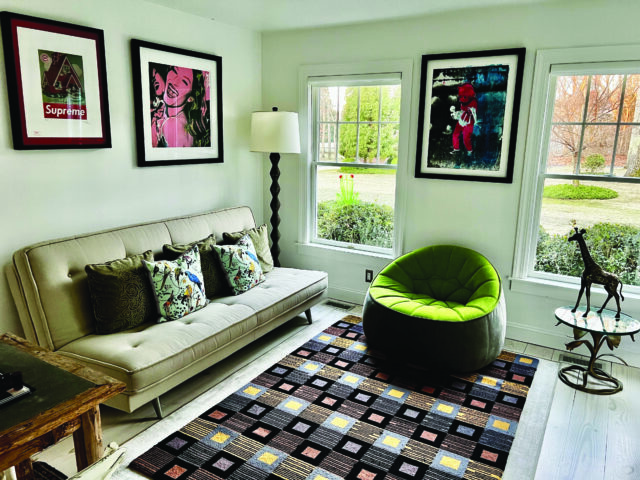 Occasionally tempted by a monochrome landscaping scheme as subtle as that sofa, Azevedo admits, "Sometimes, I long to do a gray garden." But clients prefer those colorized outdoor dreamscapes. "'They ask, 'Where is your colorful garden to bring a big smile to our landscaping?'" Who could blame them? unlimitedearthcare.com