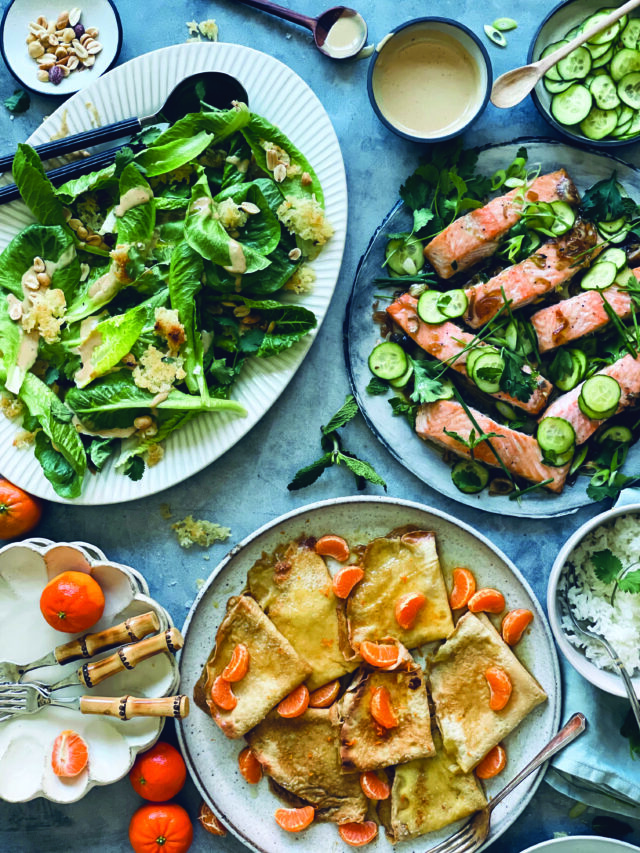 To architect a meal, my back pocket go-to strategy always starts with the building blocks of a bold flavor agent that'll instantly pack a punch without a lot of effort, a selection of fresh seasonal ingredients, and pantry and fridge staples. Whether it's a Tuesday quick dinner for two or Saturday entertaining for six, that foundation will always be a surefire way to design the most delicious dinner. More often than not, yellow or white miso is what I grab. Umami-packed and able to bring complexity to savory and sweet dishes, miso can be the star or a background support.
Miso, of course, is the heralded and traditional Japanese seasoning with a long and vast history. It's made by fermenting soybeans with salt and koji, and sometimes rice, barley, seaweed and other ingredients. Miso has a history going back to the eighth century and there are more than 1,000 types, depending on fermentation time and the different combinations of ingredients. As a rule of thumb, white and yellow miso are the mildest, with a touch more sweetness. The darker the color—red or brown rice miso, for example—the deeper and more complex the flavor. There are a numerous health benefits of miso—it's rich in protein and probiotics. Studies have found that miso may also enhance immune function and brain health.
The flavor profiles of miso are woven and designed into the beautiful fabric of Japanese cuisine, but the umami of this storied ingredient can also be used to bring big flavor to all kinds of dishes. For me, miso is the little black dress of the kitchen. It's a seasoning for all seasons, and it's always in good taste, for any course. Here are three that make a meal—a salad, a main and a dessert. Enjoy.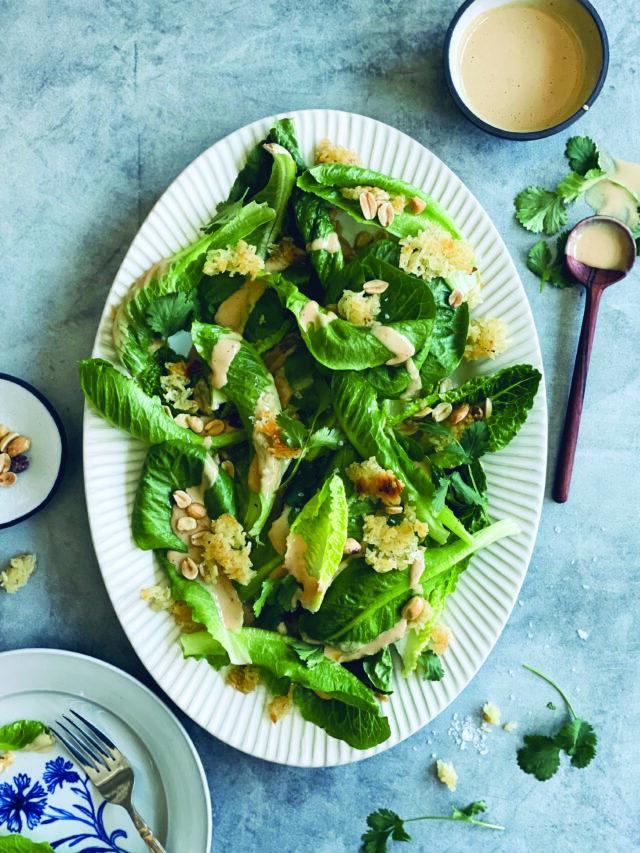 Little Gem Salad With Creamy Miso Peanut Dressing and Crispy Rice Croutons
This recipe gives me everything I want in a salad—the fresh bite of the lettuce, a creamy, zingy dressing and that extra bit of a crunchy finish from croutons. The dressing is the star here—super simple and luxurious, with peanut butter and miso playing so well together, and the back notes of soy and lime for brightness. This dressing can do double duty as a dipping sauce or even a spread on sandwiches.
I've used Little Gems, but if you can't find them, feel free to use their larger cousin, romaine, or any crunchy lettuce you like. Add tofu or sliced chicken for a total one-dish meal. One note on the "croutons"—make sure to use rice that is day-old or has been refrigerated for at least 3 hours. Fresh rice has too much moisture and won't crisp up.
Serves 6
Ingredients:
2 tablespoons olive oil
1½ cups cold cooked jasmine rice
6 heads Little Gem lettuce
¼ cup salted roasted peanuts
Cilantro leaves, for garnish
Flaky sea salt, for finishing
Olive oil, for finishing
Dressing:
¼ cup creamy peanut butter
1 tablespoon yellow miso
4 tablespoons rice wine vinegar
1 tablespoon soy sauce
Juice of 1 lime
1 teaspoon honey
¼ teaspoon red chili flakes
Kosher salt, ground black pepper, to taste
Instructions:
1. To make croutons, in a nonstick skillet on medium high heat, add oil, then add rice and press down into a flat disc. Cook for 4-5 minutes or until bottom is golden brown. Break up into large chunks and turn over to cook on the other side until golden brown—approximately 3-4 minutes. Transfer to a paper towel-lined plate and let cool.
2. To make dressing, in a bowl, combine all ingredients and use a handheld mixer to mix until smooth and creamy. If needed, add a splash of water to loosen dressing to desired consistency. Transfer to a jar.
3. To serve, in a large bowl, toss lettuce with dressing and transfer to a serving platter. Break up croutons into bite-size pieces and add, along with peanuts. Garnish with cilantro leaves. Finish with flaky sea salt and a glug of olive oil and serve.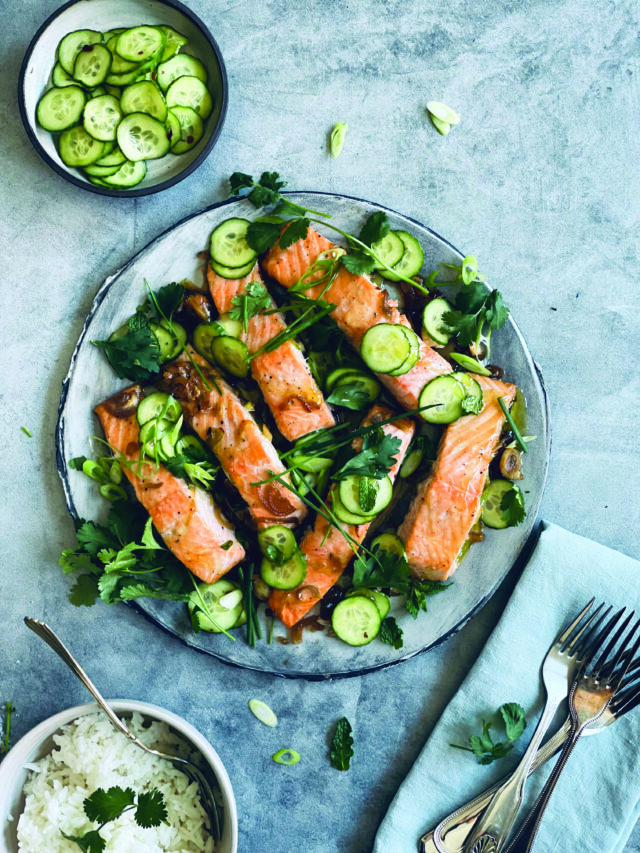 Miso Caramel Salmon With Herbs and Marinated Cucumbers
Traditional caramel salmon (Ca Hoi Kho) hails from Vietnam and is a bounty of flavor: The fish is simmered and cooked in the sauce—a mix of fish sauce, brown sugar, ginger and garlic—and the result is an umami-packed bite that's sweet, tangy and truly addictive. I've added yellow miso, which gives another well-rounded boost of zing that plays so well with all the ingredients. A super-quick marinated cucumber salad provides crunch and brightness, and you'll definitely need some steamed jasmine rice to soak up all that sauce. This dish takes no time at all to make—the caramel sauce can even be made a few days in advance—but the reward is a crowd pleaser of a dish that's perfect for a weeknight quick supper or weekend dinner parties.
Serves 6
Ingredients:
1 seedless mini cucumber, thinly sliced
¼ cup rice wine vinegar
1 tablespoon sugar
1 tablespoon kosher salt
1 tablespoon ground black pepper, divided
¼ teaspoon red chili flakes
½ cup fish sauce
½ cup dark brown sugar
2 tablespoons yellow miso
4 teaspoons grapeseed oil
2 teaspoons ginger, thinly sliced
2 shallots, thinly sliced (approximately ¾ cup)
4 garlic cloves, thinly sliced
2 scallions, thinly sliced, divided
6 skin-on salmon filets
¾ cup mixed soft herbs such as cilantro, parsley, chives, mint and basil, for garnish
Steamed jasmine rice, for serving
Instructions:
1. Heat oven to 450 F and place oven rack in the middle.
2. To make cucumbers, in a small bowl add cucumber, rice wine vinegar, sugar, kosher salt, 1 teaspoon black pepper and chili flakes and mix to combine. Set aside.
3. To make sauce, in a small saucepan over medium heat, add fish sauce, remaining black pepper, dark brown sugar, miso, oil, ginger, shallots, garlic and 1 scallion and heat until just simmering.
4. Place salmon skin-side down in a baking dish, then add warm sauce, ensuring sauce runs over the tops of the salmon.
5. Bake salmon for 10-12 minutes until cooked through to medium/medium rare.
6. To serve, arrange salmon on a platter along with sauce and top with herbs and the remaining sliced scallion. Transfer cucumbers to a serving bowl and serve alongside, with steamed jasmine rice.
Mandarin Miso Crêpes Suzette
This classic French dessert is the best fake-out—it's so easy to make, but the results are truly impressive and oh so very delicious. I've swapped out the traditional orange for mandarins, which are sweeter and less acidic and feature strong floral and vanilla notes. Yellow miso is included in the orange-butter mixture and adds the perfect undertone of sweet, savory and salt. The final impressive flourish for any crêpes Suzette is the flambé of the liqueur that's then poured over the dessert—I've used traditional Grand Marnier (you can also try cognac) but have added a twist with cognac-based ginger liqueur for that subtle peppery sweet note—I recommend Domaine de Canton, but any brand will be fine. If you'd prefer a nonalcoholic version, just skip this step. The crêpes can be made up to a day in advance and stored in the fridge. To serve, I prefer my crêpes Suzette as is, but feel free to gild the lily with a dollop of whipped cream or some vanilla ice cream. Who am I to stop your lily gilding?
Makes 6
Ingredients:
2 large eggs
¾ cup all-purpose flour
½ cup milk
1∕8 teaspoon kosher salt
½ teaspoon sugar
1∕3 cup cold water
1 tablespoon vegetable oil
1 tablespoon unsalted butter, melted, plus more for greasing skillets
6 tablespoons unsalted butter, softened
2 teaspoons yellow miso
¼ cup plus 2 tablespoons sugar, divided, plus more for sprinkling
3 tablespoons mandarin orange zest, plus more for garnish
1∕3 cup mandarin orange juice
¼ cup Grand Mariner
2 tablespoons ginger liqueur such as Domaine de Canton
Mandarin orange segments, for garnish
Instructions:
1. To make crêpes, in a bowl, whisk together eggs, flour, milk, salt and ½ teaspoon sugar until smooth. Whisk in water, oil and melted butter. In a nonstick skillet over medium heat, melt a knob of butter. Add ¼ cup batter and tilt skillet to coat bottom evenly. Cook for 40-45 seconds or until edges curl and small bubbles appear and bottom is pale golden brown in spots. Flip and cook for 10-15 seconds, then transfer to a plate. Repeat with remaining batter, re-buttering skillet as needed.
2. In a small saucepan over low heat, combine 6 tablespoons softened butter, miso, ¼ cup sugar and mandarin zest and juice. Simmer until thick and combined. Set aside.
3. Heat broiler. Butter a large cast-iron skillet or ovenproof pan and sprinkle lightly with sugar. Fold crêpes into quarters and arrange in pan, overlapping slightly. Pour mandarin-butter mixture over, sprinkle with 2 tablespoons sugar and broil on the middle rack—watching carefully!—until they start to caramelize, approximately 2-3 minutes. Transfer to a serving platter and pour remaining mandarin-butter mixture on top.
4. In a small saucepan over medium heat, add Grand Marnier and ginger liqueur. Use a match or lighter to ignite mixture and pour it—while still flaming—over the crêpes. Spoon any remaining mixture atop crêpes. Garnish with mandarin segments. Serve immediately.
For more delicious recipes, go to petersom.com.