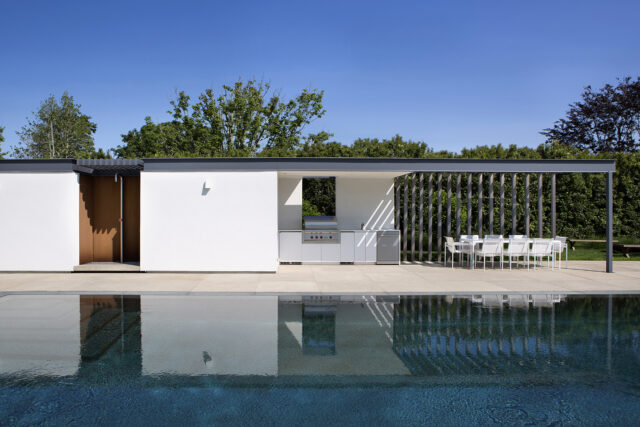 By Marisa Fox
"What fire does not destroy, it hardens," wrote Oscar Wilde. But for Silke Tsitiridis, flames served as an impetus to purify.
The fire was limited to her boiler room, and put itself out without causing any structural harm. But when the plastic boiler melted, it released soot and smoke. So Tsitiridis turned the fire into an opportunity "to declutter, detoxify" and embark on a "complete mental and physical reset," she says, the morning sun pouring into her airy Sagaponack home. "We had built our dream home, and we didn't want to change anything structurally."
Tsitiridis, a licensed realtor with Douglas Elliman, Pilates instructor, former T Beauty marketing executive and married mother of two, wanted her Hamptons house to be a serene departure from her hectic city life in Tribeca. She hired architect Francis D'Heane of D'Apostrophe Design to create a space that was "minimalist but inviting," with an open view of nature, so there's harmony between the exterior and interior. She selected sustainable, natural construction materials, from the statuary marble used in her double-height kitchen, to cumaru wood, a Brazilian teak, for the siding.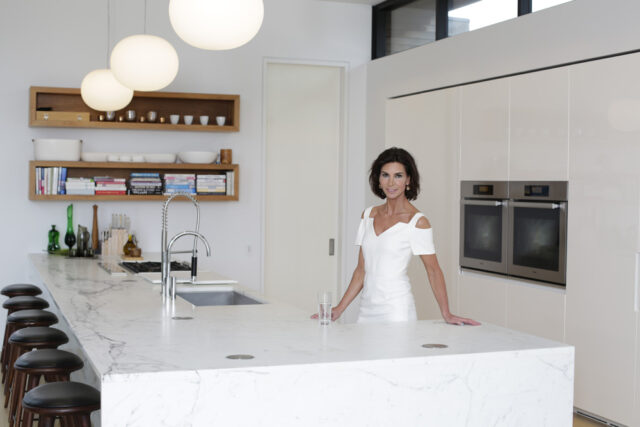 But the fire melted some of the wiring, forcing her to open walls, redo the floors and undertake a major internal redoing: "a cleansing," she says.
Around the same time, Tsitiridis was undertaking her own cleanse. After years of finding only short-term solutions for digestive ills—the result of an eating disorder in her teens—she sought healing at luxury holistic wellness spa Lanserhof Tegernsee, in the Bavarian countryside, about an hour outside Munich and not far from Tutzing, a quaint village with a view of the Alps on the west bank of Lake Starnberg, where the German native grew up and where her parents and brothers still live. Although she had an idyllic childhood, she wanted a taste of big city life for college. "When I arrived in New York for college [at FIT], I thought, this is my place!"
But fast city living didn't exactly better her health: Anorexia turned her digestive tract sluggish to the point of dysfunction. "I tried high colonics, juicing, any cure to help restore my gut's microbiome [the intestinal flora needed for good health]."
A return to her familial stomping ground, where she could hike, cycle and eat organic and locally sourced food, in a culture where doctors practice and prescribe integrative methods as part of mainstream medicine, proved just the thing.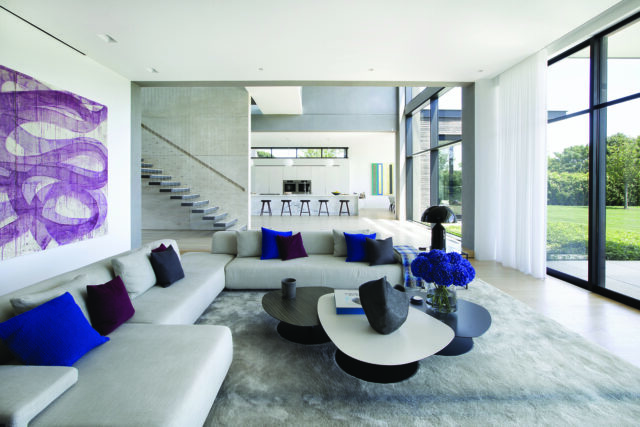 "They teach you a whole different way of approaching food," she says, adding that clean eating isn't synonymous with deprivation. "When you sit at the table, you put your phone away and savor every bite. They give you a complete meal with vegetables, a full variety of nutrients and oils," she says. "You're still depriving your body enough to allow the bad cells to be replaced by good cells, but you can function. You don't feel too light-headed to work out or walk."
After her week at Lanserhof, Tsitiridis returned stateside, a new woman. By February 2020, Tsitiridis, her husband, Savas, president/CEO of New York's United Management Group, and their two children, Sophia, 13, and Alexander, 15, were able to move back into their Sagaponack home—just in time for lockdown.
As the world froze under a devastating pandemic, Tsitiridis figured the time was right for her version of the spa detox diet. After a two-year incubation period in which she used her friends as her guinea pigs, she created BySilke, a curated wellness program that's available by subscription ($1,600/year), centered on a five- or six-day cleanse to be done quarterly.
"It's a great way to kick-start each new season," she says, adding that she customizes her regimens depending on the needs of each client. (As with any cleanse, consult your doctor before embarking on it.) She's launching with only 15 members to allow each one to get plenty of her individual attention, while forming a small, supportive group so they can cheer each other on. Although she doesn't personally cook, juice or deliver the items on her menu, she provides members with a list of local caterers who do, as well as massage therapists, yoga classes and other services meant to enhance healing.
"I'm interested in starting a wellness community right here in the Hamptons," she says, "so you don't have to go away to improve your health. You can reap the benefits of a highly curated spa experience from your home."
Meanwhile, her Sagaponack residence now looks like a modernist spa, complete with an infinity pool. "Waking up to the sea anchors me," she says. "It can be calm, and sometimes it's angry. You feel very in touch with nature. I can spend the day inside, but feel like I've been outdoors because of our floor-to-ceiling glass panels. Everything is stripped of unnecessary details. That's the concept behind my cleanse—the simpler, the better." bysilke.com